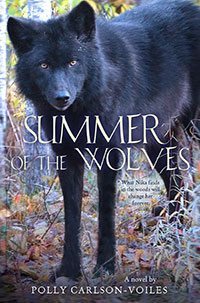 Today we wel­come author Pol­ly Carl­son-Voiles to Bookol­o­gy. Her book, Sum­mer of the Wolves, has been a favorite adven­ture sto­ry with mid­dle grade read­ers, a recent con­tender for the Maud Hart Lovelace Award.
Which celebri­ty, liv­ing or not, do you wish would invite you to a cof­fee shop?
Jane Goodall.
Which book do you find your­self rec­om­mend­ing pas­sion­ate­ly?
The War That Saved My Life, by Kim­ber­ly Brubak­er Bradley
Most cher­ished child­hood mem­o­ry?
Spend­ing a sum­mer on the wind­ward side of Oahu, in Hawaii.
Illustrator's work you most admire?
So very many…but I would have to say, Graeme Base…
Favorite sea­son of the year? Why?
I love the sea­son I am in … right now I love the spring with tiny green leaves mist­ing the tree tops, the wild white blos­soms of ser­vice­ber­ry and chokecher­ry. I always reluc­tant­ly say 'good-bye' to the last sea­son and then fall pas­sion­ate­ly in love with the new­ness of the new sea­son, with changes, new birds, new sounds, new col­ors.
What's your dream vaca­tion?
To go to Africa and see ele­phants and oth­er crea­tures of the African wilds.
Morn­ing per­son? Night per­son?
My best writ­ing hap­pens right after I wake up in the morn­ing. I get some of my best ideas in those shad­owy first moments of com­ing awake when my brain isn't filled with dis­trac­tions. But I am not one who wakes at dawn.
Broth­er and sis­ters or an only child? How did that shape your life?
I have one old­er broth­er who was expect­ed to do won­der­ful impor­tant things. Since we were raised in a sex­ist time and my father was very tra­di­tion­al, I felt very unim­por­tant as a girl child. It made me feisty, though, to feel that girls were expect­ed to let boys win at games, to not excel in school too much, and to be afraid of phys­i­cal risks. My rebel­lion against this was one of the great­est gifts of my child­hood.
Best tip for liv­ing a con­tent­ed life?
To find your pas­sions and cul­ti­vate them like a gar­den. Do things you love.
Your hope for the world?
That we all keep evolv­ing to learn from peo­ple who are dif­fer­ent from us, and that we all learn to trea­sure the gifts of wild crea­tures and wild places.