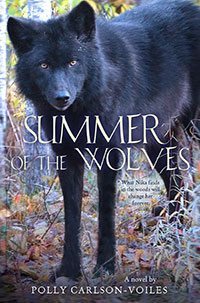 Today we wel­come author Pol­ly Carl­son-Voiles to Bookol­o­gy. Her book, Sum­mer of the Wolves, has been a favorite adven­ture sto­ry with mid­dle grade read­ers, a recent con­tender for the Maud Hart Lovelace Award.
Which celebrity, living or not, do you wish would invite you to a coffee shop?
Jane Goodall.
Which book do you find yourself recommending passionately?
The War That Saved My Life, by Kimberly Brubaker Bradley
Most cherished childhood memory?
Spending a summer on the windward side of Oahu, in Hawaii.
Illustrator's work you most admire?
So very many…but I would have to say, Graeme Base…
Favorite season of the year? Why?
I love the season I am in … right now I love the spring with tiny green leaves misting the tree tops, the wild white blossoms of serviceberry and chokecherry. I always reluctantly say 'good-bye' to the last season and then fall passionately in love with the newness of the new season, with changes, new birds, new sounds, new colors.
What's your dream vacation?
To go to Africa and see elephants and other creatures of the African wilds.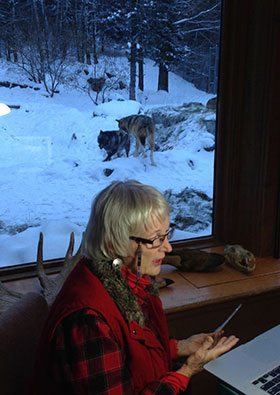 Morning person? Night person?
My best writing happens right after I wake up in the morning. I get some of my best ideas in those shadowy first moments of coming awake when my brain isn't filled with distractions. But I am not one who wakes at dawn.
Brother and sisters or an only child? How did that shape your life?
I have one older brother who was expected to do wonderful important things. Since we were raised in a sexist time and my father was very traditional, I felt very unimportant as a girl child. It made me feisty, though, to feel that girls were expected to let boys win at games, to not excel in school too much, and to be afraid of physical risks. My rebellion against this was one of the greatest gifts of my childhood.
Best tip for living a contented life?
To find your passions and cultivate them like a garden. Do things you love.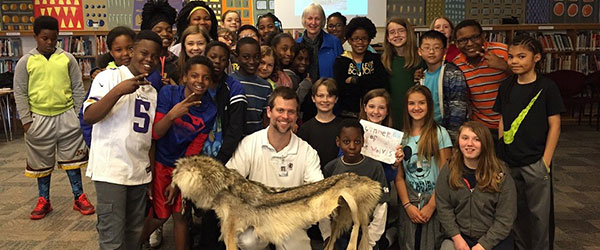 Your hope for the world?
That we all keep evolving to learn from people who are different from us, and that we all learn to treasure the gifts of wild creatures and wild places.