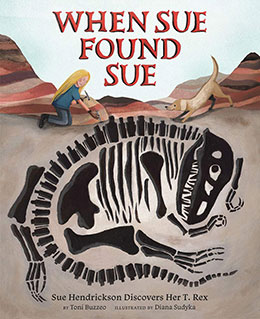 Is there any muse­um exhib­it more fas­ci­nat­ing than Sue, the T. rex, at The Field Muse­um in Chica­go, Illinois?
Now there's a curios­i­ty-rais­ing, shy­ness-rec­og­niz­ing, dis­cus­sion-wor­thy book about the oth­er Sue, the woman who dis­cov­ered the T. rex dur­ing a dig in South Dako­ta. For ele­men­tary school stu­dents and your dinosaur-inspired kids in the library and at home, you can see from the cov­er that this book is irresistible.
Toni Buzzeo, the author, begins Sue Hen­drick­son's sto­ry when she was a curi­ous child who spent a lot of time find­ing things. She was a shy girl, so for shy kids every­where, When Sue Found Sue is an inspi­ra­tion. I was a shy child myself (and a shy adult), so I'm cer­tain about this. If Sue Hen­drick­son could start the way she did, then all dreams are possible.
The writ­ing is engag­ing, telling a well-researched and true story.
Sue Hen­drick­son was born to find things:
miss­ing trinkets,
pre­his­toric butterflies,
sunken ships,
even buried dinosaurs.
The illus­tra­tor, Diana Sudy­ka, cre­ates a con­nec­tion through emo­tion, sus­pense, and "gouache and water­col­ors made from earth pig­ments for the Dako­ta scenes." I've had fun imag­in­ing how she mixed those paints. The end­pa­pers are charm­ing, empha­siz­ing the theme of find­ing things.
Think what you could do in the class­room and library with the theme of "find­ing things." And talks about shy­ness, and curios­i­ty, and how our inter­ests as chil­dren can become our pas­sions as adults.
This inter­view with the author will help you talk with your stu­dents and patrons about When Sue Found Sue.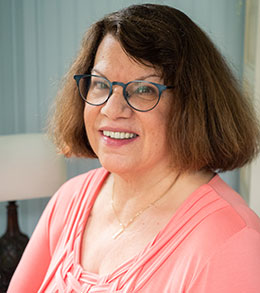 Toni Buzzeo, author:
How were you drawn to writ­ing a book about Sue Hendrickson?
Near­ly sev­en years ago, a fifth grad­er at a school vis­it in upstate New York asked me if I'd ever writ­ten non­fic­tion for kids. He was obvi­ous­ly a non­fic­tion lover. As I began to respond in the neg­a­tive, say­ing that I write fic­tion because it allows me to tell a sto­ry of a character's jour­ney with a nar­ra­tive sto­ry arc, I real­ized that I was describ­ing a writ­ing endeav­or that def­i­nite­ly includes biog­ra­phy. I made a promise to that boy that I'd go home and find a bio­graph­i­cal sub­ject. Hap­pi­ly, I land­ed on Cyn­thia Moss, the sub­ject of my first pic­ture book biog­ra­phy, A Pas­sion for Ele­phants: The Real Life Adven­ture of Field Sci­en­tist Cyn­thia Moss, a woman who has ded­i­cat­ed her life to study­ing the African ele­phants of the Amboseli region of Kenya.
I loved the research, I loved find­ing the through-line from Cynthia's child­hood to her adult work, and I ulti­mate­ly loved writ­ing the book, so much so that I deter­mined to write anoth­er pic­ture book biog­ra­phy of anoth­er strong woman of sci­ence. I sent the call out to my fel­low school librar­i­ans and found among their sug­ges­tions the per­fect next sub­ject in Sue Hen­drick­son, anoth­er strong self-taught woman of sci­ence who lives with pas­sion and ded­i­ca­tion — and who found the largest, most com­plete Tyran­nosaurus rex ever discovered!
As a once and future librar­i­an, you've focused on Sue's curios­i­ty. What do you find appeal­ing about her sense of curiosity?
I've nev­er thought about the curios­i­ty aspect of Sue's per­son­al­i­ty and my own, pri­mar­i­ly because so much of Sue's curios­i­ty took an exter­nal turn. While she sure­ly was a curi­ous (and vora­cious) read­er, from an ear­ly age she went out with a mag­ni­fy­ing glass into the world while my curios­i­ty was always much more intel­lec­tu­al — lead­ing me all the way to the field of librar­i­an­ship where I could prac­tice curios­i­ty for a living!
You've also empha­sized how shy Sue Hen­drick­son was. How does that res­onate with you?
Yes­ter­day I vis­it­ed Thomp­son School here in Arling­ton, Mass­a­chu­setts where I live, and the stu­dents and I were talk­ing about just this ques­tion. I was the shyest child ever born — or at least it seems that way when I think back. In ear­ly ele­men­tary school, if my best friend Lin­da Benko was not at school, I would pass the entire day with­out speak­ing to any­one, and that includ­ed my teacher. So find­ing a bio­graph­i­cal sub­ject so much like myself as a child was a great pleasure!
There's a great deal of infor­ma­tion in the illus­tra­tions, com­ple­men­tary to your text. Did you and Diana Sudy­ka have any occa­sion to con­fer before she began her illustrations?
Diana and I did not con­fer before she began, no. Aren't her illus­tra­tions just so amaz­ing? I love her work, her sen­si­bil­i­ty, the way she cap­tures char­ac­ter, set­ting, and dra­ma. I'm very excit­ed that she and I will be doing an event with Sue the T. rex at the Field Muse­um in Chica­go on June 26, 2019. I hope that some of your read­ers local to Chica­go will join us!
In work­ing with your edi­tor on this book, did the text or struc­ture change in any sig­nif­i­cant way?
Oh good­ness, yes, the con­tent, and thus the text, changed in a very sig­nif­i­cant way. The man­u­script that I first sub­mit­ted had a work­ing title of Find­er! As you may guess from that title, the text was much more wide-rang­ing than When Sue Found Sue. It exam­ined Sue Hendrickson's uncan­ny abil­i­ty to find thing across all of her many pur­suits in much more detail, from amber inclu­sions to marine archae­ol­o­gy. My edi­tor, Tamar Brazis, wise­ly guid­ed me in the process of con­dens­ing all of that and real­ly con­cen­trat­ing on the T. rex dis­cov­ery. It's a much more focused and suc­cess­ful book as a result.
Did you have an oppor­tu­ni­ty to inter­view Sue Hendrickson?
Sue Hen­drick­son is a very pri­vate per­son. She lives 40 miles off the coast of Cen­tral Amer­i­ca on the Hon­duras Bay island of Gua­na­ja, so no, I did not have the oppor­tu­ni­ty to inter­view her.
Both Sue Hen­drick­son and the book's illus­tra­tor, Diana Sudy­ka, have spent time in The Field Muse­um in Chica­go, Illi­nois. Have you also spent time there? What is your favorite part of the museum?
It has been many, many years since I have been to the Field Muse­um but I already know that when I return on June 26, 2019 for my joint event with Diana, my favorite part of the muse­um will be the amaz­ing new gallery where Sue the T. rex now lives—Grif­fin Halls of Evolv­ing Plan­et. Have a look here and you'll be as excit­ed as I am!
There is a quote that pre­cedes your Author's Note. "The thrill of dis­cov­ery is a real emo­tion … like a 'rush' … the excite­ment is worth the days or months of hard work … and keeps me going on and on … look­ing for more." As an author, do you feel a con­nec­tion to this statement?
Oh absolute­ly! When I final­ly have that last essen­tial piece of infor­ma­tion I need in order to begin writ­ing, I feel this way. When I look through all of my notes and final­ly spot the one uni­fy­ing aspect of my subject's life or per­son­al­i­ty that I will build the sto­ry around, I feel this way. When I com­plete the first full draft, and I feel it glow­ing on the screen, I feel this way.
At Thomp­son School, with my audi­ence of sec­ond graders, I was talk­ing about the hard work it takes to write and pub­lish books for kids, the years invest­ed, the rejec­tions and revi­sions and ded­i­ca­tion to the process. One quite pre­co­cious and deeply thought­ful young man in the front row raised his hand, but it wasn't ques­tion time yet. I asked if it was a ques­tion that could wait until ques­tion time at the end, and he said no, that it was about what I had just said. So I nod­ded for him to go ahead and that sev­en-year-old boy looked at me with earnest eyes and asked, "But is it worth it?"
"Oh yes," I said. "Oh yes, it is."
When you talk with chil­dren about this book, what will you dis­cuss with them?
We talk about my life as a child and my key per­son­al­i­ty traits. We talk about me as a writer and the kinds of books that have come before this one. Then we talk about the things I need­ed to learn about Sue Hen­drick­son to write this sto­ry effec­tive­ly. Kids are won­der­ful­ly good at nam­ing those things, all the way down to her char­ac­ter traits. Then we talk about how my two T. rex books are aston­ish­ing­ly dis­sim­i­lar. No T. Rex in the Library and When Sue Found Sue have only a very large dinosaur in com­mon. Next, we "dig" into the exca­va­tion, the chal­lenges, the serendip­i­ty, and the court case it inspired. And final­ly we talk about the new learn­ing that has allowed the sci­en­tists at the Field Muse­um to reunite Sue and her gas­tralia, a col­lec­tion of bones that had been omit­ted from her skele­ton as it was pre­vi­ous­ly on dis­play and is now reunit­ed with her skele­ton in the new hall and in her new pose. It's all very inter­est­ing and excit­ing to kids.
Do you enjoy find­ing things?
Is this a trick ques­tion? I must lose my glass­es and my phone on an aver­age of five times a day. Love find­ing them! But yes, in seri­ous­ness, I love to find facts. I just adore that. v