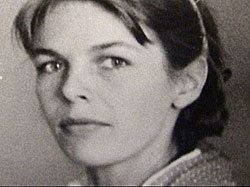 Vir­ginia Lee Bur­ton was born on August 30, 1909 in New­ton Cen­tre, Mass­a­chu­setts. She stud­ied art at the Cal­i­for­nia School of Fine Arts and the Boston Muse­um School. One of her ear­li­est jobs was as a "sketch­er" for the arts sec­tion of the Boston Transcript.
She mar­ried George Demetrios, a sculp­tor and her teacher at the Muse­um School, in 1931. They set­tled in Glouces­ter, Mass­a­chu­setts, where they had two sons. "I lit­er­al­ly draw my books first and write down the text after "I pin the sketched pages in sequence on the walls of my stu­dio so I can see the books as a whole. Then I make a rough dum­my and then the final draw­ings, and at last when I can put it off no longer, I type out the text and paste it in the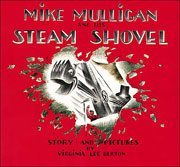 dum­my."
Thir­teen pub­lish­ers reject­ed her first man­u­script about a dust par­ti­cle, Jonif­fer Lint. When her three-year-old son fell asleep on her lap while she read it to him, she stopped send­ing it to pub­lish­ers, and there­after relied on chil­dren as her pri­ma­ry critics.
Her clas­sic books have nev­er been out of print and are cur­rent­ly embraced by a fourth gen­er­a­tion of ear­ly read­ers. She won the 1942 Calde­cott Medal for The Lit­tle House. Vir­ginia Lee Bur­ton died Octo­ber 15, 1968.
For more infor­ma­tion on the author, her books, and her design work, please vis­it Vir­ginia Lee Bur­ton, The Film.