It was the ear­ly eight­ies and I was grap­pling with my first mid­dle grade nov­el, a piti­ful imi­ta­tion of Daniel Pinkwater's Alan Mendel­sohn, the Boy from Mars. The boy in my apt­ly-titled "The Dooms­day Kid" played Dun­geons and Drag­ons and attend­ed a rock con­cert that end­ed in a bot­tle-and-can riot. For "research," I tried to teach myself D&D and dragged my hus­band to a Bad Com­pa­ny con­cert that end­ed in his tem­po­rary deaf­ness. No pub­lish­er would touch my thorny mess of a manuscript.
In 1981, I bought Tri­na Schart Hyman's Self-Por­trait. The Addi­son-Wes­ley series focused on children's book illus­tra­tors who "talked" about their work in words and art. Trina's life is ren­dered in exquis­ite­ly-writ­ten short chap­ters with water­col­or vignettes that are at once deeply per­son­al yet as del­i­cate­ly dis­tant as the fairy tales she loved.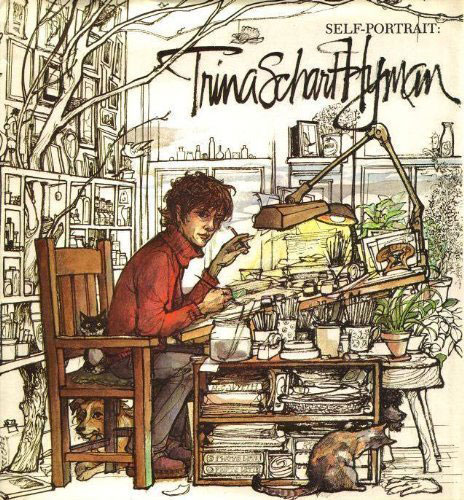 A fear­ful child, Tri­na need­ed to be Red Rid­ing Hood for an entire year. She need­ed to see Bruegel's "The Unfaith­ful Shep­herd" in the Philadel­phia Muse­um of Art to know there are wolves. She need­ed to cre­ate a real fairy for her lit­tle sis­ter, who believed Trina's made-up fairy sto­ries. Lat­er, she need­ed to leave home, become an artist, get mar­ried, and go to Swe­den, where trolls were frozen in stones, and she "felt their des­per­ate, ancient sorrow."
I'd nev­er read any­thing like Self-Por­trait. Like Tri­na, I was a fear­ful child. I, too, had trou­ble in school because I pre­ferred to read and draw. But I nev­er believed in fairies or angels or trolls. Yet her sin­cer­i­ty made me ques­tion why I was wast­ing my time on a book that had noth­ing to do with me or any­thing I cared about. What did I know about bot­tle-and-can riots, or Dun­geons and Drag­ons, or being a boy? My life need­ed to be in my work.
I began writ­ing about things that mat­tered to me. It took a while, but I got there. I fol­lowed Trina's career close­ly and, in 1985, I met her in per­son when she spoke at the annu­al lun­cheon of the Children's Book Guild of Wash­ing­ton, D.C. As a mem­ber, I insist­ed on being Trina's "han­dler." I fret­ted over what to wear, set­tling on a Gunne Sax out­fit — red print­ed flan­nel tunic with a white pil­grim col­lar, flop­py black bow, and black-and-white check flan­nel under­skirt. I cringe now describ­ing such a get-up, but when I walked over to Tri­na, she said my dress was the most beau­ti­ful she'd ever seen. I was Red Rid­ing Hood.
Tri­na Hyman was a work­ing artist. She illus­trat­ed edu­ca­tion­al books, greet­ing cards, mag­a­zine cov­ers, and dozens of trade books. Three of her titles were Calde­cott Hon­ors, and St. George and the Drag­on won the 1985 Caldecott.
Most of my hol­i­day books fea­ture her art: Christ­mas Poems, A Child's Christ­mas in Wales, A Christ­mas Car­ol, and, my favorite, How Six Found Christ­mas, a fable Tri­na wrote and illus­trat­ed for her daugh­ter. A friend gave me a first edi­tion of this love­ly lit­tle book. When first I saw the lit­tle girl in the snowy woods on the cov­er, I was car­ried back to the Christ­mas I was nine. My old­er sis­ter had left home that sum­mer. Decem­ber descend­ed, stark and lone­ly. Christ­mas wouldn't be the same with­out my sis­ter, who whis­pered sto­ries through the heat reg­is­ter that con­nect­ed our bedrooms.
Among my mother's hol­i­day trim­mings, I found a gauzy pink angel pack­age tie. I slipped it in the pock­et of my coat and walked into the woods beyond our gar­den. Gray-blue light cloaked the clear­ing where a tree had fall­en. I sat on the trunk and took the tiny dec­o­ra­tion from my pock­et. "You are the angel of Christ­mas," I told her. She under­stood I need­ed her. A thin lozenge of sun appeared and bright­ened the woods.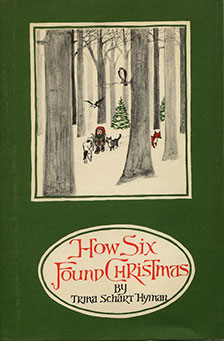 At the end of her mem­oir, Tri­na says, "Every­thing I have told you is a fairy tale. Life is mag­i­cal … Noth­ing is safe and every­thing changes." But the accom­pa­ny­ing illus­tra­tion reveals there will always be fam­i­ly and friends, cats and dogs, food to fix and sto­ries to tell. I savor this book each year, espe­cial­ly the gray-blue win­ter pond scene in the first chap­ter and these words: "It seemed then that it was always the week before Christ­mas, the sky was full of snowflakes ready to fall, and angels were perched on the barn along with the pigeons." Look close­ly and you'll see faces and wings in the dark-gray clouds.
Tri­na Schart Hyman left this life in 2004 at the age of 65, one year younger than I am now. I've learned that every­thing does change, and won­der if angels still watch. With each pass­ing Christ­mas, I remem­ber loved ones who are no longer here to share the sea­son, includ­ing Tri­na, who unknow­ing­ly became my angel when I need­ed her most.