I've been keen on dinosaurs and Ice Age mam­mals my whole life, since I read Roy Chap­man Andrews' All About Dinosaurs. When I was nine, I added pale­on­tol­o­gist to my string of future occu­pa­tions (writer, artist, bal­let dancer, detective).
My love for Jef­fer­son began when we moved to Fred­er­icks­burg in 1996. I was tour­ing James Monroe's Law Office down­town one day and learned how the build­ing was near­ly torn down in 1927 for a gas sta­tion when Monroe's descen­dant stepped in and turned it into a museum.
One day, the woman's son stood across from the muse­um. He saw two men in colo­nial dress in deep dis­cus­sion. Then they walked through the door of the Law Office, still talk­ing. A crack appeared in the wood­en door. Until the day he died, Lawrence Hoes insist­ed he saw young James Mon­roe and his men­tor, Thomas Jef­fer­son, walk through that door.
I always noticed that crack when­ev­er I walked down Charles Street, eas­i­ly imag­in­ing those two gen­tle­men. While Mon­roe was an inter­est­ing man in his own right, I believe Jefferson's much stronger, more com­pli­cat­ed spir­it split the door.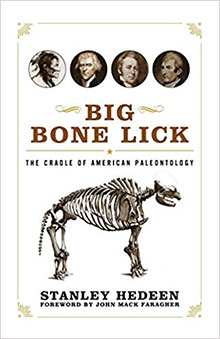 In 2014, I read Stan­ley Hedeem's Big Bone Lick and came across this sen­tence: "The delight­ed Jef­fer­son had the Lick's fos­sils laid out in the White House stor­age area that lat­er became the ele­gant East Room." That sin­gle image burned in my mind. Delight­ed Jef­fer­son! Lay­ing out crates of mastodon fos­sils in the East Room of the White House!
I didn't know then that Jef­fer­son was retir­ing from a life­time of pub­lic ser­vice he often didn't seek and that the box­es of fos­sils sym­bol­ized free­dom and recog­ni­tion of his sci­en­tif­ic efforts. The bones were the end of a sto­ry — I had to work back­wards to find out the rest.
My read­ing research jour­ney took me from Vir­ginia to Ken­tucky to upstate New York, from Paris, Lon­don, Madrid and Paraguay, from the halls of Philadelphia's Con­ti­nen­tal Con­gress to the bat­tle­fields of Gen­er­al Washington's Con­ti­nen­tal Army. Research­ing this sto­ry gave me a front-row seat in the growth of the new repub­lic, viewed through the lens of one man and his obses­sion for one animal.
My phys­i­cal research jour­ney took me from Mon­ti­cel­lo, to Saltville, in the Vir­ginia High­lands, to Philadel­phia, Wash­ing­ton, D.C., and New York City. My ini­tial goal — to write about why Jef­fer­son was so hap­py to receive mastodon bones in the President's House — blos­somed into a transat­lantic dra­ma set dur­ing the Age of Enlight­en­ment. Jef­fer­son was not alone. Many peo­ple shared the stage with him.
Iden­ti­fy­ing the mys­te­ri­ous giant bones found in Big Bone Lick was a col­lab­o­ra­tive effort between peo­ple of all ages, back­grounds, and nation­al­i­ties. Nei­ther rebel­lion nor war, geog­ra­phy nor polit­i­cal ide­olo­gies damp­ened the pur­suit of sci­en­tif­ic knowl­edge. At the cen­ter of this con­ti­nen­tal the­ater stood Jef­fer­son, dogged in his deter­mi­na­tion to place Amer­i­ca in a com­mand­ing posi­tion in the sci­en­tif­ic world.
Yet I researched with increas­ing trep­i­da­tion. Who was I to write about Jef­fer­son? Jef­fer­son! Sur­pris­ing­ly, Kei­th Thom­son, pale­on­tol­o­gist, author, PhD from Har­vard, Dean of Arts and Sci­ences at Yale, Direc­tor of Oxford Muse­um of Nat­ur­al His­to­ry, for­mer Exec­u­tive Offi­cer of Amer­i­can Philo­soph­i­cal Soci­ety, con­fid­ed to me he felt the same way when he began writ­ing about Jefferson.
Lack­ing Dr. Thomson's deep schol­ar­ly back­ground, what could I bring to the table? I only had to look out my win­dow. I grew up — and still live — in rur­al Vir­ginia. Like young Jef­fer­son, I ram­bled through woods and fields, spot­ting turkey vul­tures and pos­sums, lis­ten­ing to peep­ers, watch­ing the green­ing of Vir­ginia springs.
At the heart of the man's com­pli­cat­ed, flawed, bril­liant self was a boy who loved nature. Jef­fer­son nev­er out­grew his sense of won­der. Nei­ther have I. As I plowed through let­ters and doc­u­ments, I too hoped, as Jef­fer­son did, that Lewis and Clark would find a liv­ing "mam­moth" out West, even though I knew better.
As Edward O. Wil­son says in his mem­oir, Nat­u­ral­ist: "A child comes to the edge of deep water with a mind pre­pared for won­der … Hand's‑on expe­ri­ence at the crit­i­cal time, not sys­tem­at­ic knowl­edge, is what counts in the mak­ing of a nat­u­ral­ist. Bet­ter to be an untu­tored sav­age for a while, not to know the names or anatom­i­cal detail. Bet­ter to spend long stretch­es of time search­ing and dreaming."
As a boy, Thomas Jef­fer­son did that. I did, too, in near­ly the same territory.
Jef­fer­son seized the oppor­tu­ni­ty to advance sci­ence in our fledg­ling nation dur­ing a time when peo­ple were still try­ing to sus­tain a toe-hold in this vast land. He real­ized species need­ed to be rec­og­nized and cat­a­logued, dai­ly weath­er record­ed, sea­son cycles not­ed, and moun­tains climbed to see what was on the oth­er side.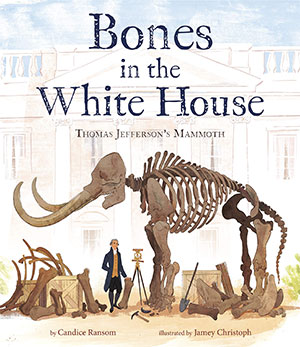 As I read and took hun­dreds of pages of notes, I fell in love with Thomas Jef­fer­son and mastodons, Big Bone Lick and Louis XV's roy­al cab­i­net of nat­ur­al his­to­ry spec­i­mens, Charles Will­son Peale and Georges Cuvi­er. I'm grate­ful to have spent time with those people.
My book changed in scope from a sim­ple tale about Thomas Jef­fer­son caper­ing in the East Room with his box­es of fos­sils to a sto­ry of ded­i­cat­ed men eager to bet­ter under­stand the planet.
I wrote Bones in the White House: Thomas Jefferson's Mam­moth (Dou­ble­day, 2020) to explore Jefferson's inter­est in sci­ence. What kept me going those three years was the romance of the sto­ry. I slipped through that crack in the door and was great­ly reward­ed for doing so.