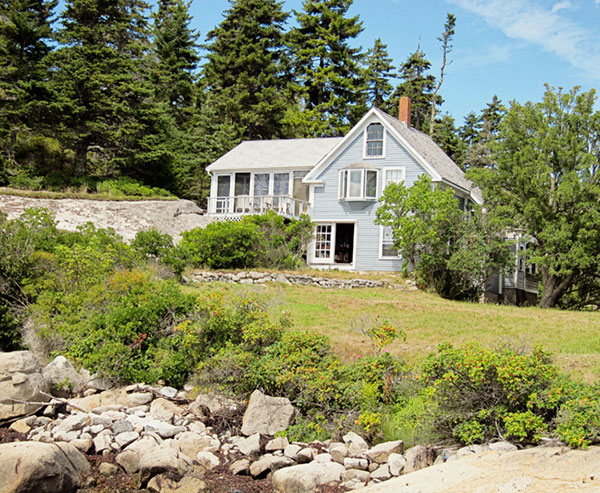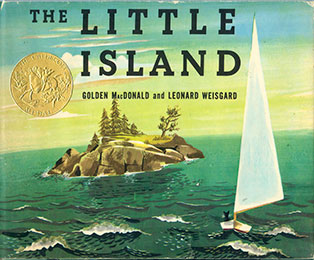 My first glimpse of Mar­garet Wise Brown's house on Vinal­haven Island, Maine, was from a boat. It topped a gran­ite slope, clap­board sid­ing paint­ed the same gray-blue as the sparkling Hur­ri­cane Sound. I was so excit­ed I near­ly fell over­board. We'd just passed the Lit­tle Island that Mar­garet had made famous in her Calde­cott-win­ning book and I'd spot­ted a seal doz­ing on the rocks.
Margaret's Only House was not the only house on that end of the island, but it was to me. I'd been work­ing on a biog­ra­phy of Brown and was look­ing for the real Mar­garet. My pil­grim­age to Only House was pro­fes­sion­al, pri­ma­ry research. I came to Margaret's work as an adult and placed her in her house, not myself as a child in the fic­tion­al site of one of her books.
I was not a Pot­ter fan clam­or­ing to find Plat­form 9 ¾ at King's Cross sta­tion, or some­one with fond mem­o­ries of Eloise scop­ing out the lob­by of the Plaza. As a kid, I longed to see Sleep­y­side-on-the-Hud­son, the fic­tion­al set­ting of my beloved Trix­ie Belden mys­ter­ies, because I believed it was real. Recent­ly I learned the vil­lage was real, based on Ossin­ing, New York, where the author had lived.
Each year, thou­sands tour lit­er­ary hous­es such as the Bronte Par­son­age in York­shire or Hemingway's home in Key West. When I went to Con­cord, Mass­a­chu­setts, I wad­ed in Walden Pond in hon­or of Thore­au, an author I admire as an adult. I think it requires a dif­fer­ent mind-set to vis­it the fic­tion­al sites of favorite children's books and come away satisfied.
If you loved the Anne of Green Gables books, a trip to Prince Edward Island may dis­ap­point with its bus­loads of tourists and mod­ern inter­pre­tive exhibits. How­ev­er, chil­dren still read­ing those books might eager­ly embrace fic­tion and real­i­ty in that lim­i­nal space, thrilled to see Anne's tiny bed­room with her stock­ings draped over the bed­stead. Schol­ars main­tain that when chil­dren vis­it lit­er­ary sites, the expe­ri­ence enhances re-read­ings of those books.
But how do adults fare on these jour­neys? I loved Wendy McClure's The Wilder Life: My Adven­tures in the Lost World of Lit­tle House on the Prairie. The Lit­tle House books McClure devoured as a child car­ried her to new places, new sights, new adven­tures. She found in those land­scapes "enchant­ed points of entry into a fan­ta­sy world," as Nico­la Wat­son writes in The Lit­er­ary Tourist.
McClure craved to churn but­ter and play with a corn­cob doll. She imag­ined help­ing Lau­ra — mag­i­cal­ly trans­port­ed to the 1970s — on the esca­la­tors of North River­side Mall. Then, like so many of us, she grew up and left her child­hood book friend behind. After the death of her moth­er, McClure re-read the books and decid­ed to trace Laura's path, home­stead by homestead.
The Wilder Life con­cludes with McClure remem­ber­ing the dif­fer­ent hous­es her moth­er, who grew up in a move-every-few-years-mil­i­tary fam­i­ly, tracked down on sum­mer vaca­tions. "I … thought of Lau­ra, too, of one lit­tle house after anoth­er form­ing the sto­ry of a life." At last she declared to her patient hus­band that they were done Lau­ra-jaunt­ing. Home was with him, she real­ized. Time to re-enter the sto­ry of their life together.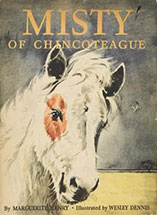 Sarah Maslin Nir recounts a dif­fer­ent expe­ri­ence in her New York Times arti­cle, "All the Pret­ty Ponies." Grow­ing up "most­ly horse­less" in New York City, she trav­eled to Chin­coteague Island, Vir­ginia, on the trail of Mar­guerite Henry's Misty of Chin­coteague. Misty had "stoked [her] eques­tri­an fan­tasies as a girl. Maslin Nir arrived dur­ing Pony-Pen­ning Days, when the wild hors­es swim from Assateague Island to Chin­coteague to be auc­tioned, a tra­di­tion dat­ing from 1925 to thin the herd and raise funds for the fire department.
She sat on her hands dur­ing the auc­tion to keep from bid­ding on adorable, shag­gy ponies. Then she vis­it­ed the Muse­um of Chin­coteague Island and saw taxi­der­mied Misty on dis­play. The expe­ri­ence was "crush­ing." When she learned that Misty had nev­er been a wild pony, she knew "the crea­ture Hen­ry had con­jured on the page had nev­er real­ly lived." She bought a copy of Misty of Chin­coteague as a sou­venir of her trip, pre­fer­ring her child­hood ver­sion to reality.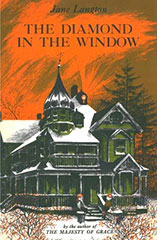 When we as adults try to repos­sess a fic­tion­al land­scape that meant every­thing to us as chil­dren, we risk tram­pling the enchant­ed point of entry. On my trip to Con­cord, I was sore­ly tempt­ed. Not only is Con­cord the home of Emer­son, Thore­au, and the Alcotts, it was also the set­ting of my favorite child­hood book, The Dia­mond in the Win­dow, by Jane Lang­ton. The neo-Goth­ic house depict­ed on the cov­er was on 148 Walden Street. I could go there. I could take a picture!
The lure was pow­er­ful. But I know that won­der­ful old hous­es were often parceled into apart­ments, added on to, changed. I didn't couldn't bear to see Eric Blegvad's 1961 illus­tra­tion marred by the 21st century.
In his 1935 trav­el mem­oir, In Search of Eng­land, H.V. Mor­ton climbed the rock steps to Tin­tagel, the rumored birth­place of King Arthur, even though he felt the cas­tle "was one of those places which no man should see." Tin­tagel wasn't the gaunt rocky ruins, but "a coun­try of dreams more real than real­i­ty." Exact­ly so.
Not every­thing has to be seen, not every speck of curios­i­ty must be sat­is­fied, espe­cial­ly in a world where Google pro­vides the answer to any­thing. I remem­bered my first read­ing of Dia­mond, that sin­gu­lar moment when my imag­i­na­tion sprout­ed wings and I soared into the clouds. I didn't go to 148 Walden Street. I would not ruin the memory.