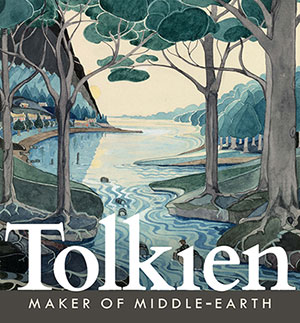 A few weeks ago, I stood at the cor­ner of 37th and Madi­son Avenue in New York City and gazed long­ing­ly at the ele­gant pink mar­ble build­ing that housed J.P. Morgan's library, now the Mor­gan Library and Muse­um. In late Jan­u­ary 2019, the Mor­gan will host the "Tolkien: Mak­er of Mid­dle-earth" exhib­it. I'm too early.
I only trav­el to New York every three or four years, but I'll come back to see this exhib­it, even if I have to crawl. You see, I read The Lord of the Rings when I was thir­teen. After­ward, I moved to Mid­dle-earth and stayed the next eleven years. I drew pic­tures of hob­bits and Gan­dalf and thumbed to page 126 in The Return of the King again and again to expe­ri­ence the most thrilling sen­tence in Eng­lish lit­er­a­ture — "Rohan had come at last."
I have sev­er­al copies, includ­ing the 70s hard­cov­er edi­tions in slip­case, a heavy one-vol­ume edi­tion I read with the book propped on a pil­low, and the movie-based ver­sions. But the books I prize most are the 1967 Bal­lan­tine mass mar­ket paper­back edi­tions with Bar­bara Remington's strange cov­er art. Orig­i­nal­ly, I checked out each vol­ume from the library, read it in school, in bed, in the car, as I walked, and returned it fever­ish­ly pray­ing the next vol­ume would be on the shelves. When I found the paper­backs in the first book­store in Fair­fax, I near­ly faint­ed. My very own Lord of the Rings!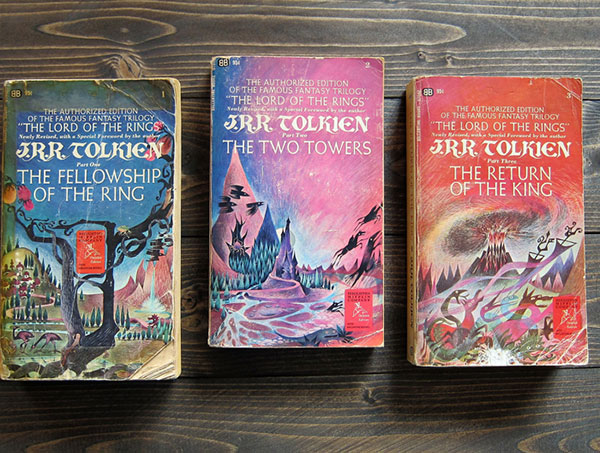 The fan­ta­sy made me want to tell every­one about the tril­o­gy and at the same time tell no one. I want­ed Tolkien's mas­ter­piece all to myself. This is a com­mon notion among bib­lio­philes. In her mem­oir, My Life with Bob: Flawed Hero­ine Keeps Book of Books, Plot Ensues, Pamela Paul writes, "I con­sid­ered cer­tain books mine, and the idea that oth­er peo­ple liked them and thought of them as theirs felt like an intru­sion." I also want­ed more Lord of the Rings, but there wasn't any. And The Hob­bit didn't cut it.
Those paper­backs went every­where with me, house to house, state to state. In each move, things got left behind: year­books, my high school diplo­ma, my mother's kitchen table, the dress I was mar­ried in (not a wed­ding dress). But nev­er Lord of the Rings.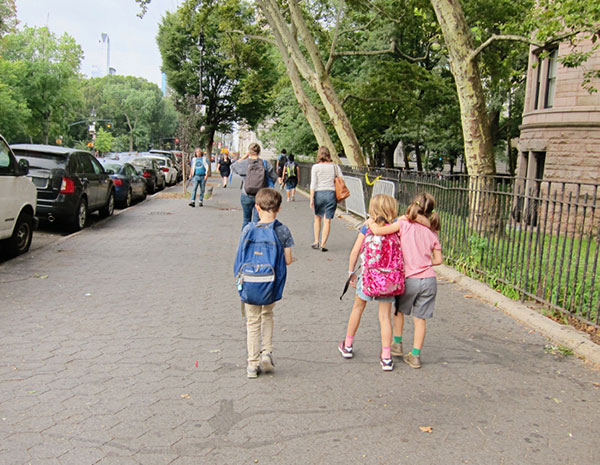 On my last morn­ing in New York, I wan­dered around the Upper West Side with chil­dren walk­ing to the var­i­ous P.S.'s and pri­vate schools I'd read and won­dered about in books like Har­ri­et the Spy. They walked with par­ents and nan­nies and baby broth­ers. They walked with friends and dogs and sib­lings on scoot­ers. These three chil­dren stayed ahead of me. At first I thought the boy was star­ing at a device. But he was read­ing a book! He wasn't catch­ing up on home­work, he turned the pages too fer­vent­ly. His book was so engross­ing, he couldn't put it down.
In an essay in the Octo­ber Harper's, William Gass writes of his beloved Trea­sure Island, a cheap paper­back that saw him through "high school mis­eries," went with him to col­lege, and was stowed in his Navy duf­fle dur­ing WWII. Despite the yel­lowed, brit­tle pages, Gass admits, "That book and I loved each oth­er." He doesn't mean the text, but the phys­i­cal book. Books on a screen, he main­tains, "have no mate­ri­al­i­ty … off the screen they do not exist … they do not wait to be reseen, reread; they only wait to be remade, relit." I can't imag­ine squint­ing at The Lord of the Rings on a Kin­dle, try­ing to find page 126 in the third vol­ume, unable to lose myself in Remington's cov­er art that forms a trip­tych when the indi­vid­ual books are lined up.
As a child in the 80s, Pamela Paul sought vin­tage "yel­low back" Nan­cy Drews. The orig­i­nal 30s blue spine books were too old, and the new paper­backs were "loath­some." She pre­ferred the 60s edi­tions with their inte­ri­or draw­ings and "broody cov­er paint­ings." The qual­i­ty of the paper, the bind­ing glue, the end papers made the book a trea­sured object, "the vase as much a plea­sure as the flowers."
The books we keep for­ev­er are the ones we owned back when buy­ing a book was a big deal. When we made the effort to track down spe­cial edi­tions. When we would walk and read because the book would not leave our hands. I hope the book that New York school­boy was read­ing was chang­ing his life, that it was his, and that he would keep it for­ev­er, no mat­ter where he went in life.
After high school, I got a job as a sec­re­tary. I hung a poster of Remington's Lord of the Rings cov­er art over my desk. (Clear­ly, I was not your aver­age sec­re­tary). At the age of 24, I decid­ed it was time to leave Mid­dle-earth. This com­ing Jan­u­ary or Feb­ru­ary, I'll return to New York to see Tolkien's orig­i­nal papers and draw­ings and maps. Mean­while, I'll re-read my Bal­lan­tine paper­backs. The door to Mid­dle-earth is always open.