"It wasn't too fan­tas­tic. That's what you need: a fair­ly down-to-earth sto­ry that peo­ple can asso­ciate them­selves with."
—Walt Dis­ney, on choos­ing Snow White as his first ani­mat­ed feature
When I was ten, I want­ed to be a detec­tive-vet­eri­nar­i­an-artist-writer-bal­let dancer. Nev­er mind I couldn't stay up late, stand the sight of blood, or ever had a sin­gle dance les­son. Ten-year-olds view the world as lim­it­less. When I was a teenag­er, my dreams shift­ed to more spe­cif­ic: a writer of children's books and an ani­ma­tor for Walt Dis­ney Studios.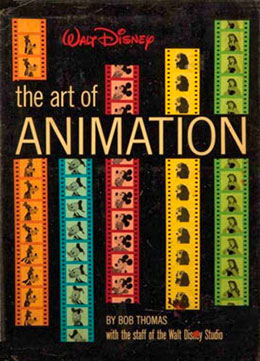 Like mil­lions of kids in the 60s, I was glued to our TV on Sun­day nights to watch Walt Disney's Won­der­ful World of Col­or. I'd nev­er seen any Dis­ney movie in the the­ater, but this tele­vi­sion pro­gram showed tan­ta­liz­ing snip­pets of the ani­mat­ed fea­tures. In high school, I dis­cov­ered Walt Dis­ney: The Art of Ani­ma­tion in the pub­lic library. I pored over sketch­es, sto­ry­boards, back­grounds, and full-col­or art. I stud­ied the work of in-between­ers, back­ground artists, lay­out artists, con­cept artists, inkers, and painters, who seemed like family.
I fell so hard I left a dent in the floor. This was what I want­ed to do, along with writ­ing children's books. I prompt­ly wrote to Walt Dis­ney Stu­dios in Bur­bank, Cal­i­for­nia, let­ting them know I was avail­able. My hand­writ­ing clued them I was just a kid, though I did receive a reply which said: Fin­ish school, then sub­mit sam­ples to their spe­cial art school in Cal­i­for­nia. No prob­lem! Nev­er mind I lived in the sticks in Virginia.
Walt Dis­ney: The Art of Ani­ma­tion was checked out to Can­dice Far­ris dozens of times. I copied my favorite illus­tra­tions on typ­ing paper, col­ored with new-at-the-time felt-tip mark­ers. After grad­u­a­tion, I went to work in an office, but kept draw­ing Dis­ney sam­ples. In 1973, the lav­ish cof­fee-table book The Art of Walt Dis­ney was pub­lished. Mine! I spent hours immersed in art and text, lin­ger­ing long min­utes over a water­col­or of a bar of soap on a wood­en counter, a study for Snow White and the Sev­en Dwarfs.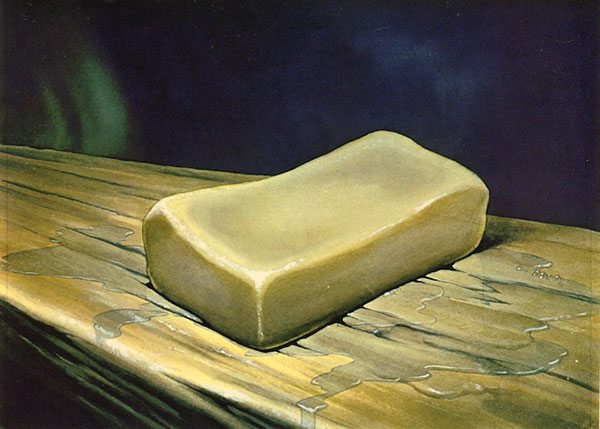 The bar of soap was the most beau­ti­ful thing I'd ever seen. Who would have thought soap could be so ele­gant, the wood grain so real­is­tic I braced for splin­ters as I touched the paper. Sud­den­ly I didn't want to draw peo­ple — I want­ed to paint home­made soap and carved head­boards and scary trees! I copied the image of Snow White's scary tree but lacked the sepias and grays for that love­ly soap.
As time passed, I real­ized I could teach myself to write while hold­ing down a full­time job, but I need­ed art train­ing to be good enough for Dis­ney. My inter­est in Dis­ney fad­ed as my enthu­si­asm for children's books grew. Dur­ing moves, I lost my copy of The Art of Walt Dis­ney. When books about Dis­ney began crop­ping up in the 90s, The Art of Walt Dis­ney was reprint­ed, two-thirds the orig­i­nal length, crowd­ed with stingy images. I nev­er for­got the water­col­or soap and was delight­ed to find it includ­ed in the new edi­tion. I own that book and many oth­ers about ear­ly Dis­ney (any­thing after his death in 1966 doesn't inter­est me).
Late­ly I've strug­gled to find a project to work on, final­ly set­tling on an idea more than four years old. I'd fleshed out the idea between oth­er writ­ing projects, but an ele­ment was miss­ing. Mag­ic. It's not an area I'm com­fort­able with, as I'm not an imag­i­na­tive writer. I could nev­er think up Har­ry Pot­ter or hob­bits. As often when I'm stuck, I turn to a dif­fer­ent cre­ative source.
I spread my Dis­ney books on the floor and read and looked. Walt Dis­ney envi­sioned an orange grove as an amuse­ment park, when such places were tawdry and taste­less, that would make peo­ple expe­ri­ence won­der. He envi­sioned ani­ma­tion as an art form, not just filler car­toons, but as full-blown stories.
Dis­ney told his artists the sto­ry of Snow White, then urged them to reach the high stan­dards it would take to make that vision a real­i­ty. The sto­ry had an evil queen, a poi­soned apple, a talk­ing mir­ror. To make the mag­ic cred­i­ble, scenes need­ed to be ground­ed in down-to-earth things. The home­ly dwarfs' cot­tage in the woods with its hand-carved beds, crock­ery, and can­dle­sticks off­set the queen's dark castle.
I stud­ied the pic­ture of the soap again. It's still beau­ti­ful, but this time I saw its deep­er truth. That hum­ble soap enabled audi­ences to believe in the mag­ic parts. If I keep in mind that mag­ic grows from the ordi­nary, not the fan­tas­tic, from things peo­ple can asso­ciate them­selves with, I can tack­le my book.
My men­tor won't be Rowl­ing or Tolkien, but a man who, at the age of nine, deliv­ered news­pa­pers at 3:30 a.m. in deep snow, steal­ing a few min­utes to play with toys left out on porch­es because his father wouldn't let him have any. Walt Dis­ney grew up to give gen­er­a­tions joy and unlim­it­ed dreams. Each day when I go to my com­put­er, I'll imag­ine him urg­ing me to high­er standards.