Every win­ter I find myself miss­ing Arnold Lobel, a qui­et­ly bril­liant author-illus­tra­tor who left us far too ear­ly. I pull out my Lobel I Can Read col­lec­tion. Frog and Toad Are Friends was pub­lished in 1970, the year I grad­u­at­ed from high school, bent on my own career in children's books. Hailed an instant clas­sic by many far-see­ing indi­vid­u­als, Frog and Toad earned a Calde­cott Hon­or. My copy, the first Harp­er Tro­phy edi­tion, is from 1979. That same year I bought a set of Frog and Toad stuffed dolls because they were so ridicu­lous. Lobel remarked in an inter­view, "Their pants kept falling down in the ear­ly mock-ups, but they've fixed that."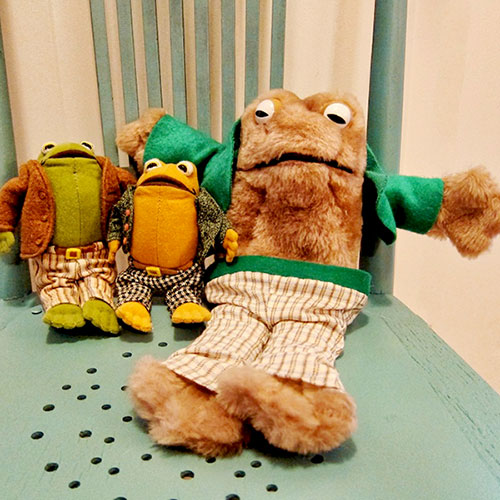 Not exact­ly. My Toad doll wears what can only be called plumber's pants. Yet amphib­ians dressed in falling-down trousers is just the sort of thing that would amuse Lobel. He drew inspi­ra­tion from fab­u­list Edward Lear. Like Lear, Arnold Lobel pos­sessed an imag­i­na­tion unfet­tered by the laws of log­ic and prob­a­bil­i­ty. The sto­ries in the Frog and Toad quar­tet are absurd, ten­der, and decep­tive­ly sim­ple. They are also per­fect. When stu­dents ask my advice on writ­ing easy read­ers, I send them to Frog and Toad. "Aim for the pin­na­cle," I tell them.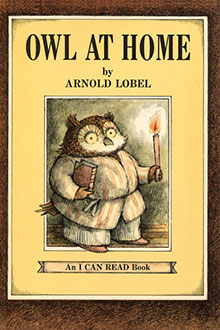 As much as I love Frog and Toad, I'm equal­ly fond — maybe a lit­tle more so — of Owl at Home. Lobel once described Owl as "a com­plete psy­chot­ic," but I find his char­ac­ter charm­ing­ly eccen­tric. In each of the five sto­ries, Owl is all alone. No won­der he's a bit dif­fer­ent. In "The Guest," Owl feels sor­ry for poor old Win­ter out in the cold and invites Win­ter into his house. Gusts of snow and wind blow wild­ly through the room. Owl learns the hard way that not all guests have manners.
In anoth­er sto­ry, Owl is con­cerned that the upstairs of his house is lone­ly when he is down­stairs and vice ver­sa. He races up and down the stairs, try­ing to be in two places at once. Exhaust­ed, he final­ly sits on the mid­dle step. It's utter non­sense but the child in me loves the fact Owl wor­ries that the floor he isn't on miss­es him. Owl makes tear-water tea by think­ing of sad things like spoons dropped behind the stove, pen­cils too short to use, and songs that can't be sung because the words have been for­got­ten. His tears fill the ket­tle for a salty but refresh­ing tea.
Owl goes for a walk in "Owl and the Moon." When the moon ris­es, he rea­sons that if he sees the moon, then the moon sees him, and they must be friends. On his way home, Owl notices the moon fol­low­ing. He tells the moon to go back. "You real­ly must not come home with me. My house is too small. You would not fit through the door. And I have noth­ing to give you for sup­per." My heart turns over at Owl's dis­tress over being unable to feed the moon. In the end, Owl real­izes the moon is shin­ing in his bed­room: "What a good, round friend you are." This book makes me want to knock on Owl's door and ask him to lunch.
The Frog and Toad books were inspired by vaca­tions on Lake Bomoseen, Ver­mont, where Lobel's chil­dren caught frogs and toads and oth­er small ani­mals. While Frog and Toad received the most praise (Calde­cott Hon­or, New­bery Hon­or, Nation­al Book Award final­ist, Children's Book Show­case, George G. Stone Award) and are still high­ly regard­ed, I feel Owl at Home is a sleep­er. Owl reminds me of the boy Arnold, who strug­gled to make friends.
In both writ­ing and art, Lobel hit his stride with his I Can Read books. Spot illus­tra­tions and framed vignettes in only two or three col­ors gen­tly guide new read­ers through the texts. Lobel didn't like bright col­ors in "those lit­tle books," as he referred to them. "In my ear­ly years I used to do bright col­ors … and I real­ly wasn't hap­py, so I grad­u­al­ly got muter and muter and became more pleased with the aes­thet­ic result." It has been said that his begin­ning read­ers pro­mote inti­ma­cy, safe­ty, and a sense of order. To me, they feel like home.
The ani­mal char­ac­ters in those lit­tle books dwell in cozy hous­es, with com­fy fur­ni­ture, books, and flow­ers. They tell sto­ries, read — some­times to each oth­er — take walks, gar­den, and drink tea. Lobel loved cre­at­ing books for chil­dren: "There is a lit­tle world at the end of my pen­cil." But he wasn't always a ray of sun­shine. His child­hood was lone­ly. He kept part of his adult life hid­den. "When I am brought low by the vicis­si­tudes of life," he once remarked, "I stum­ble to my book­shelves. I take a lit­tle dose of Zemach or Shule­vitz. I grab a shot of Goff­stein or Mar­shall … the treat­ment works. I always feel much better."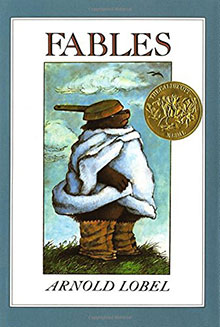 I met Arnold Lobel once. An illus­tra­tor friend and I went to hear him speak in the fall of 1980, the year he won the Calde­cott for his pic­ture book Fables. As a pre­sen­ter, he was mod­est, fun­ny, and gen­er­ous. After the event, my friend and I head­ed for the park­ing lot when we saw Lobel walk­ing alone to his rental car. We couldn't believe that a Calde­cott win­ner was all by him­self. My friend asked him a few ques­tions about mak­ing pic­ture books, which he answered hon­est­ly. I stayed qui­et. It was enough to stand next to the man who brought Frog and Toad and Owl and oth­er char­ac­ters into my world.
In the win­ter of 1987, Arnold Lobel died at age 54, one of the first in the children's book com­mu­ni­ty to fall vic­tim to AIDS. He once said in a speech, "To be mak­ing books for chil­dren is to be in a sort of state of grace." I try to remem­ber those words when I'm feel­ing less than char­i­ta­ble toward the indus­try that's been my home for near­ly 40 years. When I'm brought low by the vicis­si­tudes of life, I vis­it Frog and Toad, Owl, Grasshop­per, and Uncle Ele­phant. Lobel's treat­ment works. I always feel wel­come.