The first map I remem­ber was flashed briefly on TV, part of a com­mer­cial for Sto­ry Book Land. It aired on "Cap­tain Tugg," a local kid­die pro­gram. I adored Cap­tain Tugg, so any­thing he endorsed must be gold. Like the home-movie type kid shows of the 50s and 60s, Sto­ry Book Land was a fam­i­ly-owned amuse­ment park. And for my ninth birth­day, I was going to Sto­ry Book Land!
The day of my trip brought a fam­i­ly cri­sis. After things had set­tled down, we went to Sto­ry Book Land. My moth­er sat on a bench while I fol­lowed the col­ored map giv­en at the tick­et booth to Robin Hood's Tree House and Ali Baba's Cave. The map promised adven­ture, but the park itself, with its fiber­glass hous­es and nurs­ery rhyme fig­ures, fell short. This may have been my ear­li­est expe­ri­ence with antic­i­pa­tion exceed­ing the actu­al event, yet my love for maps grew out of that disappointment.
The fan­ta­sy books I read abound­ed with maps. The Hob­bit, Water­ship Down, The Phan­tom Toll­booth, The Wiz­ard of Oz, the Nar­nia books, all pro­vid­ed maps to help read­ers pic­ture imag­i­nary worlds. As Richard Padron says in Maps: Find­ing Our Place in the World, "[ver­bal map­ping does] not have the same impact, [or] pro­vides quite the same expe­ri­ence. That impact has every­thing to do with the seduc­tions of see­ing a world that is not our own."
I was enchant­ed with the map in Car­ol Kendall's The Gam­mage Cup. Erik Blegvad's draw­ing of The Land Between the Moun­tains gave me a sense of the topog­ra­phy, essen­tial to under­stand­ing the sto­ry. My fin­ger traced the riv­er tum­bling from Snow­drift Moun­tain to the for­bid­ding Frost­bite Moun­tains. The riv­er was the source of life for the tiny Min­nip­ins. If I ever found myself in the Land Between the Moun­tains, some­thing I wished for might­i­ly, I'd eas­i­ly make my way to Slip­per-on-the-Water, the best of the twelve vil­lages. The map added to my read­ing expe­ri­ence, kept me anchored in that world longer, which was fine by me. My own world was a grease spot in the road in rur­al Fair­fax Coun­ty, sad­ly lack­ing rivers and moun­tains, giants and tiny people.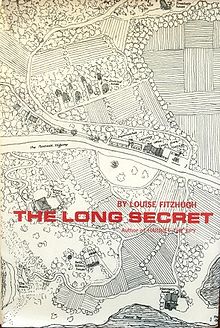 Maps in con­tem­po­rary fic­tion serve the same pur­pose. When I read The Long Secret, the sequel to Har­ri­et the Spy, I entered a place as for­eign as any fan­ta­sy: the ham­let of Water­mill, Long Island. It was a stretch to nav­i­gate the ref­er­ences of well-heeled peo­ple, such as the fact Beth Ellen's moth­er was in Biar­ritz. Was that a men­tal insti­tu­tion, I won­dered? The map showed me that rich peo­ple lived in the coun­try, too, if only "sum­mer­ing." Metic­u­lous­ly ren­dered roads, hous­es, shops gave me con­fi­dence I could walk down Mon­tauk High­way to Harriet's or Beth Ellen's house.
In a blog post on maps in lit­er­a­ture, Nicholas Tam says, "Fic­tion­al maps intro­duce the com­pli­ca­tion of hav­ing, at min­i­mum, two lay­ers of author­ship: the lay­er out­side the text that has the pow­er to dic­tate and reshape the world, and the lay­er that belongs to the real­i­ty of the world. The author is in the first and the char­ac­ters are in the second."
The map by Christo­pher Robin in Win­nie-the-Pooh, with its child­like lan­guage ("100 Aker Wood," "Floody Place") lets read­ers believe the place is real because it was drawn by a peer. Christo­pher Robin may be a char­ac­ter in the sto­ry, but he is also a kid that read­ers can trust. I came to Win­nie-the-Pooh as an adult, yet Hun­dred Acre Wood seemed real (it is!). It's safe to assume that Tam's sec­ond lay­er dom­i­nates the author­ship of that map.
Yet author­ship of a novel's map isn't always reli­able. Look at Robert Lawson's gor­geous end­pa­pers for Rab­bit Hill. Ani­mals are depict­ed big­ger than the land­scape and build­ings, cer­tain­ly not to scale, though their larg­er-than-life size sug­gests their impor­tance against the human back­drop. To the right, "Our Bur­row" indi­cates the rab­bit nar­ra­tor drew the map. But would a child­like rab­bit be able to cre­ate such a love­ly piece of art? It's clear to me that the first lay­er — the lay­er out­side the text dic­tat­ing and reshap­ing the world — is the author. This doesn't both­er me one whit. If Rab­bit Hill is this daz­zling, I'm ready to move there.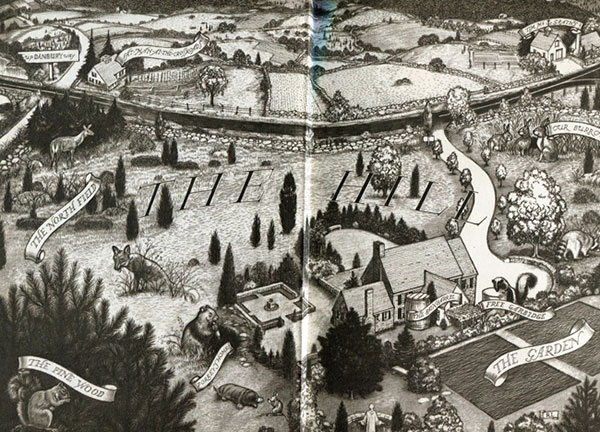 Maps in children's books made me notice my own sur­round­ings. Sud­den­ly the grease spot in the mid­dle of Lee High­way wasn't that bor­ing. Hous­es, barns, the auto garage, the motel, all were mag­ic land­marks that I knew by their secrets. When I began writ­ing for pub­li­ca­tion, I set most of my sto­ries where I grew up, car­ry­ing in my head those hous­es and barns, long after I left, long after the place changed dras­ti­cal­ly. Their secrets stayed with me.
In Abi Elphinstone's essay in The Writer's Map: An Atlas of Imag­i­nary Lands (brand-new and won­der­ful), she too uses the map of her child­hood in her books. But she goes one step fur­ther, she draws her own maps, espe­cial­ly on "those days when the words sit stub­born­ly out of reach." "I have nev­er found myself at a loss when doo­dling an imag­ined world," she says.
For my new work in progress, I've brought out col­ored pen­cils and Micron pens. I don't draw that well, but I know my cre­at­ed world won't be made of fiberglass.