To cel­e­brate our for­ti­eth anniver­sary this year, we decid­ed to take a Big Trip. My hus­band sug­gest­ed Paris. "Corn­wall," I said. "Some­place old." Not that Paris isn't old. Instead of a crowd­ed city, I want­ed win­kles and pasties, lost gar­dens and stand­ing stones, piskies and Tin­tagel cas­tle. He agreed and I began putting togeth­er a trip that would send us back in time.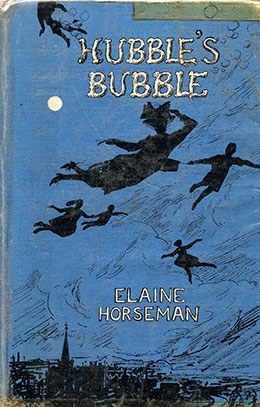 My motives weren't entire­ly pure. True, I've been an Anglophile ever since I read the British children's fan­ta­sy Hubble's Bub­ble at the age of eleven and start­ed sav­ing pen­nies to go to Wales and Scot­land. Cur­rent­ly I'm writ­ing my first mag­i­cal real­ism mid­dle-grade nov­el. Build­ing the world of my sto­ry has tak­en near­ly three years, yet the book's foun­da­tion feels as sta­ble as shiv­er­ing sands. By tramp­ing over ancient lands, I hoped Cornwall's mythol­o­gy would seep through the soles of my Sketch­ers and I'd bring some back with me.
As much as I love America's his­to­ry and var­ied land­scapes, I fret that the U.S. isn't — well, Britain. Amer­i­ca has, as New Eng­land fan­ta­sy writer Jane Lang­ton once wrote, "less his­to­ry to draw on … It is bald of mythol­o­gy, bare of folk tale. Its open fields are not marked by stand­ing stones." We do have Native Amer­i­can folk­lore and the tall tale adven­tures of larg­er-than-life char­ac­ters such as Paul Bun­yan and John Hen­ry. But those sto­ries are not part of my background.
Langton's essay is more than thir­ty years old and much has changed. Many fan­tasies today give read­ers pass­ports to worlds beyond medieval Europe, inspired by African, Asian, and indige­nous Amer­i­can cul­tures. My book is set in Vir­ginia, deeply linked to my Eng­lish roots, a place and voice I know. But Vir­ginia has no dead kings buried with bro­ken swords, no sleep­ing drag­ons under the hill, no fairies. How will I sat­u­rate the land­scape with magic?
When I think back, I didn't always notice the set­tings of child­hood books. The open­ing line of Edward Eager's Sev­en-Day Mag­ic hooked me right away. "'The best kind of book,'" said Barn­a­by, "'is a mag­ic book.'" I agreed and ripped through the Half-Mag­ic series, not car­ing that the books are placed vague­ly in Amer­i­ca (Ohio and Con­necti­cut, Eager's stomp­ing grounds).
Mid­west­ern­er Eager grew up with the Oz books, the first true Amer­i­can fan­tasies for chil­dren. When he had his own chil­dren, he dis­cov­ered E. Nesbit's books, which he praised for the "daili­ness of the mag­ic. Here is no land of drag­ons and ogres or Mock Tur­tles and Tin Wood­men … The world of E. Nes­bit is the ordi­nary or gar­den world we know, with just the right pinch of mag­ic added." Every­day mag­ic, set wher­ev­er, suit­ed me fine.
Yet when I found Jane Langton's A Dia­mond in the Win­dow, I met an open­ing that left no ques­tion about its set­ting: "Edward Hall sat under the front porch of the big house on Walden Street in Con­cord, Mass­a­chu­setts, and thought about his two ambi­tions in life." By page 4, I'd learned Con­cord was the site of the first bat­tle of the Rev­o­lu­tion­ary War, Walden Pond was near­by, and Ralph Wal­do Emer­son, Louisa May Alcott, and Hen­ry David Thore­au, who­ev­er they were, had lived there. This Vir­ginia kid, clue­less about New Eng­land, was intrigued. Not far into the sto­ry — a delight­ful com­bi­na­tion of fan­ta­sy and mys­tery — the children's naïve Uncle Fred­dy quotes Emer­son to the trash collector:
"Oh, call not Nature dumb!
The trees and stones are audi­ble to me …"
It's a fun­ny scene, but the quote set me to won­der­ing. I'd often thought trees talked (it turns out they do!) and some­times wor­ried when I walked on rocks — did they hurt? The Dia­mond in the Win­dow has mag­ic, but it also has nature, which was more acces­si­ble to me. As a child, there was so much I want­ed to know about the ground beneath my feet, the trees stretch­ing toward the sky, the clouds and weather.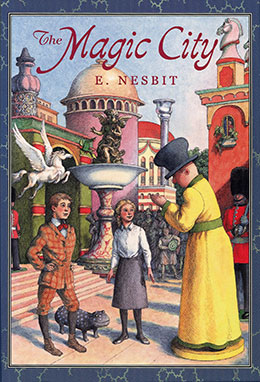 In Langton's essay, she admits British fan­ta­sy writ­ers can tap into "the thick inter­twin­ing of field and for­est with myth and his­to­ry." She men­tions that Scot­tish writer Mol­lie Hunter once told her that fan­ta­sy "could only be com­posed by some­one stand­ing upon a coun­try­side drenched in myth and folk­lore." Real­ly? I went fly­ing to an essay by Mol­lie Hunter in which she cred­its leg­ends, "a suc­ces­sion of folk mem­o­ries fil­tered through the storyteller's imag­i­na­tion," as the basis for true fantasies.
Vir­ginia, I'm afraid, sad­ly lacks super­nat­ur­al beings such as Celtic fetch­es and wraiths. But it has an abun­dance of nature, the kind E.B. White tapped into by watch­ing ordi­nary spi­ders and pigs and rats at his Maine farm. Lang­ton argues that "nature tak­en pure, nature in its sim­plic­i­ty and silent grandeur" car­ries its own brand of mag­ic. Instead of long­ing for stand­ing stones, I'll be hap­py to extract "mar­veling won­der­ment" from the seashell-capped Blue Ridge Moun­tains, horse-pas­tured Pied­mont, and osprey-nest­ed Chesa­peake Bay.
As for Corn­wall, we dis­cov­ered that the five-hour car trip after an overnight flight to Heathrow, in which the only age-qual­i­fied dri­ver (who can bare­ly park her small pick­up) would nev­er man­age dri­ving stick-shift from the left seat on the left-hand side of the road. It's okay. We will glad­ly take a bus from Lon­don to Stone­henge. My Sketch­ers will nev­er know the difference.