As I write this, it's August and school dis­tricts around the coun­try are strug­gling to man­age the 2020 fall term. Online, in-per­son, a hybrid? I under­stand all con­cerns and am glad I don't have grand­chil­dren dur­ing this pan­dem­ic. Yet I sus­pect a lot of chil­dren wish class­es would start nor­mal­ly. As a kid, I couldn't wait until the first day of school — a fresh begin­ning, when the heat and green of sum­mer make way for red plaid book­bags and cor­duroy jumpers.
Using com­put­ers in school isn't new. What is new is remote learn­ing in an age when infor­ma­tion increas­ing­ly is being acquired from devices. In The Child That Books Built, avid read­er Fran­cis Spufford says, "In a world washed to and fro by glassy floods of rep­re­sen­ta­tions, I choose to gaze at expe­ri­ence through the mesh of paragraphs."
Me, too. After buy­ing a $5 school bus seat at a yard sale, I opened Porch School. Porch School starts with a walk, break­fast, then choos­ing the day's mate­ri­als: a jour­nal, cur­rent work, books from my per­son­al library. Porch School gets me out­side, away from glassy floods of bad news, and lifts me from depres­sion. As Mer­lyn advis­es the future King Arthur in T.H. White's The Sword in the Stone, "The best thing for being sad is to learn some­thing. That's the only thing that nev­er fails. … Look what a lot of things there are to learn."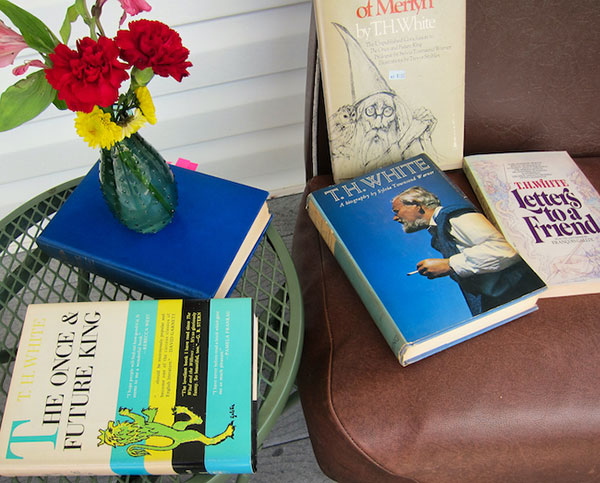 White learned a lot of things writ­ing The Sword in the Stone. As he con­fid­ed to his for­mer Cam­bridge tutor, "I some­how start­ed writ­ing a book … I am afraid it is rather warm-heart­ed — main­ly about birds and beasts. It seems impos­si­ble to deter­mine whether it is for grown-ups or chil­dren." Thank heav­ens White just bar­reled on with­out wor­ry­ing about audi­ence. Pub­lished in 1938, Sword was the first book in his mas­ter­piece, The Once and Future King. White's vision of the Arthuri­an saga was inspired by Thomas Malory's Le Morte d'Arthur.
Ter­ence Han­bury White had less than king­ly begin­nings. Born in Bom­bay in 1908, his colo­nial child­hood end­ed when he was sent to Eng­land to attend a brutish board­ing school. Upon grad­u­a­tion from Cam­bridge, he taught Eng­lish in a prep school where his meth­ods includ­ed recit­ing Wil­fred Owens' poet­ry and search­ing for grass snakes (though not at the same time). Always rest­less, White left teach­ing to write. He rent­ed a Vic­to­ri­an gamekeeper's cot­tage in the woods and expand­ed his soli­tary life with two bad­gers, a tawny owl, a goshawk, and an Irish setter.
White strayed from Malory's sto­ry to give young Arthur a child­hood. And what a child­hood! Arthur's tutor was Mer­lyn. The class­room? Nature, but with a mag­i­cal twist. Mer­lyn knew the boy, called the Wart, would one day be king and required more than sums and let­ters to pre­pare him. "Edu­ca­tion is expe­ri­ence, and the essence of expe­ri­ence is self-reliance," Mer­lyn says when he changes the Wart into a fish. The Wart learns how to swim, not as a boy turned into a fish, but as a fish, a les­son that saves him from being a pike's dinner.
Sub­se­quent sem­i­nars include being changed into an ant (to know about total­i­tar­i­an­ism), a wild goose (to under­stand why peace is bet­ter than war), an owl (to learn the wis­dom of trees, rocks, and stars), and a bad­ger (to real­ize the love of home). My favorite les­son was taught by a grass snake, "a piece of olive light­ning." The Wart asked to be turned into a snake so he too could be "dry and del­i­cate­ly rough and liq­uid power."
The snake teach­es him to Dream. When snakes hiber­nate, they Dream about His­to­ry or Leg­ends. He tells the Wart the His­to­ry of the ancient, mighty rep­tiles from which they are descend­ed. His­to­ry, the Wart learns, is always sad, yet every­one needs mus­ings to keep them­selves com­pa­ny. "'Is it a good thing to muse?'" asks the Wart. "'Well, it pass­es the time,'" the snake replies. "Even H. sapi­ens has muse­ums …'" Where one can find bones of Dinosauria.
In Porch School, I read about dinosaurs, Dunkirk, and dark mat­ter. I watch the crea­tures around me — heavy-bod­ied cicadas like Huey heli­copters, shark-like hor­nets, song spar­rows that toss arias into the sky like loose sheet music, and a frog that does not croak or go rib­bit, but speaks in com­plete sen­tences to the frog at the oth­er end of the ditch. Porch School allows me to muse for hours but, oh, how I long for a teacher. There is still so much to learn. I would start with becom­ing a frog so I could join their conversation.