"The Boy chiefly dab­bled in nat­ur­al his­to­ry and fairy-tales, and he just took them as they came, in a sand­wichy sort of way, with­out mak­ing any dis­tinc­tions; and real­ly his course of read­ing strikes one as rather sen­si­ble." The Reluc­tant Dragon
Ken­neth Gra­hame wrote "The Reluc­tant Drag­on" as a chap­ter in his book Dream Days, in 1898, ten years before pub­lish­ing The Wind in the Wil­lows. The Boy in the sto­ry is the son of a shep­herd, dur­ing the time when drag­ons still need­ed slay­ing. Unlike most chil­dren of his sta­tion, Boy is a read­er, spend­ing "much of his time buried in big volumes."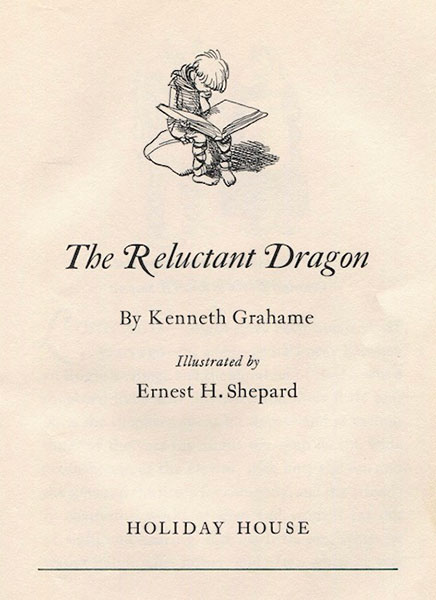 I was the Boy, lost in that won­der­ful stage where I read "to escape, to uncov­er … to find com­pan­ion­ship … [to] set loose dreams," as Pamela Paul and Maria Rus­so state in How to Raise a Read­er. I plowed through nov­els and "fac­tu­al" books. Vis­it­ing our tiny ele­men­tary school library was the high point of my week. We had no book lists. No one told us what we should be read­ing rel­a­tive to study units. We were only required to check out a book, two at the most.
Class­mates leafed through mag­a­zines or whis­pered to friends. For me, library peri­od was seri­ous busi­ness. Some kids couldn't find a sin­gle book and Miss Sharp, the librar­i­an, would pull one off the shelves. I knew those kids would return their books unread the next week. Why couldn't I have their check-out allot­ments instead of ago­niz­ing between three books, one of which I'd have to slide behind the stacks so no one else would check it out. I habit­u­al­ly chose a nov­el and a sci­ence book and read them in a sand­wichy sort of way.
In his intro­duc­tion to A Hun­dred Fables of Aesop, pub­lished in 1899, Gra­hame wrote:
Vital­i­ty — that is the test; and, what­ev­er its com­po­nents, mere truth is not nec­es­sar­i­ly one of them. A drag­on, for instance, is a more endur­ing ani­mal than a ptero­dactyl. I have nev­er yet met any­one who real­ly believed in a ptero­dactyl, but every hon­est per­son believes in drag­ons — down in the back-kitchens of his consciousness.
I didn't know yet about ptero­dactyls, but I did learn about the world's first bird, Archaeopteryx, in All About Birds. At nine, I wasn't sure about drag­ons since there weren't any in Vir­ginia, but this Juras­sic Age crea­ture, dis­cov­ered in Ger­many in 1861, seemed very real. The illus­tra­tion of its fos­sil remains ren­dered vital­i­ty in every line. I loved read­ing how the fly­ing rep­tile devel­oped, bone by bone, mus­cle by mus­cle, into today's mod­ern birds. I repeat­ed soft­ly the word Archaeopteryx to myself, lov­ing the sound of it.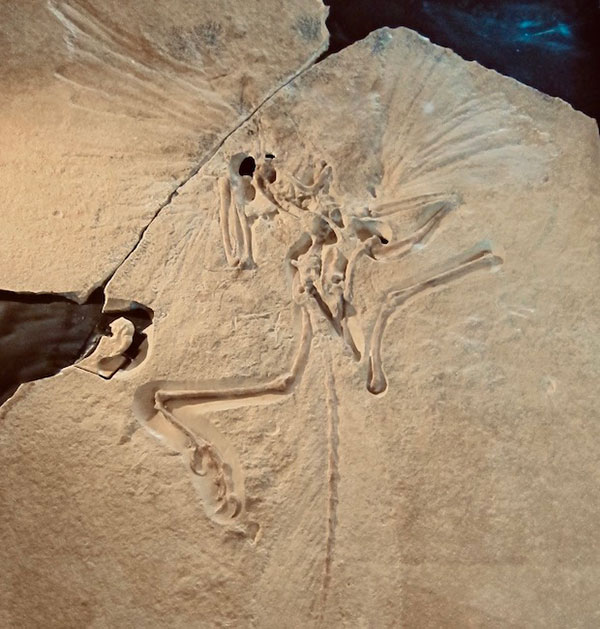 The borrower's card in the pock­et of All About Birds bore my sig­na­ture every oth­er line, I checked it out so many times. The only bird book I owned was a small Gold­en Nature Guide. Birds made no men­tion of archaeopteryx or ptero­dactyls, but it set loose dreams of my becom­ing an ornithologist.
Across the Atlantic, in Scot­land, sev­en-year-old Michael J. Ben­ton received a Gold­en Nature Guide called Fos­sils. Four years younger than me, Michael pored over the pic­tures ("481 Illus­tra­tions in Col­or"). Fos­sils cov­ered ancient life from cock­roach­es to corals, includ­ing Archaeopteryx and the aston­ish­ing Pter­a­n­odon, with its 25-foot wingspan. Michael was hooked:
"What excit­ed me [about Fos­sils] was that the illus­tra­tions were all in colour — unusu­al still in the 1960s — and there were not only pic­tures of fos­sils, but recon­struc­tions too. The text reflect­ed the knowl­edge of the time — this is what Tyran­nosaurs looked like, based on the clas­sic stud­ies by Pro­fes­sor Hen­ry Osborn of the Amer­i­can Muse­um of Nat­ur­al His­to­ry, and this is how the dinosaurs died out, rather slow­ly, and per­haps as a result of long-term cool­ing cli­mates (or maybe because they were too stu­pid to adapt to a chang­ing world) … Nonethe­less, as a sev­en-year-old, that was all I need­ed. It nev­er entered my head to ques­tion the author­i­ty of some­thing writ­ten in a book …"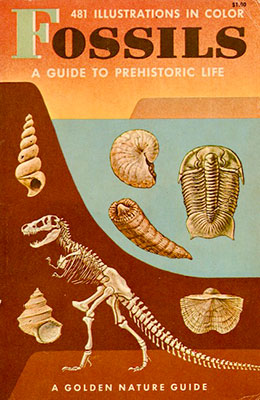 Benton's ear­ly inter­est in dinosaurs led him to study pale­o­bi­ol­o­gy. Now a pro­fes­sor at Bris­tol Uni­ver­si­ty, Ben­ton is a world-renowned pale­on­tol­o­gist and author, with a dinosaur named in his hon­or. Despite grow­ing up in a coun­try stuffed with sto­ries of drag­ons, fairies, water hors­es, and oth­er myth­i­cal crea­tures, his dream was let loose by a 1.00 (in Amer­i­can cur­ren­cy) children's field guide.
I didn't become a sci­en­tist, after all. My sen­si­ble, sand­wichy method of read­ing — nov­els and non­fic­tion — sent me down a dif­fer­ent road. I became a writer of fic­tion and non­fic­tion, though much of my fic­tion depends on research. In the back-kitchen of my mind, there are griffins and grack­les. Both are vital, and both get along just fine.