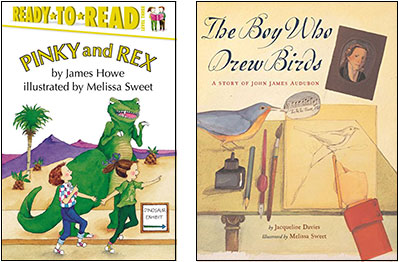 In my next life, I'm com­ing back either as a cat liv­ing in our house (think Canyon Ranch for cats), or Melis­sa Sweet. I've fol­lowed her career since she illus­trat­ed James Howe's Pinky and Rex (1990). I love this book for its atyp­i­cal char­ac­ters (Pinky is a boy who loves pink and stuffed ani­mals, and Rex, his girl friend, is into dinosaurs), but also for Melissa's fresh-faced char­ac­ters and bright watercolors.
Then I heard her speak at a con­fer­ence in 2005 about illus­trat­ing The Boy Who Drew Birds by Jacque­line Davis. I was enchant­ed by the col­laged snip­pets — maps, music notes, hand­writ­ing — among her water­col­or illus­tra­tions. One dou­ble-spread show­cas­es a dried frog, a nest with eggshells, a dried lizard, lichen, a tiny skull. An insa­tiable col­lec­tor, she used what was in her studio.
I too am a col­lec­tor. I have at least 20 vin­tage suit­cas­es filled with old mag­a­zines, pho­tos, office sup­plies, scrap­books, bought because peo­ple dump greet­ing cards, pho­to­graph albums, report cards and I have this pathet­ic need to res­cue unwant­ed fam­i­ly memorabilia.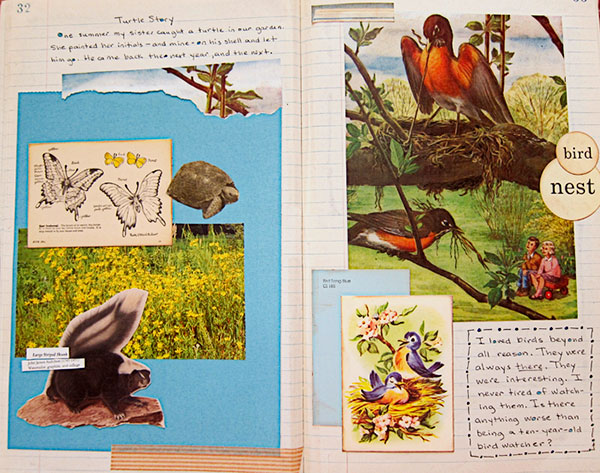 I was mov­ing away from scrap­book­ing to mak­ing — well, weird stuff. See­ing Melissa's work, I real­ized I was cre­at­ing mixed-media col­lages with her­itage pho­tographs (I nev­er scrapped reg­u­lar pho­tos, like trips to Dis­ney World, because I nev­er went any­where). Melis­sa uses col­lage to "say what I need to say."
Each book got bet­ter: A Splash of Red: The Life and Art of Horace Pip­pin, A Riv­er of Words: The Sto­ry of William Car­los Williams (both writ­ten by Jen Bryant), Fire­fly July: A Year of Very Short Poems (writ­ten by Paul B. Janeczko). Then Melis­sa wrote and illus­trat­ed Bal­loons Over Broad­way, about Tony Sarg, pup­peteer and cre­ator of the Macy's parade bal­loons. She made toys and pup­pets to under­stand what it "felt like to be in Sarg's world." I pored over the art, real­iz­ing how com­mit­ted Melis­sa was to the research and her illus­tra­tions. She takes no shortcuts.

In The Right Word, she stepped up her game. The assem­blages in the final dou­ble-spread caused my head to explode. And then … Some Writer! The Sto­ry of E.B. White, a mash-up of old­er kids' non­fic­tion, pic­ture book, and scrap­book. After I came to from swoon­ing, I car­ried it around and made peo­ple look at it. Much of the art is con­tained in shad­ow box­es, like those of Joseph Cor­nell. If I had to choose a favorite, it would be the scene of Wilbur at the fair.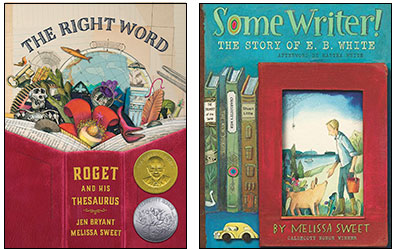 Being a Melis­sa Sweet fan, I've learned it's pos­si­ble to com­bine research, art, words, and found things into a project. A few years ago, I began mak­ing scrap­books for my nov­els, a sort of illus­trat­ed out­line. From mag­a­zine clip files, I choose images that rep­re­sent a char­ac­ter or scene. By not try­ing to match an image to what's in my head, I keep the sto­ry mine. I add bits of dia­log and descrip­tion. If the sto­ry changes, that's okay. I just keep mov­ing for­ward in both the scrap­book and the writing.
The book I'm work­ing on now is com­plex in set­ting, char­ac­ters, and plot. I've start­ed a new scrap­book, but the vin­tage and mod­ern mag­a­zine images don't seem to be enough. It needs real art. I'm not an artist, but I decid­ed to include a drawn ani­mal char­ac­ter, sort of the way Melis­sa Sweet com­bines water­col­or paint­ings and col­lage. Draw like she does! But her art is decep­tive. I gnawed my fin­ger­nails study­ing the expres­sive slant of the dog's ears in Tupe­lo Rides the Rails. It looks easy — it's not.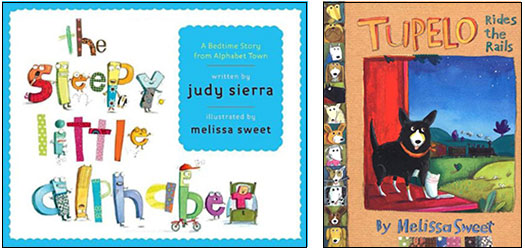 Illus­tra­tor Tri­na Schart Hyman once wrote about try­ing to copy the style of Tomie dePao­la. In ten min­utes, she fig­ured, she'd whip up a "Tomie" draw­ing. "Six hours lat­er sweaty, frus­trat­ed, and thor­ough­ly puz­zled, I tore up the thir­ty-eighth ruined piece of paper in despair," she admit­ted. His folksy style and child­like col­or was more sophis­ti­cat­ed than she real­ized. If an accom­plished artist like Tri­na Hyman couldn't imi­tate Tomie dePao­la, there was no hope for me to draw a Melis­sa Sweet-type cat. One pen line on my fin­ished scrap­book page, and it would be ruined.
Pag­ing through The Sleepy Lit­tle Alpha­bet by Judy Sier­ra, I noticed Melis­sa Sweet's clouds. They appear to be pen­ciled on graph and loose-leaf paper, cut out, and past­ed on water­col­or skies. I could draw cats on note­book paper, snip out one that isn't too awful, and paste it in my scrap­book! Using unim­por­tant paper makes the draw­ing seem less pre­cious and should lessen my anxiety.
In her author's note for Bal­loons Over Broad­way, Melis­sa stress­es she tried to con­vey the sense that her sub­ject was hav­ing fun. "[Sarg's] lega­cy reminds me that 'play' may be the most impor­tant ele­ment in mak­ing art!" A sense of play is a hall­mark of Melis­sa Sweet's work. A les­son for all of us who make children's books!