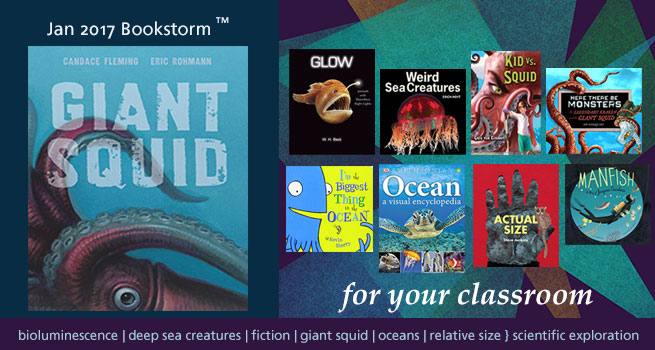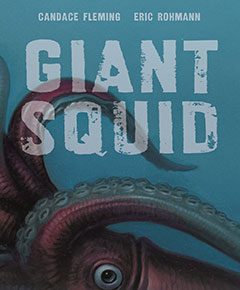 Giant Squid pro­vides an excel­lent oppor­tu­ni­ty to teach about one of the most myth­i­cal, unknown, and yet real crea­tures on earth, the Giant Squid. The incred­i­ble illus­tra­tions by Eric Rohmann help the read­er's per­cep­tion of how large this deep sea crea­ture is and how mys­te­ri­ous. Found so deep with­in the sea, there is very lit­tle light. How did Eric Rohmann cre­ate the sense of this water dark­ness and the release of ink, a defense mech­a­nism? How did Can­dace Flem­ing write with spare text and yet tell us so many fas­ci­nat­ing details about the Giant Squid?
Our Book­storm will take you into fur­ther explo­ration, study­ing bio­lu­mi­nes­cence, oth­er deep sea crea­tures, ocean ecol­o­gy, oceanog­ra­phers, and more.
There are excel­lent resources in the back mat­ter of the book as well. We trust you will find inspi­ra­tion and resources aplen­ty with­in the Book­storm to accom­pa­ny your study of Giant Squid.
Downloadable
You'll find more infor­ma­tion about Can­dace Flem­ing on her web­site. And read about illus­tra­tor Eric Rohmann on his web­site.
There's a Teach­ing Guide avail­able for Giant Squid, writ­ten by nat­u­ral­ist Lee Ann Landstrom.
BOOKSTORM TOPICS
Bio­lu­mi­nes­cence
Deep Sea Creatures
Fic­tion
Giant Squid, in particular
Oceans
Rel­a­tive Size
Sci­en­tif­ic Exploration
Let us know how you are mak­ing use of this Book­storm™. Share your ideas and any oth­er books you'd add to this Bookstorm™.