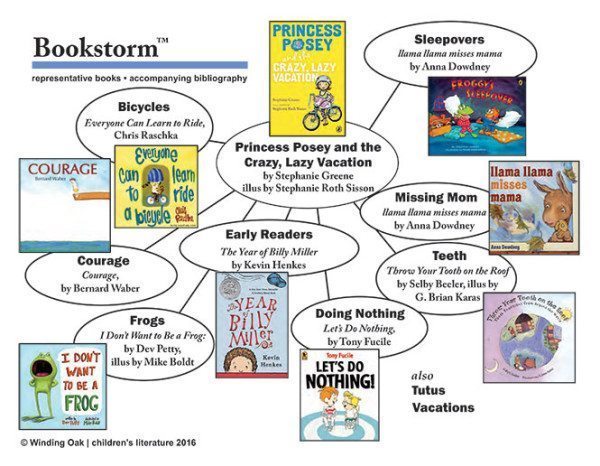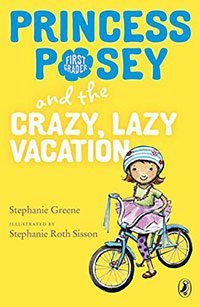 There have been many papers writ­ten about why chil­dren, teens, and adults like to read books that are pub­lished as part of a series. From The Bobb­sey Twins to Nan­cy Drew to the Box­car Chil­dren to Ency­lo­pe­dia Brown to Goose­bumps to The Babysit­ters Club to Red­wall to War­riors (draw­ing in a long breath) … okay, you get the idea. These books are pop­u­lar. We like read­ing about char­ac­ters who are famil­iar to us in set­tings that we feel we could walk through. Some­times they're involved in sto­ries that we might feel are pre­dictable, but that's been found to be part of the charm.
This month, we are pleased to fea­ture Princess Posey and the Crazy, Lazy Vaca­tion, writ­ten by Stephanie Greene and illus­trat­ed by Stephanie Roth Sis­son. The tenth book in their series, this one fol­lows our favorite first-grad­er, she who wears a pink tutu for con­fi­dence, through spring vaca­tion, a stay­ca­tion replete with unan­tic­i­pat­ed adven­ture. Full of gen­tle humor and sit­u­a­tions your own kids this age will find famil­iar, Posey has good friends, help­ful adults, and a devel­op­ing sense of self to rely on for a sat­is­fy­ing sto­ry in each volume.
In each Book­storm™, we offer a bib­li­og­ra­phy of books that have close ties to the the fea­tured book. For Princess Posey and the Crazy, Lazy Vaca­tion, you'll find books for a vari­ety of tastes and inter­ests. This month, we're focus­ing on books for this par­tic­u­lar age group, a lit­tle younger, a lit­tle old­er, but pri­mar­i­ly pic­ture books, easy read­ers, and ear­ly chap­ter books.
Downloadables
BOOKSTORM TOPICS
Bicy­cles. Learn­ing to ride a bicy­cle, being afraid of it, and then over­com­ing that fear, is one of the sto­ry­lines for Posey this time around. We've sug­gest­ed oth­er books about bicycles.
Courage. Try­ing unfa­mil­iar activ­i­ties and foods, meet­ing new peo­ple, all of these take courage. Talk about these books with your fam­i­ly or class­room or sto­ry­time group. Start the con­ver­sa­tion about step­ping out­side our com­fort zones.
Doing Noth­ing. Some­times vaca­tions — and life — are ful­ly pro­grammed. No chance to be bored. We've list­ed a few books that rev­el in kick­ing back and let­ting imag­i­na­tion take over.
Ear­ly Read­ers for and About First and Sec­ond Grade. Long sub­ti­tle, but books that are fun to read. We've even includ­ed a joke book!
Frogs. Yes, there's a frog among the char­ac­ters in Posey's vaca­tion so you'll find a few more frog books to read out loud.
Miss­ing Mom. Because the series takes place dur­ing first grade, Posey fre­quent­ly exam­ines her feel­ings about miss­ing her moth­er while she's at school. She has a younger broth­er and a car­ing grand­fa­ther, but it's that mom con­nec­tion that the Stepha­nies han­dle so well.
Sleep-Overs. Has your child been on their first sleep-over yet? There's almost as much anx­i­ety as there is in going to school! An unfa­mil­iar house and stay­ing up past bed­time … here are a few more books to read.
Teeth. How much can hap­pen dur­ing one spring vaca­tion? Well, Posey has a loose tooth. Here are some books about that tooth-los­ing expe­ri­ence, includ­ing one of our favorites, Throw Your Tooth On the Roof.
Tutus. Posey's pink tutu is one of her trade­marks. When she first sets off for school, she won't leave home with­out it.
Vaca­tions. What will we do on vaca­tion? Kids can be simul­ta­ne­ous­ly excit­ed and fear­ful about leav­ing home for this length of time, ven­tur­ing to an unknown place. A lit­tle read­ing about oth­er kids' vaca­tions will help.
Let us know how you are mak­ing use of this Book­storm™. Share your ideas and any oth­er books you'd add to this Bookstorm™.