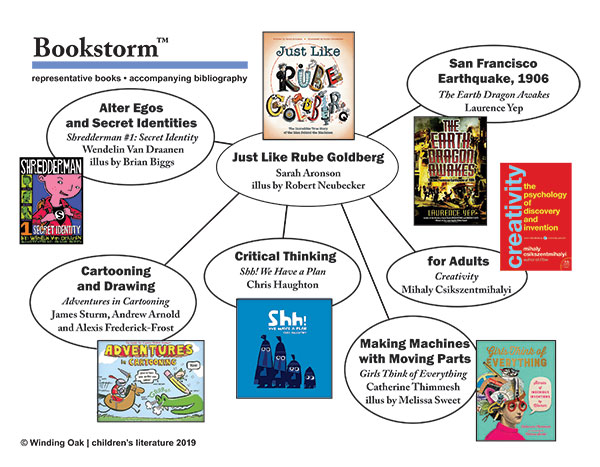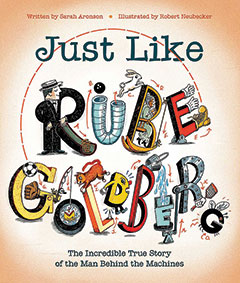 Edu­ca­tors across the coun­try have been inspired by Rube Goldberg's intri­cate, clever, engi­neer­ing-based, but unlike­ly-to-be-made-in-real-life car­toons. Stu­dents are gath­er­ing to cre­ate their own Rube Gold­berg machines, using every­day objects in fun and inno­v­a­tive ways to accom­plish sim­ple tasks with fun results. Just Like Rube Gold­berg inspires all its read­ers with the details about Rube's child­hood and his trip into adult­hood. He was deter­mined to become a car­toon­ist for a major news­pa­per but went to engi­neer­ing school at his dad's insis­tence. When Rube final­ly found his dream job as a car­toon­ist, would his fan­tas­ti­cal draw­ings have become pop­u­lar world­wide if he hadn't been trained as an engi­neer? So much to dis­cuss with this book!
In each Book­storm™, we offer a bib­li­og­ra­phy of books that have close ties to the the fea­tured book. You'll find books, arti­cles, web­sites, and videos for a vari­ety of tastes and interests.
Downloadables
You'll find more infor­ma­tion about Sarah Aron­son and Robert Neubeck­er on their websites.
BOOKSTORM
About Rube Gold­berg and His Art. We share with you a num­ber of good books, arti­cles, videos, and web­sites where you'll find infor­ma­tion to cre­ate your own cur­ricu­lum around Just Like Rube Gold­berg.
Alter Egos and Secret Iden­ti­ties. Gold­berg attrib­uted his inven­tions to his alter ego, Pro­fes­sor Lucifer Gor­gonzo­la Butts. We've found sev­er­al books that delve into alter egos and secret iden­ti­ties. Author Sarah Aron­son has a delight­ful activ­i­ty she brings to her school vis­its that invite stu­dents to explore their own alter egos.
Car­toon­ing and Draw­ing. For the kinet­ic and visu­al learn­ers in your class­room or book club, here are top-notch books to lead them through try­ing their hand at car­toon­ing and drawing.
Crit­i­cal Think­ing. Math puz­zles, cre­ative prob­lem-solv­ing, Albert Ein­stein, brain­storm­ing … a num­ber of books will start you and your stu­dents on the path to think­ing critically.
Engi­neer­ing. We rec­om­mend two videos, one from NASA and one from Crash Course Kids, to give inspir­ing intro­duc­tions to the field of engineering.
Mak­ing Machines with Mov­ing Parts. There are more books on this top­ic than you might real­ize. From Girls Think of Every­thing to Mon­key with a Tool­belt to Build Your Own Chain Reac­tion Machines to Dump­ster Div­er … and many more … inspi­ra­tion awaits!
San Fran­cis­co Earth­quake, 1906. Yes, Rube Gold­berg lived through that earth­quake and it changed his life. Here are books both fic­tion and non­fic­tion to bring your stu­dents up to speed on one of the largest nat­ur­al dis­as­ters of all time.
Resources for Adults. As always, our Book­storms include books and videos that will give you the back­ground you need to guide stu­dents in both class­room and library settings.
Let us know how you are mak­ing use of this Book­storm™. Share your ideas and any oth­er books you'd add to this Bookstorm™.