Accord­ing to Guin­ness World Records, the Chris­t­ian Bible is the best sell­ing book of all time (Guin­ness World Records, 2023). With its myr­i­ad sto­ries, the Bible pro­vides inspi­ra­tion and instruc­tion for many, and it is a sta­ple of Sun­day School and Vaca­tion Bible School. There are numer­ous pic­ture books based on Bible sto­ries, and five of those have won Calde­cott Awards.
Helen Dean Fish's Ani­mals of the Bible, illus­trat­ed by Dorothy P. Lath­rop, was the very first book to win the Calde­cott Medal in 1938. In her For­ward, Fish states, "Inter­est in ani­mals is almost uni­ver­sal" (Fish, 1938, p. VI). This is espe­cial­ly true for chil­dren. Lath­rop illus­trat­ed sto­ries that includ­ed The Ser­pent and Eve, Abraham's Ram, and Daniel's Lions.

On the ver­so, the one-page sto­ries that Fish selects face for­mal full-page black and white lith­o­graphs framed with white bor­ders (ALSC, 2020, p. 168) on the rec­to. Three dou­ble-page illus­tra­tions inter­spersed through­out the book add vari­ety. While each Calde­cott Com­mit­tee can deter­mine what con­sti­tutes a pic­ture book, this book might best be con­sid­ered an illus­trat­ed book rather than a pic­ture book.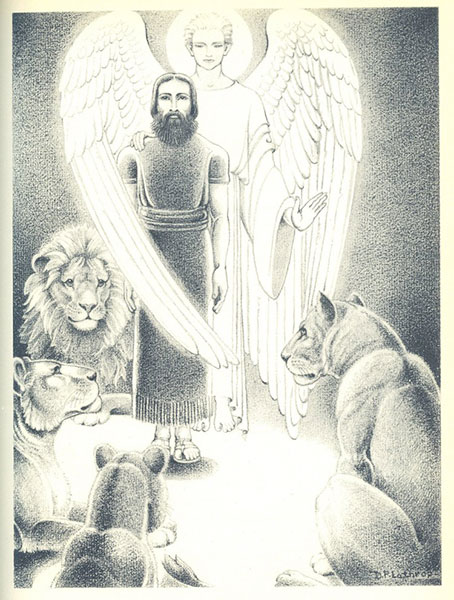 In a pic­ture book, as much as half, or more than half, of the nar­ra­tive is car­ried by the illus­tra­tions. Lathrop's illus­tra­tions sim­ply cre­ate a scene that fea­tures an ani­mal or ani­mals from the accom­pa­ny­ing sto­ry. "Dur­ing the draw­ing of these pic­tures, the artist stud­ied not only the fau­na but the flo­ra of the Bible lands and times, and each desert rose, as well as each goat and tur­tle dove is as true to nat­ur­al his­to­ry as is pos­si­ble to be" (Fish, 1938, VI). The ani­mals are detailed and accu­rate with tex­ture and move­ment, but the peo­ple are more sta­t­ic and flat. While chil­dren may enjoy her illus­tra­tions in Ani­mals of the Bible, it is unlike­ly that this is a very pop­u­lar book due to the dif­fi­cult lan­guage of the King James Ver­sion of the Bible text.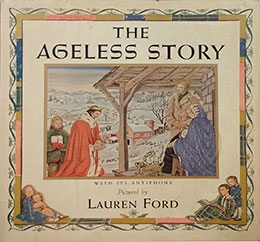 Per­haps because of its con­nec­tion to Christ­mas, a Bible sto­ry that is pop­u­lar with chil­dren is the sto­ry of Jesus' birth. Lau­ren Ford wrote and illus­trat­ed The Age­less Sto­ry: With Its Antiphons and won a Calde­cott Hon­or for it in 1940. Unlike Lath­rop, Ford sets her sto­ry in the late 1800s New Eng­land. In a let­ter she wrote to her god­daugh­ter Nina to whom she ded­i­cat­ed the book, Ford explains the rea­son she did this. "You will see land­scapes that you know, roads that you have tak­en, the Baby Jesus is born in the barn down the hill. It is because He belongs to you and me …. If Jesus doesn't look like a lit­tle boy, like the boy next door, He won't seem like a boy to you and He won't look real" (Ford, 1939, A Let­ter).
Fol­low­ing the let­ter,The Age­less Sto­ry is told in four pages of dense text that begins with the leg­end of Saint Anne and the birth of Mary. The sto­ry pro­ceeds based on the Gospel of Saint Luke start­ing with the angel Gabriel's vis­it to Mary announc­ing the birth of Jesus, con­tin­u­ing through the nativ­i­ty, and con­clud­ing with the child Jesus at the age of twelve.
The twelve two-page spreads that illus­trate the sto­ry have an iden­ti­cal for­mal design. The antiphon, a Chris­t­ian chant, is found on the ver­so and an illus­tra­tion from the sto­ry of Jesus on the rec­to. All pages have bor­ders that incor­po­rate images of chil­dren. The antiphon page bor­ders include chil­dren singing while the illus­tra­tion page bor­ders show chil­dren read­ing and lis­ten­ing to the sto­ry. The antiphons look like illu­mi­nat­ed man­u­scripts and begin with a small square image of the chant's first let­ter dec­o­rat­ed with an angel rem­i­nis­cent of medieval reli­gious art.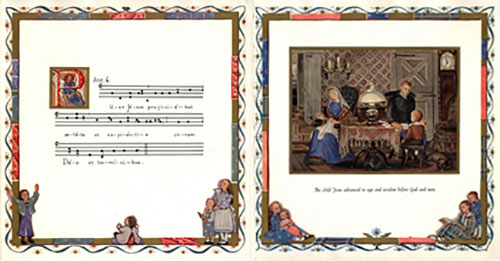 Illus­tra­tions are paint­ed in full col­or with­in gold bor­ders sur­round­ed by the page bor­ders. Full col­or was unusu­al for a children's book pub­lished at that time. The New Eng­land set­ting and 19th cen­tu­ry cloth­ing clash with the medieval style of the book, but that might not be notice­able to chil­dren, and it may indeed make the sto­ry seem more real for them as Ford intended.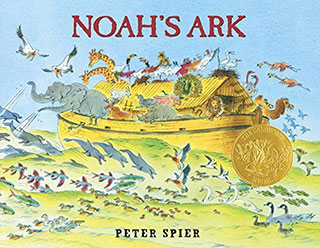 Whether real or not, flood sto­ries are includ­ed in sev­er­al ancient texts, and the next three Calde­cott Award books are based on the sto­ry of Noah. Noah's Ark, illus­trat­ed by Peter Spi­er, won the Calde­cott Medal in 1978. He trans­lat­ed the sto­ry from a sev­en­teenth cen­tu­ry Dutch poem by Jacobus Revius. Spi­er him­self was Dutch-Amer­i­can (Robin­son, 2002, p. 428). The sto­ry begins on the front end­pa­pers show­ing Noah work­ing in his gar­den while sol­diers march away from a rav­aged fiery city in the back­ground. Words on this page state "… But Noah found grace in the eyes of the Lord." Illus­tra­tions con­tin­ue the sto­ry on the half title and the title pages, and then the poem appears on the rec­to fac­ing the fourth illus­tra­tion of the book. These are the only words. The rest of the book con­tains delight­ful­ly detailed and some­times humor­ous illus­tra­tions right through the back end­pa­pers show­ing Noah once again work­ing in his gar­den, a new gar­den, under­neath a rain­bow. Spi­er stat­ed, "Writ­ing and draw­ing are two of the same art forms. What you say in the text, you no longer need to say in the pic­ture and vice ver­sa" (Robin­son, 2002, p. 429). His illus­tra­tions need no words.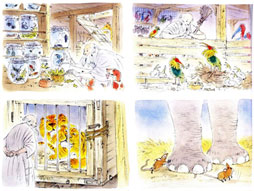 Warm col­ors of chaot­ic scenes with­in the ark con­trast with dark­er dis­mal col­ors out­side dur­ing the flood. Using F pen­cil, white pen­cil, and water­col­ors (ALSC, 2020, p. 134), Spi­er must have chuck­led to him­self while imag­in­ing and depict­ing the absur­di­ty of Noah fit­ting two of every ani­mal on his ark along with the logis­tics of pen­ning and feed­ing them, not to men­tion all the manure shov­el­ing it entailed. The minu­ti­ae of dai­ly life on the ark gives the read­er much to examine.
One crit­i­cism of the book is that Spi­er includ­ed clear glass jars hous­ing insects (Lacy, 1986, p. 212). Some­thing else to con­sid­er is that while Spi­er doesn't show the gris­ly details of ani­mals left behind drown­ing, there are illus­tra­tions that cause the read­er to imag­ine it. Chil­dren may have dif­fi­cul­ty rec­on­cil­ing a lov­ing God pun­ish­ing inno­cent ani­mals. They may have questions.

In his Calde­cott Accep­tance Speech, Spi­er said all the Noah's ark books he reviewed present the sto­ry as a "joy­ous sun-filled Caribbean cruise" (Spi­er, 1978, ALSC). It couldn't have been. He decid­ed there was room for one more book.
Appar­ent­ly Jer­ry Pinkney felt the same way because his Noah's Ark won a Calde­cott Hon­or in 2003. Pinkney said he was drawn to the Noah sto­ry ".…by its epic scope. In this work, the extra­or­di­nary beau­ty and pow­er of nature tru­ly inspired me. I was also fas­ci­nat­ed by the jux­ta­po­si­tion of humankind's inher­ent respon­si­bil­i­ty and the oppor­tu­ni­ty for a sec­ond chance" (Pinkney, 2002, back jack­et flap). He ded­i­cates the book "To the care­tak­ers of all things, big and small."
Pinkney's pen­cil, col­ored pen­cil, and water­col­or (ALSC, 2020. p. 113) dou­ble-page paint­ings begin on the front end­pa­pers fit­ting­ly with the Gen­e­sis text, "In the begin­ning God cre­at­ed the heav­en and the earth." It depicts an under­wa­ter close­up of an ancient whale and sharks with a dinosaur on land in the dis­tance. This is fol­lowed by a tex­tured paint­ing of a pair of ele­phants bleed­ing off the title page, the title print­ed on an elephant's belly.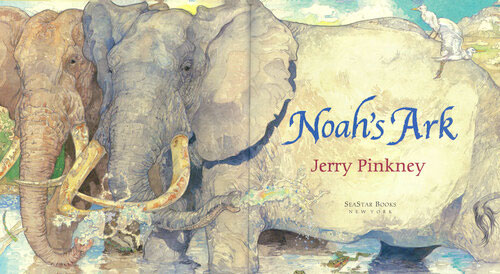 Using most­ly an earth tone palette, Pinkney presents var­ied points of view of the ark from a detailed close­up of its struc­ture, to an aer­i­al per­spec­tive, to the hull of the ark from the sea below. Inter­est­ing­ly, this view shows the ark float­ing above desert­ed, ruined cities with sea crea­tures swim­ming through them, but it does not depict drowned peo­ple or animals.
The back end­pa­pers close the sto­ry with God's promise after the flood. Pinkney presents a view of the earth cen­tered on the dou­ble-page spread sur­round­ed by rain­bows. The dark blue back­ground of the ver­so includes the moon in the low­er cen­ter and the light blue back­ground of the rec­to shows the sun in the upper cen­ter. This per­fect bal­ance pro­vides a sat­is­fy­ing end­ing to a sto­ry of sal­va­tion and peace based on trust and obedience.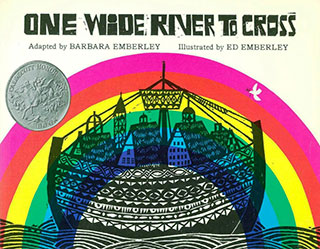 The final book is not real­ly a flood sto­ry but a count­ing book based on the sto­ry of Noah's ark. One Wide Riv­er to Cross won the sole Calde­cott Hon­or in 1967. Bar­bara Ember­ly adapt­ed the Amer­i­can folk song and includ­ed the music and lyrics at the end of the book. Her hus­band Ed Ember­ly, best known for his instruc­tion­al draw­ing books, cre­at­ed the black wood­cut illus­tra­tions (ALSC, 2020, 143). The book pro­vides singable count­ing prac­tice from 1 – 10 while page turns reveal a vari­ety of ani­mals humor­ous­ly board­ing the ark. "The ani­mals came in eight by eight. Some came in by roller skate."


"Ed Ember­ly used his own press to print the wood­cuts for the book. Sep­a­rate blocks of wood were cut for each fig­ure or part of a design, then inked and pressed on rice paper. One page con­tains as many as fifty-sev­en dif­fer­ent impres­sions" (Kirk, 2005, p. 187). The vibrant­ly col­ored back­ground of each page con­trasts with the wood­cuts. The col­or of the rec­to becomes the col­or of the ver­so with a page turn pro­vid­ing con­ti­nu­ity. Ini­tial­ly, no clouds appear across the tops of the pages, but when they do appear, they become increas­ing­ly larg­er and more threat­en­ing until the final spread: a bright sun on a yel­low page oppo­site the only white page that depicts the ark and a rain­bow. Chil­dren famil­iar with the Bible sto­ry might won­der why the ani­mals don't come in pairs, but they will enjoy gig­gling over the illustrations.
The Bible inspires both spir­i­tu­al­ly and artis­ti­cal­ly. Its sto­ries stir illus­tra­tors to share their inter­pre­ta­tions pro­vid­ing us visu­al details the text lacks. In addi­tion to these five Calde­cott Award books, the numer­ous pic­ture books of the Bible make the sto­ries come alive for chil­dren and pro­vide oppor­tu­ni­ties to dis­cuss not only the con­tent but also to com­pare the vari­ety of artis­tic styles.
Archer, Micha. Won­der Walk­ers. New York: Nan­cy Paulsen Books/Penguin Ran­dom House, 2021.
Ember­ly, B. & Ember­ly, E. (2015). One wide riv­er to cross. AMMO. (1966).
Fish, H. D. & Lath­rop, D. P. (1998). Ani­mals of the Bible (60th anniver­sary ed.). Harper­Collins Pub­lish­ers. (1937).
Ford, L. (1939). The age­less sto­ry: With its antiphons. Dodd, Mead & Co.
Pinkney, J. (2002). Noah's ark. SeaSt­ar Books.
Spi­er, P. (1977). Noah's ark. Dou­ble­day Book for Young Readers.
Asso­ci­a­tion for Library Ser­vice to Chil­dren (ALSC). (2020). The New­bery and Calde­cott Awards: A guide to the medal and hon­or books. Amer­i­can Library Association.

Guin­ness World Records. (2023). Best-sell­ing book. https://www.guinnessworldrecords.com/world-records/best-selling-book-of-non-fiction
Kirk, C.A. (2005). Com­pan­ion to Amer­i­can children's pic­ture books. Green­wood Press.
Robin­son, L., (2002). The essen­tial guide to children's books and their cre­ators (A. Sil­vey, Ed.). Houghton Mifflin.
Spi­er, P. (1978). 1978 Calde­cott accep­tance speech. Asso­ci­a­tion for Library Ser­vice to Chil­dren (ALSC). https://alair.ala.org/handle/11213/811