The West­ern ver­sions of "Cin­derel­la" and "Puss in Boots" dis­cussed in Part 1 are gen­er­al­ly attrib­uted to Charles Per­rault as is "Lit­tle Red Rid­ing Hood." Jacob and Wil­helm Grimm also had ver­sions of these sto­ries, as well as "Snow White and the Sev­en Dwarfs" and "Rumpel­stilt­skin." Calde­cott Award ver­sions of these last three sto­ries will be con­sid­ered below exam­in­ing, as in Part 1, how illus­tra­tions make these ver­sions unique.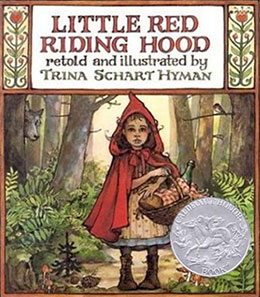 Tri­na Schart Hyman's retelling of "Lit­tle Red Rid­ing Hood" is a famil­iar one. This was Hyman's favorite fairy tale, and as a child, she spent a whole year wear­ing the red cape her moth­er made for her. On the ver­so of the title page, Lit­tle Red is read­ing her own sto­ry fea­tur­ing the cov­er of Hyman's book, suck­ing her thumb, just as Hyman did in child­hood (Hyman, 1981).
"My illus­tra­tions are full of 'real' peo­ple who are my friends, fam­i­ly and neigh­bors. They are also full of places I've been, chairs I've sat on, cats and dogs I've known, and things I like to have around me" (McElmeel, 2000, p. 229). The set­ting is New Eng­land at the turn of the cen­tu­ry, and the house is Hyman's home in Ver­mont. Lit­tle Red is Hyman her­self at age four. Her moth­er and grand­moth­er play their respec­tive parts, and an 85-year-old real hunts­man who was a neigh­bor is the mod­el for the char­ac­ter with his fringed buck­skin jack­et. The black cat that fol­lows Lit­tle Red around like a dog and appears in almost all the illus­tra­tions was Hyman's own cat Arthur.
A trade­mark of Hyman's work are the bor­ders that enclose the text on pages oppo­site the full-page illus­tra­tions, all cre­at­ed real­is­ti­cal­ly in "ink and acrylic" (ALSC, 2017, p. 123). They are filled with flow­ers and flow­ered pat­terns as well as scenes that enhance the nar­ra­tive such as the lean and crafty wolf dash­ing off to Grandma's or Grand­ma ask­ing, "Who's there?" from her bed. On the last page, the bor­ders include gera­ni­um flow­ers in pots with Hyman's ini­tials and the year 1983 inscribed. Hyman's 1984 Calde­cott Hon­or Book was the first Red Rid­ing Hood sto­ry to win the award.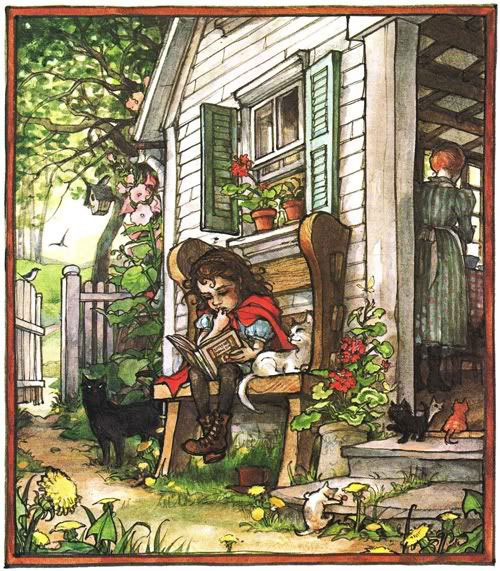 illus­tra­tion © Tri­na Schart Hyman, Lit­tle Red Rid­ing Hood,
Hol­i­day House, 1983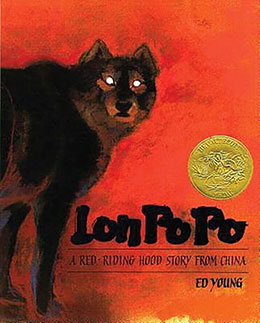 In 1990, Ed Young won the Calde­cott Medal for his trans­la­tion of the sto­ry from a col­lec­tion of old Chi­nese folk­tales, Lon Po Po: A Red Rid­ing Hood Tale from Chi­na. His ver­sion dif­fers from that of the Broth­ers Grimm in that moth­er goes to vis­it grand­moth­er, and her three lit­tle girls are left at home, instruct­ed to latch the door at sun­set until moth­er returns the next day. The wolf, liv­ing near­by, sees moth­er leave, and that night, vis­its the girls dis­guised as grand­moth­er. The girls allow the wolf in, but rather than be saved by some­one else, the resource­ful girls out­wit the wolf and save themselves.
Young's impres­sion­is­tic water­col­or and pas­tel art is dis­tin­guished by use of pan­els, a note­wor­thy con­ven­tion of Asian art (ALSC, 2017). This avoids the prob­lem of los­ing some of the illus­tra­tions with­in the gut­ter. It also allows the wolf to occu­py more and more pan­el space as the dan­ger increas­es. When he first appears at the door of the cot­tage, he takes up one quar­ter of the two-page spread. In the next spread he occu­pies three quar­ters. Final­ly, he gains entry and leaps across the entire next two pages.
The wolf actu­al­ly appears in every illus­tra­tion except the last. In the first two-page spread of the sto­ry, as moth­er waves good-bye to her chil­dren, the land­scape is the wolf's head, eye closed, indi­cat­ing dor­mant dan­ger. The final scene shows the cot­tage again with no wolf or dan­ger present.
Young claims, "When you tell a sto­ry, you have to have evil forces, and you want to find the sym­bol for it. The wolf is used for the evil force" (Teach­ing Books, 2013). He apol­o­gizes to wolves in his ded­i­ca­tion page with an illus­tra­tion of a wolf mor­ph­ing into a human shape of a bent old woman hold­ing a cane, sug­gest­ing the grandmother.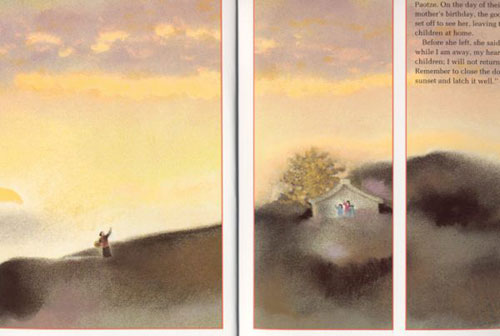 illus­tra­tion © Ed Young, Lon Po Po: A Red Rid­ing Hood Sto­ry from Chi­na,
Atlantic Books, 1990
The evil force in Snow White and the Sev­en Dwarfs is the wicked step­moth­er. Both the ver­sion trans­lat­ed and illus­trat­ed by Wan­da Gág and Ran­dall Jarrell's ver­sion illus­trat­ed by Nan­cy Ekholm Burk­ert tell the tra­di­tion­al tale with slight vari­a­tions from each other.
Children's librar­i­ans, most notably Anne Car­roll Moore of the New York Pub­lic Library, encour­aged Gág to write her 1938 Calde­cott Hon­or book to pro­vide a more accu­rate ver­sion of the Grimm's fairy tale after the Dis­ney ani­mat­ed movie "Snow White and the Sev­en Dwarfs" and the accom­pa­ny­ing books were released in 1937 (Hoyle, 1994). Gág did not indi­vid­u­al­ize the dwarfs with names, but her illus­tra­tions dif­fer­en­ti­at­ed their beds, chairs, and paja­mas with unique designs. Among oth­er cor­rec­tions, she also includ­ed three vis­its from the dis­guised queen to tempt Snow White with bodice laces, a hair comb, and final­ly the apple.
ALSC (2017) described Gág's black and white illus­tra­tions as "lith­o­graphs (?)" (p. 161), a medi­um she used some­times. But oth­ers described her illus­tra­tions as ink draw­ings (Erbach, 2006; Zipes, 2000). Few illus­tra­tions are rec­tan­gu­lar. Instead, they are shaped to accom­mo­date the sub­ject and action. Lines are round­ed and sooth­ing. Zipes (2000) describes them as hav­ing a "naïve and almost child­like qual­i­ty" (p. 91). This, plus the small for­mat of the book, and the repet­i­tive­ness of the text and illus­tra­tions, makes it appeal­ing to children.
Gág wrote that one of the aims of her illus­tra­tions is "To make them accu­rate in rela­tion to the text" (Gág, 2001, p. 39). Though her illus­tra­tions don't enhance the action of the sto­ry, they do affect the mood. Each time the queen vis­its Snow White and becomes more dan­ger­ous, the clouds in the illus­tra­tions become dark­er and low­er (McElmeel, 2000). Also, in the illus­tra­tion of the queen ask­ing her mir­ror who is the "fairest of them all," her flow­ing gown and hair resem­ble the tail and crown of the pea­cock beside her sug­gest­ing she is vain and "proud as a peacock."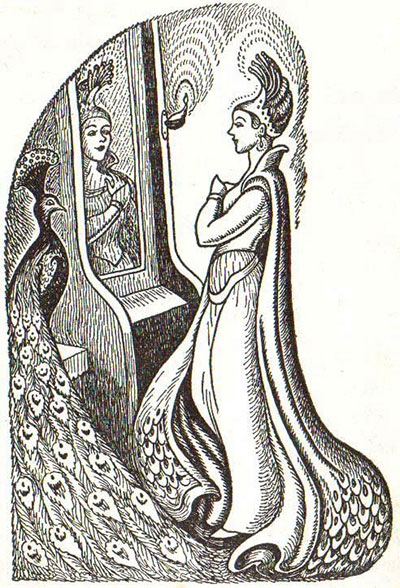 illus­tra­tion © Wan­da Gág, Snow White and the Sev­en Dwarfs,
Cow­ard McCann, 1938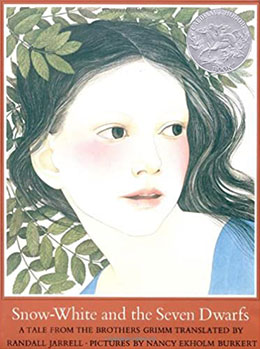 In con­trast to Gág's inti­mate-sized Snow White, Jar­rell and Burkert's large for­mat is suit­able for group shar­ing. This 1973 Calde­cott Hon­or book has bor­dered pages and end papers. Each dou­ble-page illus­tra­tion alter­nates with two pages of text. Using "brush and col­ored inks" (ALSC, 2017, p. 131) and a soft palette, Burkert's detailed paint­ings cre­ate a medieval set­ting through cloth­ing, cas­tles, and her­aldry. Unlike Gág's child Snow White, Burkert's is a young ado­les­cent with a bud­ding bosom as can be seen in the per­fect­ly bal­anced illus­tra­tion of Snow-White flee­ing through the for­est. On the ver­so, Snow-White looks over her shoul­der as she runs, and on the rec­to, a deer looks over its should as it leaps away. Oth­er ani­mals and flo­ra are detailed real­is­ti­cal­ly as light fil­ters through the forest.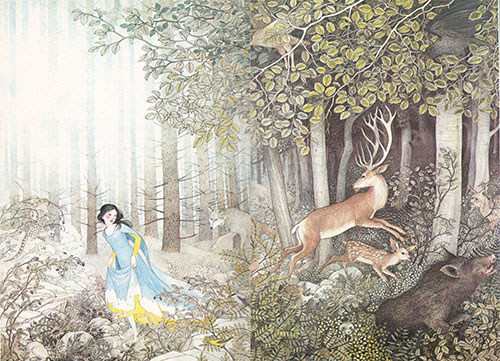 illus­tra­tion © Nan­cy Ekholm Bur­kett, Snow White and the Sev­en Dwarfs,
Far­rar, Straus & Giroux, 1973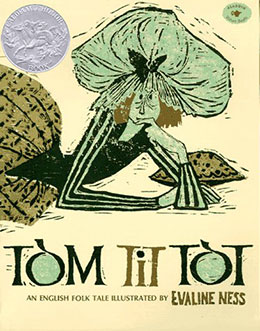 It's hard to deter­mine the vil­lain in the Rumpel­stilt­skin sto­ries. Is it the par­ent that gives away the daugh­ter, the king who threat­ens to kill the girl if she can't spin flax or straw into gold, or the small crea­ture that actu­al­ly helps the maid­en for a price? For simplicity's sake, and for com­par­i­son pur­pos­es, the small crea­ture will be the focus in the next three books. He goes by dif­fer­ent names and descrip­tions: Tom Tit Tot, an impet; Tar­raway, a dev­il; and Rumpel­stilt­skin, a lit­tle man. All have unique final exits.
Eva­line Ness, once mar­ried to Elliot Ness of the F.B.I. (Uni­ver­si­ty of South­ern Mis­sis­sip­pi), wrote and illus­trat­ed the first Rumpel­stilt­skin sto­ry award­ed a Calde­cott Hon­or in 1966. Tom Tit Tot is based on an old Eng­lish folk­tale from Joseph Jacobs' 1890 Eng­lish Fairy Tales, and the cloth­ing sug­gests medieval times. Using a mut­ed palette of brown, gold, black, and aqua, Ness's wood­cut (ALSC, 2017, p. 136) fig­ures are angu­lar and exag­ger­at­ed in a car­toon style. The wood adds tex­ture to the illus­tra­tions. Tom Tit Tot is a small black crea­ture dressed in brown. He has a long twirly tale and wings with which he uses to fly away when final­ly thwarted.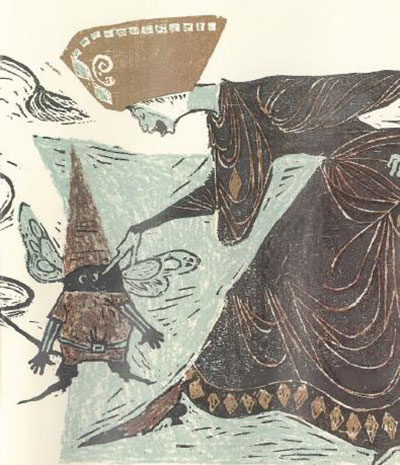 illus­tra­tion © Eva­line Ness, Tom Tit Tot, Charles Scribner,'s Sons 1965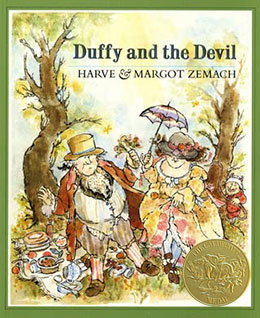 Harve and Mar­got Zemach's Duffy and the Dev­il is a gen­tler sto­ry in that there is no king threat­en­ing to kill the maid­en if she fails in her task. The squire mar­ries Duffy after she pro­duces love­ly knit­ted stock­ings and clothes for him, and he is the one to dis­cov­er the name of the dev­il which he relates to Duffy. In this 1974 Calde­cott Medal book, Mar­got Zemach uses "pen-and-ink draw­ings with water­col­or" (ALSC, 2017, p. 130) in pas­tel and earthy hues to cre­ate plump, home­ly char­ac­ters. Many details such as over­turned dish­es, danc­ing dogs, and a baby crawl­ing through a crowd of the squire's admir­ers add humor to the sto­ry. The dev­il dress­es in a rose-col­ored pol­ka dot jack­et, has horns and a long, hairy tail, and van­ish­es in "a flash of flame and a puff of smoke" after Duffy guess­es his name.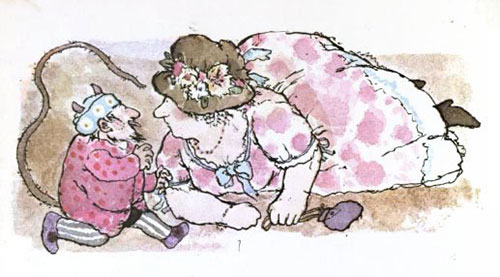 illus­tra­tion © Mar­got Zemach, Duffy and the Dev­il, Far­rar, Straus & Giroux, 1973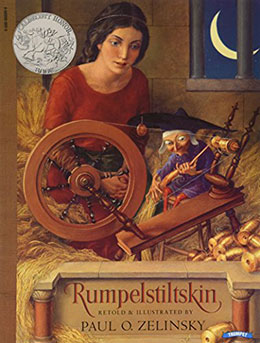 Paul O. Zelin­sky wrote his Rumpel­stilt­skin based on sev­er­al iter­a­tions of the tale from the Broth­ers Grimm. His inter­est in the sto­ry orig­i­nates from the time he was eleven and played the part of Rumpel­stilt­skin in a com­mu­ni­ty the­ater pro­duc­tion (Zelin­sky, 2020). Instead of threat­en­ing to take the maid­en away for his own as in the Ness and Zemach ver­sions, Rumpel­stilt­skin receives a ring and a neck­lace from the young woman. When she has noth­ing left to offer, he demands she give him her first-born child, and he con­tin­ues to spin her straw into gold. Zelin­sky uses "oil paints over water­col­or under­paint­ings" (Zelin­sky, 2020) in sub­dued col­ors with gold­en over­tones for inte­ri­or scenes. Archi­tec­ture and cloth­ing evoke a Renais­sance set­ting. Rumpel­stilt­skin has a long pointy nose, skin­ny legs, and goo­gly eyes. In defeat, he flies away on his wood­en cook­ing spoon. Zelin­sky won the 1987 Calde­cott Hon­or for Rumpel­stilt­skin, and he won Calde­cott Awards for two oth­er fairy tales: a Calde­cott Hon­or in 1985 for Hansel and Gre­tel, and the Calde­cott Medal in 1998 for Rapun­zel.
illus­tra­tion © Paul O. Zelin­sky, Rumpel­stilt­skin, Dut­ton, 1986
Many oth­er illus­tra­tors have won Calde­cott Awards for their visu­al inter­pre­ta­tions of fairy tales. The sparse details regard­ing set­ting and char­ac­ters allow illus­tra­tors to inter­pret the sto­ries in their own dis­tinc­tive style. Com­par­ing var­i­ous ver­sions of fairy tales offers read­ers the oppor­tu­ni­ty to appre­ci­ate the unique cre­ativ­i­ty of some of the fore­most illus­tra­tors in the field of children's literature.
Pic­ture Books Cited
Gág, W. (1938). Snow White and the sev­en dwarfs. Coward-McCann.
Grimm, J., Grimm, W., & Hyman, T. S. (1983). Lit­tle Red Rid­ing Hood. Hol­i­day House.
Jar­rell, R. & Burk­ert, N. E. (1972). Snow-White and the sev­en dwarfs. Far­rar, Straus and Giroux.
Ness, E. (1965). Tom Tit Tot: An Eng­lish folk tale. Charles Scribner's Sons.
Young, E. (1989). (E. Young, Trans.). Lon Po Po: A Red Rid­ing Hood sto­ry from Chi­na. Philomel.
Zelin­sky, P. O. (1986). Rumpel­stilt­skin: From the Ger­man of the Broth­ers Grimm. Dut­ton Children's Books.
Zemach, H. & Zemach M. (1973). Duffy and the dev­il. Far­rar Straus Giroux.
Sources Con­sult­ed
Asso­ci­a­tion for Library Ser­vice to Chil­dren (ALSC). (2017). The New­bery and Calde­cott Awards: A guide to the medal and hon­or books. Amer­i­can Library Association.
Ed Young: Meet the author pro­gram. (2020, Decem­ber 2). Teach­ing Books.net.
Erbach, M. M. (2006, July). Clas­sic Calde­cotts by decade. Book Links, 15 (6), 16 – 20.
Gág, W. (2001). A mes­sage from Wan­da Gág. In R. A. Berman (Ed.), The Ker­lan Awards in children's lit­er­a­ture 1975 – 2001 (pp. 36 – 40). Pogo Press.
Hoyle, K. N. (2009). Wan­da Gág: A life of art and sto­ries. Uni­ver­si­ty of Min­neso­ta Press.
Hyman, T. S. (1981). Self-por­trait: Tri­na Schart Hyman. HarperCollins.
McElmeel, S. L. (2000). 100 most pop­u­lar pic­ture book authors and illus­tra­tors: Bio­graph­ic sketch­es and bib­li­ogra­phies. Libraries Unlimited.
Uni­ver­si­ty of South­ern Mis­sis­sip­pi McCain Library and Archives. (2001, June). The Eva­line Ness papers. de Grum­mond Col­lec­tion.
Zelin­sky, P. O. (n.d.). Rumpel­stilt­skin. Paul O. Zelin­sky.
Zipes, J. (2000). Sticks and stones: The trou­ble­some suc­cess of children's lit­er­a­ture from Sloven­ly Peter to Har­ry Pot­ter. Routledge.