"There is no Frigate like a Book
To take us Lands away""
Some Calde­cott Award illus­tra­tors spec­i­fy set­tings through iden­ti­fy­ing details of a loca­tion such as a bridge or a build­ing. Books with set­tings in the Unit­ed States were pre­sent­ed in Part 1. Books with set­tings in Europe are pre­sent­ed in Part 2.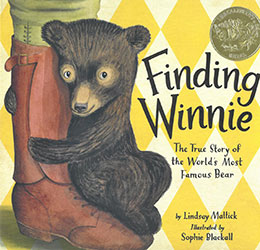 From Cana­da we sail across the Atlantic Ocean with Cap­tain Har­ry Cole­bourn and his pet bear Win­nie, short for Win­nipeg, to arrive on the Sal­is­bury Plain in south­ern Eng­land. Find­ing Win­nie: The True Sto­ry of the World's Most Famous Bear, writ­ten by Lind­say Mattick, is a sto­ry about her great-grand­fa­ther Har­ry who was a vet­eri­nar­i­an dur­ing World War I. He acquired his bear cub at a train sta­tion while trav­el­ing as a sol­dier. When Har­ry real­izes he can't take Win­nie into bat­tle with him, he makes the heart-wrench­ing deci­sion to give her up to the care of the Lon­don Zoo.
Illus­tra­tor Sophie Black­all won the 2016 Calde­cott Medal for her art in Find­ing Win­nie. In an inter­view she said, "I use Chi­nese ink to paint the gray tones, and water­col­or wash­es over the top. I use Schmincke water­col­ors, in a tin set my father gave me when I was 15. After 35 books I've had to replace a few of the col­ors, but they last such a long time" (Daniel­son, 2015).
Black­all vis­it­ed Eng­land to do exten­sive research for this sto­ry. When inter­viewed she said, "I trav­eled the road Har­ry and Win­nie took to the city, past Stonehenge."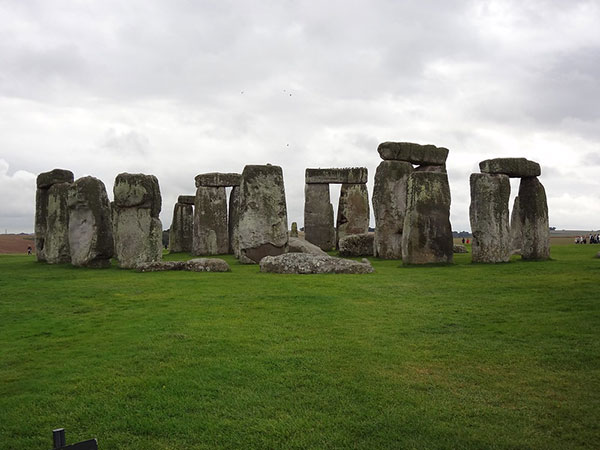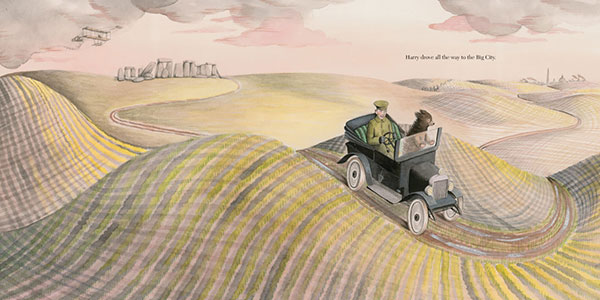 She also shared, "I vis­it­ed the archives of the Lon­don Zoo to see pho­tographs and news clip­pings and the ledger in which Win­nie's arrival was record­ed by the zookeep­er in exquis­ite cop­per­plate" (Snel­son, 2016). She used this 1913 map of the zoo as a "foot­print" for her own map before research­ing all the build­ings (Daniel­son, 2015).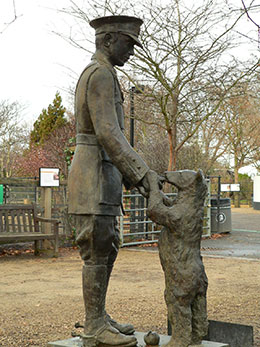 It is at the zoo that Christo­pher Robin and his father A. A. Milne meet Win­nie, a friend­ship devel­ops between the boy and the bear, and she becomes famous as Win­nie the Pooh.
She lived at the Lon­don Zoo from 1914 until her death in 1934 (West, 2003). There is a stat­ue of Win­nie and Har­ry at both the Lon­don Zoo and the zoo in Winnipeg.
Anoth­er sto­ry takes place in Lon­don, this one writ­ten by Bar­bara Ker­ley and illus­trat­ed by Bri­an Selznick. We trav­el back in time to Vic­to­ri­an Eng­land and meet Water­house Hawkins who built dinosaurs to "prowl the grounds of Queen Vic­to­ria and Prince Albert's new art and sci­ence muse­um, the Crys­tal Palace." Selznick won a 2002 Calde­cott Hon­or for his dra­mat­ic acrylic paint­ings of dinosaurs that Hawkins built in col­lab­o­ra­tion with sci­en­tist Richard Owen, the man who cre­at­ed the word "dinosaur."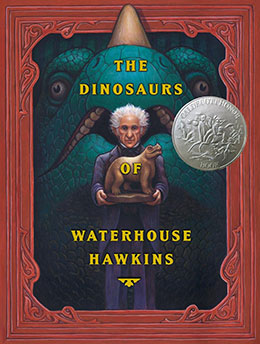 The Dinosaurs of Water­house Hawkins explains how Hawkins made draw­ings, mod­els, and final­ly life-size sculp­tures of dinosaurs based sim­ply on the few fos­sil bones that had been dis­cov­ered at that time. Most peo­ple didn't even know about dinosaurs, but Hawkins' work cre­at­ed excite­ment about them that lasts even today. As explained in the exten­sive author and illustrator's notes, the Crys­tal Palace was orig­i­nal­ly built for the Great Exhi­bi­tion at Hyde Park in 1851, but was moved to Syden­ham, a south­ern sub­urb of Lon­don, in 1852. Water­house built his dinosaurs for the grand reopen­ing of the palace, and the dinosaurs still reside as a spe­cial fea­ture in the park. Selznick trav­eled to Eng­land to study them. Because the sculp­tures were con­struct­ed based upon the lim­it­ed knowl­edge avail­able almost 200 years ago, they do not accu­rate­ly reflect what we know about dinosaurs today (Ker­ley & Selznick, 2001). How­ev­er, by stan­dards of any time, they are impres­sive, and the large for­mat of the book allows Selznick to empha­size their size.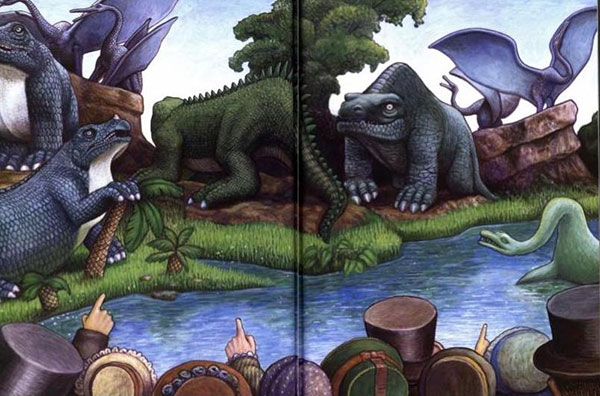 A few years lat­er, Selznick trav­eled to Paris for the set­ting of his 2008 Calde­cott Medal book The Inven­tion of Hugo Cabret, a more than 500-page book that rede­fined the con­cept of a pic­ture book. Image and text nar­ra­tion take turns to tell the sto­ry of orphaned Hugo who secret­ly works as a clock keep­er in a 1931 Paris train sta­tion and meets the famous film­mak­er Georges Méliès. Using pen­cil and cross hatch­ing for pow­er­ful light and shad­ow effects, Selznick's real­is­tic black and white illus­tra­tions are rem­i­nis­cent of silent films. Dur­ing his three trips to Paris, Selznik immersed him­self in the cul­ture of the city. "I start­ed by vis­it­ing all the train sta­tions in the city….The sta­tions were built in the nine­teenth cen­tu­ry with grand stair­cas­es, ornate columns, point­ed glass roofs, palm trees in huge pots, sculp­tures, elab­o­rate façades, and, of course, huge clocks every­where. The sta­tion where Méliès worked, the Gare Montparnasse….is the only one that has been torn down, so to cre­ate the train sta­tion in my book, I used vin­tage pho­tographs of the orig­i­nal sta­tion, as well as bits and pieces from many oth­er sta­tions in Paris, espe­cial­ly the Gare du Nord" (McCarthy, 2012).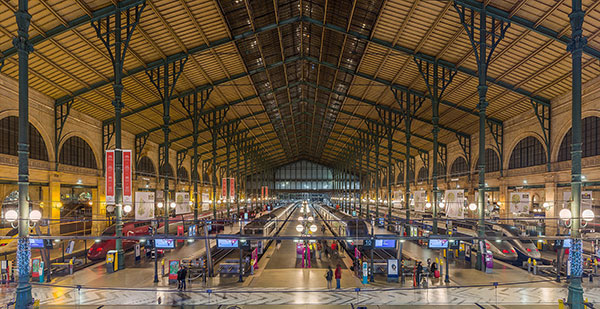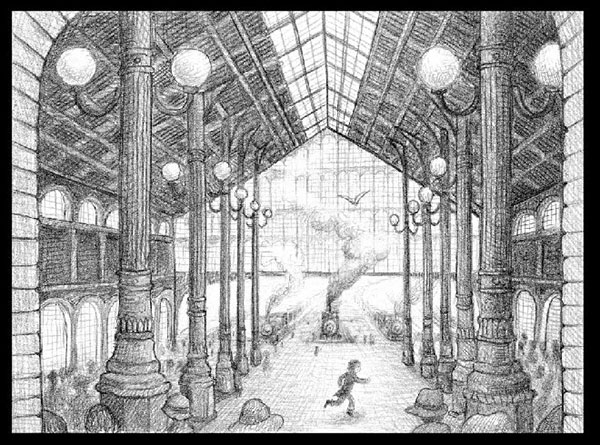 Two more Calde­cott Award books take place in Paris: Lud­wig Bemel­mans' Made­line, a 1940 Calde­cott Hon­or, and Madeline's Res­cue, the 1954 Calde­cott Medal.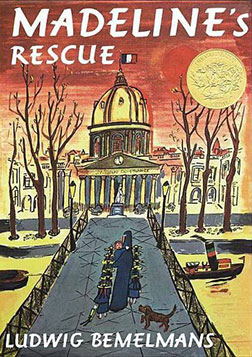 The idea of Made­line began when Bemel­mans had a bik­ing acci­dent and was hos­pi­tal­ized on a fam­i­ly vaca­tion in Paris (Bemel­mans, 1954). But, as Ethel Heins wrote, "In a way Paris is the chief char­ac­ter in the book, and is por­trayed just as vivid­ly as the enchant­i­ng Made­line. Parisian images remain fixed in the mind — Notre Dame, the Eif­fel Tow­er, the Place Vendôme, the Opéra, the Lux­em­bourg Gar­dens — and all are sup­port­ed by an order­ly, secure, tight­ly plot­ted sto­ry" (Heins, 1988, 58). After the last page in Made­line, the Paris scenes Bemel­mans paint­ed with "brush, pen, and water­col­or" (ALSC, 159), are list­ed. Strong, sim­ple lines with bold col­ors depict these rec­og­niz­able land­marks that lack archi­tec­tur­al detail as if paint­ed from a child's per­spec­tive. Sim­i­lar scenes appear in Madeline's Res­cue.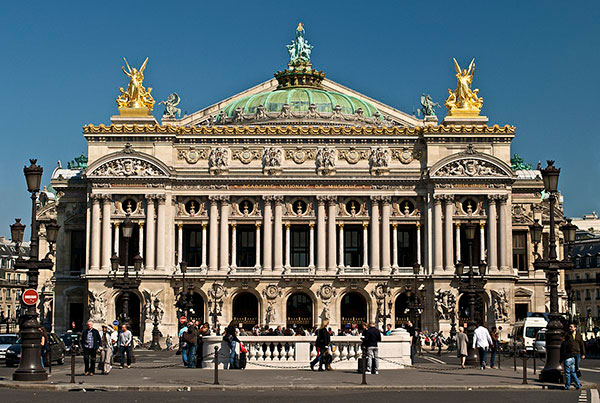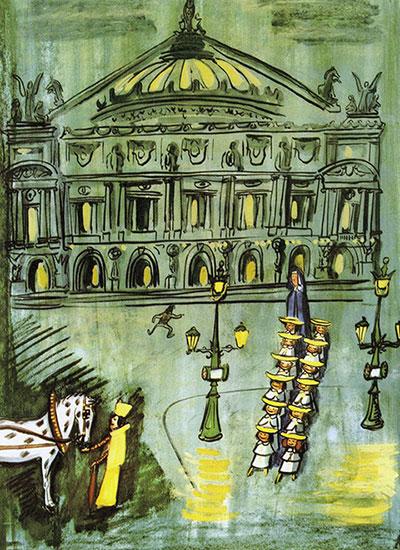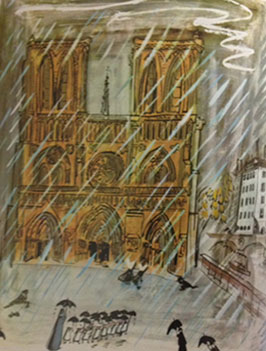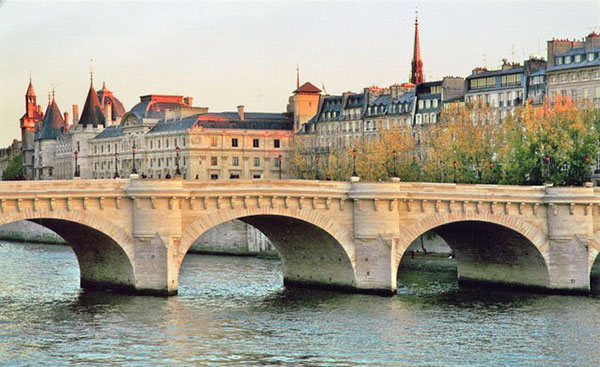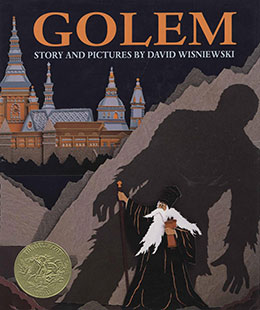 We move from Paris, called "The City of Light," to a dark sto­ry that takes place in Prague dur­ing 1580. David Wisniewski's Golem, the 1997 Calde­cott Medal book, is the leg­end of Rab­bi Loew who cre­ates a man of clay, a golem, infus­ing the crea­ture with life through an ancient spell. The golem's mis­sion is to pro­tect the Jews from per­se­cu­tion which he does by wreak­ing ter­ror and death. The rab­bi is sum­moned to Prague Cas­tle and promis­es the emper­or he will destroy his mon­ster after the Jews are out of dan­ger. By this time, though, the giant has come to love life, and in a trag­ic end­ing, he is returned to clay. Of this sto­ry Wis­niews­ki writes in his author's note, "There is evi­dence of its influ­ence in Mary Shelley's nov­el Franken­stein" (Wis­niews­ki, 1996).
Wisniewski's somber col­ors add dra­mat­ic effect to the sto­ry. Dilys Evans (1997) describes how he works.
After the man­u­script for the text is deemed per­fect, he pro­ceeds to do the first pen­cil sketch­es on lay­out paper, fol­lowed by more detailed black ink. Once the draw­ings are approved by the edi­tor, he uses a col­or mark­er to estab­lish col­or con­sis­ten­cy, adding to the grow­ing mood of the book. Then detailed trac­ings are made, one for each spread, and these are the final com­po­si­tions. Each spread is then trans­ferred, with car­bon, to col­ored papers, and the cut­ting, posi­tion­ing, and assem­bling with dou­ble-stick pho­to-mount­ing and foam tape takes place. For each book, David uses between eight hun­dred and one thou­sand blades for his X‑Acto knife (p. 426).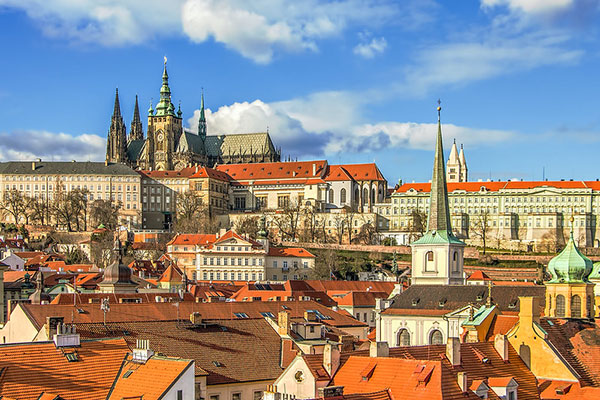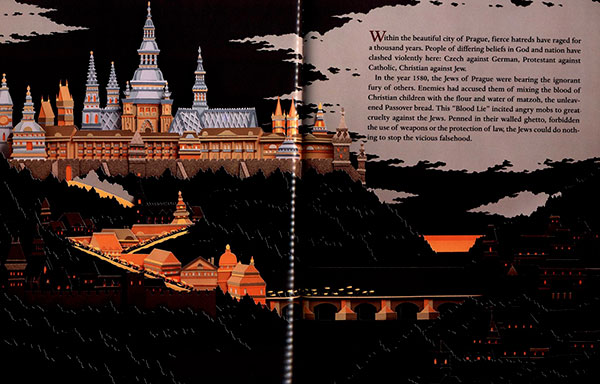 Wis­niews­ki then works with a pho­tog­ra­ph­er to light his intri­cate­ly cut paper illus­tra­tions for the best, almost the­atri­cal, effect to show depth and tex­ture. In his Calde­cott speech, he said, "As a self-taught artist and writer, I rely on instincts devel­oped through years of cir­cus and pup­pet per­for­mance to guide a story's struc­ture and look." (Wis­niews­ki, 1997, p. 20). It is inter­est­ing to note that a pre­vi­ous book, The Golem: A Jew­ish Leg­end by Bev­er­ly Brod­sky McDer­mott, won a Calde­cott Hon­or in 1977.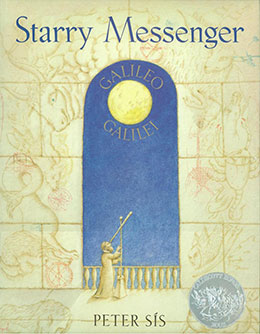 Peter Sís grew up in Prague dur­ing Com­mu­nist rule and set sev­er­al of his sto­ries there. How­ev­er, Star­ry Mes­sen­ger: A Book Depict­ing the Life of a Famous Sci­en­tist, Matem­ati­cian, Astronomer, Philoso­pher, Physi­cist, Galileo Galilei, a 1997 Calde­cott Hon­or book, takes place in Pisa, Italy, where Galileo was born in 1564. In the illus­tra­tion below, Galileo is demon­strat­ing his Law of Falling Objects in 1611 that states that two objects of unequal weight fall at the same rate.
Sís's "pen and brown ink and water­col­or" (ALSC, p. 112) illus­tra­tions resem­ble some of Galileo's own draw­ings, and he includes hand­writ­ten excerpts from Galileo's book The Star­ry Mes­sen­ger as well as col­or­ful maps from that time peri­od (Kid Lit Review, 2017).
Galileo proved that earth was not the cen­ter of the uni­verse, going against the teach­ings of the Catholic Church. He was tried in the Pope's court, and was "con­demned to spend the rest of his life locked in his house under guard." Sís wrote, "When I was young, I was fas­ci­nat­ed by peo­ple who could go places. I was in a coun­try where I could­n't go any­place, and I liked peo­ple going to the moon and sto­ries about explor­ers. Galileo was in prison, but he still was able to go places with his mind" (Sís, 2004). This is what we expe­ri­ence when we trav­el with books.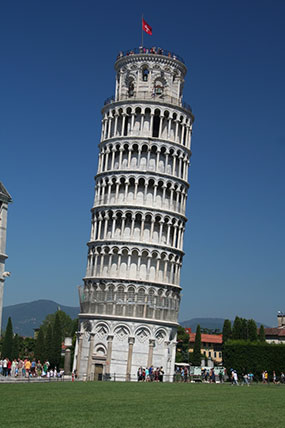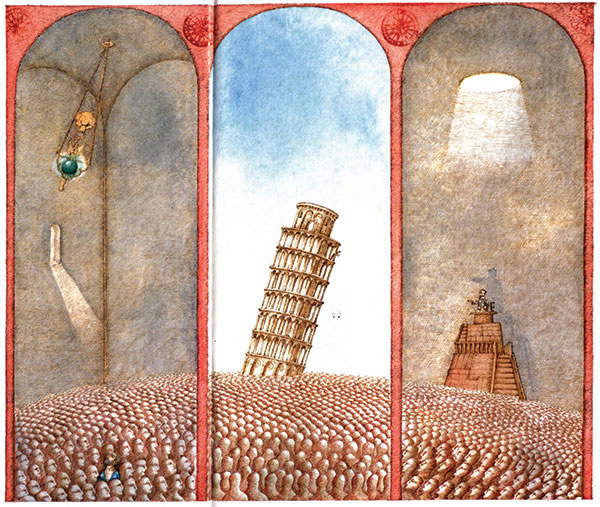 The Calde­cott Award is giv­en to Amer­i­can illus­tra­tors. Per­haps that is why there is a pre­pon­der­ance of set­tings in the Unit­ed States and Europe. How­ev­er, Calde­cott Award books take place in many dif­fer­ent coun­tries such as Lon Po Po in Chi­na, The Boy of the Three Year Nap in Japan, or The Cat Man of Alep­po in Syr­ia. But these books do not iden­ti­fy spe­cif­ic loca­tions through the illus­tra­tions such as the books dis­cussed above do. For more books with non-West­ern set­tings, you might look at inter­na­tion­al illus­tra­tor awards and lists such as the Asso­ci­a­tion of Illus­tra­tors World Illus­tra­tor Awards, the Hans Chris­t­ian Ander­sen Book Award, and the USBBY Out­stand­ing Inter­na­tion Books List, among others.
Bemel­mans, L. (1939). Made­line. Simon & Schuster.
Bemel­mans, L. (1953). Madeline's res­cue. Viking.
Ker­ley, B. & Selznick, B. (2001). The dinosaurs of Water­house Hawkins: An illu­mi­nat­ing his­to­ry of Mr. Water­house Hawkins, artist and lec­tur­er. Scholastic.
McDer­mott, B. B. (1976). The golem: A Jew­ish leg­end. J. B. Lippincott.
Mattick, L. & Black­all, S. (2015). Find­ing Win­nie: The true sto­ry of the world's most famous bear. Lit­tle, Brown/Hachette.
Selznick, B. (2007). The inven­tion of Hugo Cabret. Scholas­tic.
Sís, P. (1996). Star­ry mes­sen­ger: A book depict­ing the life of a famous sci­en­tist, math­e­mati­cian, astronomer, philoso­pher, physi­cist, Galileo Galilei. Far­rar Straus Giroux.
Wis­niews­ki, D. (1996). Golem. Clar­i­on.
Asso­ci­a­tion for Library Ser­vice to Chil­dren (ALSC). (2017). The New­bery and Calde­cott Awards: A guide to the medal and hon­or books. Amer­i­can Library Association.
Bemel­mans, L. (1954). Calde­cott Award accep­tance. Horn Book Mag­a­zine, 30 (4), 270 – 276.
Daniel­son, J. (2015). One pic­ture-book round­table before break­fast #4: Fea­tur­ing the women of Find­ing Win­nie. Sev­en Impos­si­ble Things before Break­fast.
Evans, D. (1997). David Wis­niews­ki. Horn Book Mag­a­zine, 73 (4), 424 – 427.
Heinz, E. (1988). Lud­wig Bemel­mans. In J. M. Bing­ham (Ed.). Writ­ers for chil­dren (pp. 55 – 61). Charles Scribner's Sons.
Kid Lit Review. (2017). Kid Lit Review of Star­ry Mes­sen­ger by Peter Sis. Rhap­sody in Books.
McCarthy, S. (2012). Hugo and the train sta­tions of Paris. BLT.
Sis, P. (2004). In-depth writ­ten inter­view with Peter Sis. Teach­ing Books.
Snel­son, K. (2016). Calde­cott win­ner Sophie Black­all: What small thing might change the world. Shelf Aware­ness.
West, M. I. (2003). A children's lit­er­a­ture tour of Great Britain. Scare­crow Press.
Wis­niews­ki, D. (1997). Calde­cott Medal accep­tance. Horn Book Mag­a­zine, 73 (4), 418 – 424.