Car­rots are most often served raw in our home due to our sons' pref­er­ences. But five years ago at the library we found the book Car­rot Soup by John Segal. Of the dozen or so books we checked out that week, my preschool­er asked for this one to be reread the most.
On the last page, there's a recipe for rab­bit's favorite car­rot soup. We made a half a batch. Both boys ate a small serv­ing of the soup, and my old­er son even asked for sec­onds. He sug­gest­ed I write the recipe down before we return the book. I did, and I've made the soup a num­ber of times since. This fall, it proved to be a good way to use up car­rots grown in our garden.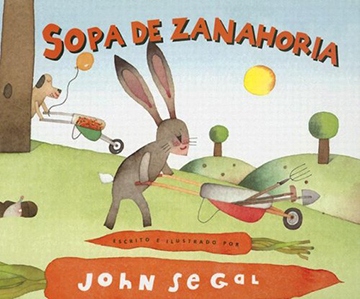 I've tried oth­er car­rot soup recipes, but this is the one I keep com­ing back to, for its sim­plic­i­ty and its but­tered-car­rot fla­vor. Some fam­i­ly mem­bers are not into dill or pars­ley, so I usu­al­ly leave that out. Gar­nish­es, on the oth­er hand, are often a win with kids. Try sprin­kling a few crou­tons or roast­ed chick­peas on top. Or even pop­corn. Bet­ter yet, let them choose if they want to add the crunchy top­pings to their soup or just eat them on the side.
I checked Car­rot Soup out again last week, to revis­it it for old time's sake. My kids remem­bered it — and were more or less will­ing to hear the sto­ry one more time. I smiled at how one seem­ing­ly ran­dom book selec­tion has left us with a mem­o­ry of a shared sto­ry and a recipe we keep in our fall rotation.