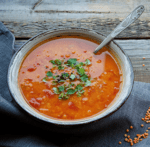 Print Recipe
No Trout Tomato Soup for Two
After a day tromp­ing through the restored prairie, enjoy this deli­cious soup!
Ingredients
2

fresh toma­toes

at least one cup of diced tomatoes

Salt and pep­per to taste

1

cup

milk

1

Tbsp

flour
Instructions
Cut up one or two good-sized fresh toma­toes — at least one cup of cut tomato.

Put it in a pot and cook slow­ly for twen­ty minutes.

Add salt and pep­per to taste.

Put the cooked toma­to through a food mill

or get some­one to help you put it in a food processor.

Stir in one cup of milk blend­ed with one Table­spoon of flour.

Sim­mer for 5 min­utes, or until soup has thick­ened. Pour into 2 cups — one for you, one for a friend. Enjoy.