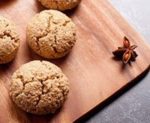 Print Recipe
Princess Posey's Crazy Lazy Vacation Cookies
If you like crispy, crunchy cook­ies and the taste of almonds, you'll love these!
Ingredients
1 ¾

cups

sliced almonds

1

cup

confectioner's sug­ar

2

large egg whites

Grat­ed peel of one orange

or to taste

½

tea­spoon

pure almond extract
Instructions
Pre­heat oven to 350 degrees. Spread almonds in a sin­gle lay­er on a rimmed bak­ing sheet and toast in oven until light­ly browned and fra­grant, 7 to 9 min­utes. Remove from oven; let cool.

Com­bine almonds and sug­ar in food proces­sor and grind to a fine pow­der. Trans­fer to a medi­um bowl. In a sep­a­rate bowl, beat eggs whites until stiff peaks form. (Tip: if you beat the whites in a bowl over sim­mer­ing water, they'll beat faster. You can do it by hand or with a mix­er. It's fun!)

Fold egg whites into almond mix­ture; fold in almond extract; fold in grat­ed orange peel.

Line a bak­ing sheet with parch­ment paper. Trans­fer almond mix­ture to a pas­try bag fit­ted with a ½‑inch plain tip.* Pipe twen­ty 2‑inch rings onto pre­pared sheet, about 1 inch apart. Bake until gold­en brown and firm to the touch, about 25 minutes.

Remove from oven and imme­di­ate­ly trans­fer to a wire rack to cool completely.
Notes
If you don't have a pas­try bag, you can cut the cor­ner off a large plas­tic bag and use it. It's not per­fect, but it works.