I adore books that have food details. I like to know what the char­ac­ters are eat­ing. Even bet­ter, I like to know what they're cook­ing and bak­ing. And if there's a food or feast that plays a promi­nent role in the plot, I'm hooked.
Turns out, these are the sorts of books I enjoy writ­ing, as well. My nov­el, Giant Pump­kin Suite, has a grand­moth­er who is quite ded­i­cat­ed to the culi­nary arts. And my pic­ture book, Around the Table that Grandad Built, is entire­ly about food and gath­er­ing peo­ple to eat.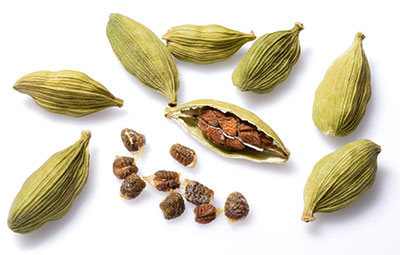 The nov­el I'm cur­rent­ly work­ing on fea­tures a par­tic­u­lar spice: car­damom. Full dis­clo­sure: I love car­damom. Some­times when I just need a lift, I put some car­damom pods in my mor­tar and pes­tle and grind them up for fun — the smell alone can change the course of a day! If I could, I'd plant it in my garden.
Car­damom is a peren­ni­al in the gin­ger fam­i­ly. It grows wild in India and Sri Lan­ka, and is cul­ti­vat­ed in oth­er con­sis­tent­ly warm coun­tries like Guatemala and Tan­za­nia, two of the lead­ing pro­duc­ers of the spice here in the twen­ty-first cen­tu­ry. It would not sur­vive in my Min­neso­ta gar­den, alas.
But car­damom is a com­mon ingre­di­ent in Scan­di­na­vian bak­ing, chai tea, Soma­li tea, and East Indi­an cur­ries, all of which are favorite foods of mine, and all of which are read­i­ly avail­able in Min­neso­ta, so I man­age to indulge reg­u­lar­ly. Car­damom can be found in many cul­tures, actu­al­ly — Chi­nese med­i­cine, Ethiopi­an and Eritre­an cuisines, and the foods, teas and cof­fees of most Arab coun­tries, just to name a few. Such an inter­est­ing spice — at home in so many foods!
Car­damom is in the work­ing title of my nov­el and is fea­tured in all kinds of food and drink over the course of the book's plot. I've been doing some cook­ing and bak­ing exper­i­men­ta­tion along side the writ­ing, which my fam­i­ly appreciates.
We love scones at our house and I've tried a num­ber of recipes, bor­row­ing cer­tain parts from each to make my own recipe. This is the one we've land­ed on at our house — so easy and smells heavenly.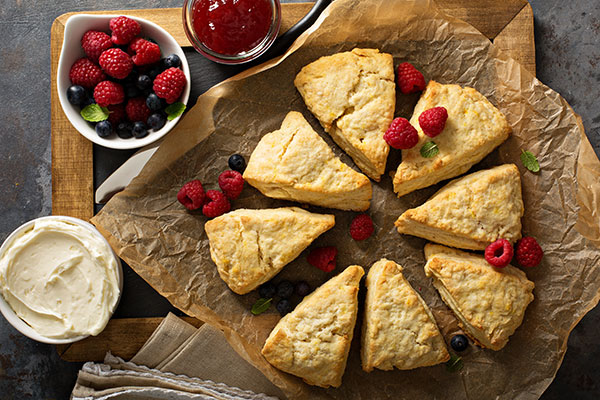 SCONES
2 cups of unbleached all-pur­pose flour
½ cup of whole wheat flour
½ cup packed light brown sugar
1 ½ tea­spoon bak­ing powder
½ tea­spoon bak­ing soda
½ tea­spoon of fresh­ly ground car­damom (It's tempt­ing to put in more — don't! Car­damom is best sub­tly applied! And if you can't find it to grind your­self, just buy it ground — fresh as you can find it.)
Pinch of cin­na­mon (option­al)
½ cup butter
1 Table­spoon of vanil­la extract (vanil­la paste is even better!)
Just a swal­low over ¾ cup of cold buttermilk
Pre­heat the oven to 400 degrees. Bake on the mid­dle rack posi­tion. Use parch­ment paper for ease of clean-up and even­ly browned scone bottoms.
In a food proces­sor, com­bine the dry ingre­di­ents and pulse to com­bine. Cut the but­ter into table­spoon sized por­tions and add to the dry ingre­di­ents. Pulse until there are pea sized crumbs. Work quick­ly! It's like pie crust — you don't want the but­ter to get warm. (And yes, you could do this by hand, just like you do with pie crust, but I like the ease and uni­form results of the food processor.)
Whisk togeth­er the but­ter­milk and vanil­la. Add these liq­uids to the but­tery dry ingre­di­ents and mix just until the dough comes togeth­er — do not over mix!
Turn the dough out onto a floured sur­face and knead just enough to get the dry pieces incor­po­rat­ed — do this quick­ly as you don't want the but­ter to warm. Flat­ten into a 7−8" round and cut into pie shaped wedges. Place the result­ing tri­an­gu­lar scones on the bak­ing sheet, leav­ing plen­ty of room around each. (They won't expand much, but they need to brown even­ly and so don't like to be crowded.)
Bake 15 – 20 min­utes until gold­en brown. While they cool a bit, make your­self some Soma­li Tea, or Chai Tea to go with your scones — your house will smell heavenly!
You can find won­der­ful tea recipes replete with his­toric and cul­tur­al detail here:
These scones will warm up nice­ly in the oven or toast­er oven the next day. If you have leftovers…