by Nan­cy Bo Flood
Books can help read­ers heal. Sto­ries can cre­ate com­pas­sion. Every one needs to find "their sto­ry" in books.

The Unit­ed States Board on Books for Young Peo­ple (USBBY) is part of The Inter­na­tion­al Board on Books for Young Peo­ple (IBBY), a world-wide orga­ni­za­tion that works to build bridges of under­stand­ing through chil­dren's and young adult books. "A child who reads will be an adult who thinks."
USBBY/IBBY brings togeth­er authors and illus­tra­tors, edi­tors, librar­i­ans, teach­ers, and read­ers who sup­port the cre­ation of books that speak to chil­dren and their par­ents what­ev­er their home coun­try or lan­guage. IBBY's Hans Chris­t­ian Ander­sen Medal cel­e­brates the best world-wide author and illus­tra­tor whose words and images excite imag­i­na­tion, and its Astrid Lind­gren Memo­r­i­al award is giv­en to authors, illus­tra­tors, sto­ry­tellers, and per­sons and orga­ni­za­tions that work to pro­mote lit­er­a­cy. Each award is select­ed from the nom­i­na­tions of over a 100 par­tic­i­pat­ing region­al units, such as USBBY.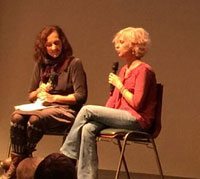 This year's USBBY con­fer­ence was held in New York City, low­er Man­hat­tan. The con­fer­ence is kept small, under 300 atten­dees, so the atmos­phere is friend­ly, like old friends com­ing togeth­er to share new ideas, new trends, and new award-win­ning books from around the world. What a cel­e­bra­tion of books! This year the open­ing speak­er was our very own Nation­al Ambas­sador for Young People's Lit­er­a­ture, Kate DiCamil­lo. She spoke about her jour­ney from writer to pub­lished author.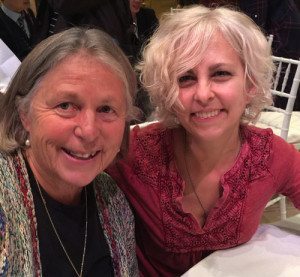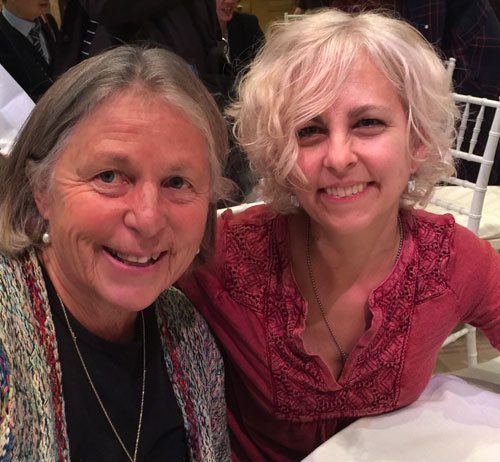 Per­sis­tence! Kate affirmed that with­in each of us we have sto­ries to tell. But to suc­cess­ful­ly move from that first page to a pub­lished book, one needs to believe in one­self, write and re-write, and stub­born­ly pur­sue the quest of find­ing the right edi­tor. With humor Kate described her ini­tial ten years of first think­ing about writ­ing before actu­al­ly hav­ing the courage to put pen to paper and write. Then came 470 rejec­tion let­ters. Now Kate has 22 mil­lion books in print world-wide, trans­lat­ed into 41 lan­guages. She calls her­self a "late-bloomer." Her first book was pub­lished a few years before she turned forty. Even today, Kate is "still sur­prised that I ever got pub­lished." When asked why her books are read by all ages of read­ers in coun­tries on every con­ti­nent, she imag­ines that some­how the sto­ries she writes have uni­ver­sal appeal because she writes hon­est­ly of expe­ri­ences and emo­tions we all share – fears and hopes, dis­ap­point­ments and sor­rows. Kate asserts, that "the love of sto­ry is in the core of humankind." Through sto­ry we step into the heart of anoth­er and walk with­in their jour­ney. Kate also affirms that "every child has the right to learn to read."
This uni­ver­sal love of sto­ry was reit­er­at­ed in a lat­er talk by Susan Coop­er, one of England's great­est sto­ry­tellers (The Dark is Ris­ing), a cre­ator of many worlds, a writer of fan­ta­sy. Susan asked, "is it pos­si­ble for sto­ry­telling, this basic love of sto­ry that all cul­tures share, to be a way to heal the divi­sions of our world? Through the mag­ic of enter­ing anoth­er place, anoth­er cul­ture, can we increase com­pas­sion and come to accept dif­fer­ences, erase prej­u­dices based on igno­rance?" Yes, both Susan and Kate con­tend, books can build bridges. They can tell uni­ver­sal truths. They can let us walk with­in the heart and skin of anoth­er per­son and feel "both joy and sor­row as sharp as stones."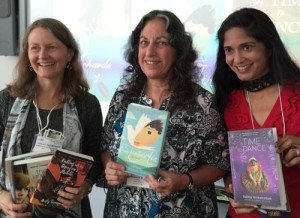 A child might sit in a class­room, on a park bench, or snug­gled under bed cov­ers with a flash­light, and become lost in a book. Or a child might sit in front of a tent in a refugee camp or a deten­tion cen­ter near a bor­der cross­ing. Books let us enter new worlds, con­sid­er new ideas, rethink old hates. Both Kate DiCamil­lo and Susan Coop­er agree that sto­ries help us laugh and give us hope.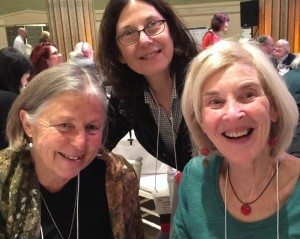 This year at the con­fer­ence I was part of a "war pan­el." The smil­ing trio in the pho­to, "the war pan­el," pre­sent­ed dif­fer­ent per­spec­tives about war and the effects on chil­dren. Today over forty mil­lion chil­dren live as refugees. Here in the Unit­ed States, more vet­er­ans — moth­ers and fathers of chil­dren — die from sui­cide than from com­bat. How do their chil­dren make sense of war? We need well-writ­ten books about war so chil­dren can find their sto­ries and begin to heal.
Thank you, Col­orado Author's League, for sup­port­ing me with a trav­el grant to attend this USBBY con­fer­ence. I encour­age writ­ers and illus­tra­tors to become a mem­ber of this inter­na­tion­al orga­ni­za­tion. Through­out the year USBBY is involved in a vari­ety of projects that bring appro­pri­ate books to chil­dren and par­ents. As Kate DiCamil­lo stat­ed: "Every child has the right to read."