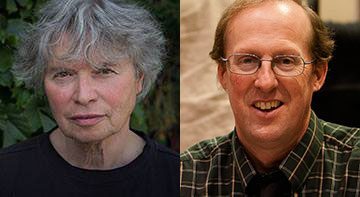 When Avi pub­lished his 1950s' era nov­el, Catch You Lat­er, Trai­tor, he ded­i­cat­ed the book to Gary D. Schmidt, fel­low author, fel­low read­er, fel­low con­nois­seur of noir detec­tive nov­els and his­to­ry. The Bookol­o­gist is priv­i­leged to lis­ten in on this con­ver­sa­tion between two authors who are so great­ly admired for the depth and tex­ture with­in their books. Enjoy!
Gary D. Schmidt:
Ray Brad­bury once wrote a short arti­cle enti­tled "Mem­o­ries Shape the Voice" in which he talked about the pow­er­ful ways that his child­hood mem­o­ries affect­ed the mak­ing of his Green­town, Illi­nois. It wasn't just the details that would come back to him as he cre­at­ed the world of his short sto­ries — it was how he felt about those details: the beau­ty (to him) of the town's fac­to­ries, the ter­ror (to him) of the gul­lies. It seems to me that this is true also of your evo­ca­tion of 1951 Brook­lyn. Is that fair to say?
Avi:
It is fair. It's been many years since I've lived in NYC, but I con­fess I still think of myself as a New York­er. I've writ­ten more about the city than any oth­er place, from City of Light, City of Dark—a dystopi­an graph­ic nov­el — to Sophia's War, a tale of the Amer­i­can Rev­o­lu­tion. It's not just "home" in a phys­i­cal sense, it's my emo­tion­al home. And yet, I now live in the Rocky Moun­tains, nine thou­sand feet up, in a com­mu­ni­ty of thir­teen, the near­est neigh­bor a mile away.
When writ­ing Catch You Lat­er, Trai­tor, which is set, for the most part, in my boy­hood neigh­bor­hood, it was easy for me to walk home from school, play stoop­ball, go to the local movie the­ater. I eas­i­ly recall sit­ting on the front stoop read­ing com­ic books with my friends — even which com­ic books.
Gary D. Schmidt:
One part of that world is the phys­i­cal set­ting: Pete's apart­ment, the streets, the nurs­ing home, the school. Though I sus­pect that being in these set­tings brought a great deal of nos­tal­gic plea­sure, how did these set­tings play a part in the plot­ting of the book?
Avi:
I think all writ­ers depend on sen­so­ry mem­o­ry. Con­sid­er Ritman's Books where, in the book, Pete hangs out. There was such a book­store in my neigh­bor­hood, which I loved to go to. The same for that movie the­ater where I would go for the Sat­ur­day morn­ing kids' shows. My Brook­lyn was very much a small town. There was every­thing I need­ed, and all I need­ed to con­struct the book. Even when I had to go beyond, by sub­way — I love the city sub­ways — it gave me great plea­sure to write about them.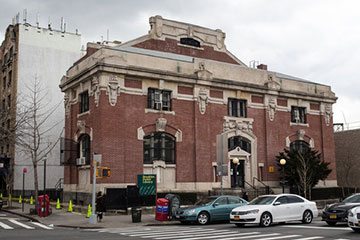 Gary D. Schmidt:
The school is par­tic­u­lar­ly intrigu­ing to me, since it seems to me to be act­ing in inter­est­ing the­mat­ic ways. School, for Pete, is a place of mono­lith­ic pow­er: the teacher. There is one point of view, one way of respond­ing to Amer­i­ca, one way of sit­ting and respond­ing and behav­ing. Toward the end of the book, Pete calls his teacher, Mr. Don­a­van, a bul­ly — and it seems at that point that Mr. Don­a­van rep­re­sents all of the school. But does it seem to you as well that the school, with its insis­tent pow­er, also rep­re­sents the way the coun­try was act­ing toward dis­sent at this time?
Avi:
Mr. Don­a­van is based on a teacher I did have. I describe him as I remem­ber him. But don't for­get Mr. Malakows­ki, who is also real, and a nice guy. He was, in fact, my favorite teacher. Par­ents think they know about their children's schools, but I think in some way schools con­sti­tute a par­al­lel uni­verse to home life. They don't always inter­sect. Pete's par­ents don't real­ly know what's going on there, and Pete doesn't want them to get involved. That, I think, is typ­i­cal. In today's world, the old­er a kid gets the less he/she wants par­ents to be involved in school. Yes, the school does rep­re­sent the coun­try at that time, but it's impor­tant to remem­ber that it was not the whole country.
Gary D. Schmidt:
And of course, there are the char­ac­ters that are so vivid — an Avi trade­mark. I think espe­cial­ly of Mr. Ord­son, the blind man to whom Peter reads. He reads the news­pa­per, because Mr. Ord­son wants to keep up with cur­rent events. And he is a wise and good friend to Pete. You've writ­ten that Mr. Ord­son is based on a real per­son to whom you, as a young ado­les­cent, read. Are there oth­er char­ac­ters based on folks from your past? Per­haps Pete's father, a noble char­ac­ter? Have you, as William Faulkn­er once advised, cut up your rel­a­tives to use them in your plot?
Avi:
How can I say this? Pete's father is based on what my father was not. My father was not a nice man. Very hard on me. Abu­sive. Don't get me going. Any­way, I think Pete's father is what I would have liked my father to be. I bet you've worked from that kind of oppo­site, too. Cathar­tic, per­haps. On the oth­er hand, Pete's old­er broth­er is some­what based on my own old­er broth­er who, like many old­er broth­ers, can be patron­iz­ing to younger broth­ers. That said, a major part of the sto­ry is not about fam­i­lies that pull apart — there is some of that — but how fam­i­lies stay togeth­er. And Kat — a key fic­tion­al char­ac­ter in the book — is drawn to Pete's fam­i­ly as much as she is to Pete.
Gary D. Schmidt:
One oth­er ele­ment from the past: the noir voic­es, the sounds of the hard-boiled detec­tive fic­tion that you read, that I read, that we both still read. At times, Pete leaves the first-per­son nar­ra­tive to go into that hard-boiled voice. I think you prob­a­bly had a lot of fun with that, right?
Avi:
I adored writ­ing those sec­tions. I think there is some­thing unique­ly Amer­i­can in that noir voice. The tough love. The sar­casm. The wit. The truth-telling. The very care­ful lit­er­ary con­struc­tion, all of which masks a deep-root­ed sen­ti­men­tal­i­ty, an embar­rassed, if you will, search­ing for love. Very com­plex. The thought that I can share that — intro­duce it — to my read­ers gives me great pleasure.
Gary D. Schmidt:
In this McCarthy – era nov­el, Pete is thrown into a world in which fear inspires hatred. As news spreads that his father does not accept an easy vision of a per­fect Amer­i­ca but believes that the sto­ries of work­ers and African Amer­i­cans also need full play in tales of the devel­op­ment of the coun­try, Pete is ostra­cized, since it is assumed that his father must be a Com­mie! Since all his­tor­i­cal fic­tion is writ­ten both about a time in the past and for read­ers in the present, it seems to me that your nov­el is a pow­er­ful warn­ing against assum­ing that any nar­ra­tive about our coun­try is sim­ple and uncomplicated.
Avi:
One of my favorite notions about his­tor­i­cal fic­tion is expressed in the open­ing lines of L. P. Hartley's The Go-Between. "The past is a for­eign coun­try: they do things dif­fer­ent­ly there." I find that a fas­ci­nat­ing idea because I don't entire­ly agree with it. What I mean is, yes, the past is a dif­fer­ent coun­try, but they do not always do things dif­fer­ent­ly there. I know, from what I've read of what you've writ­ten, you under­stand this. Our goal is to make the past mean­ing­ful to the present, right? To give it life. Amer­i­ca has such a com­plex and fas­ci­nat­ing his­to­ry. But how lit­tle peo­ple know of it! How many great sto­ries there are yet to tell!
Gary D. Schmidt:
Pete must deal with some hard truths: in the nov­el, he devel­ops strong anger toward both his broth­er and his great-uncle, anger which does not get resolved in the nar­ra­tive. At the same time, he comes to under­stand that his father lives a life that is larg­er and per­haps more noble and hon­or­able than he had imag­ined. Is it fair to say that in one way, this nov­el is about the lim­its of knowl­edge — that we can­not tru­ly know some­one else completely?
Avi:
Pete's father tells Pete: "Noth­ing is sim­ple. Know that and you know half the world's wis­dom." Oh, how I believe that! Bet you do, too. Some­where I read, "Poor writ­ing makes what you know sim­ple. Good writ­ing makes it com­plex." Right?
Gary D. Schmidt:
Per­haps this is the hubris of the McCarthy era as well — the assump­tion that I have the right to know every­thing about some­one else. I note this in the con­text of a world in which it seems to be the grow­ing assump­tion that we do have the right to know what we want to know about anoth­er per­son — some­thing that Pete's father insists is not true at all.
Avi:
Hey! Pri­va­cy, the last fron­tier! It's one of the most impor­tant things about book read­ing. It's tru­ly pri­vate. Far more so than even dig­i­tal read­ing! The oth­er day — in San Fran­cis­co — I passed a used book store. Out front was a box labeled "Free Books." Think of it! No one would know if I picked up a book. Or read it. Or thought about it. Or what I thought. No one. And yet, and yet — and I know you believe this, too — noth­ing is more inti­mate than shar­ing thoughts. That said, one of the most pow­er­ful things a per­son can have — for good or ill — is a secret. As a kid I recall play­ing a game we called Secrets. The idea being that you and your friend each shared a real secret. A dan­ger­ous game, when you think about it.
Gary D. Schmidt:
Pete decides that he will be a Giants fan, going against Brooklyn's fanat­ic loy­al­ty to the Dodgers — who, we know, will one day betray that loy­al­ty. I know this is, on one lev­el, sim­ply Pete's desire to get back at the oth­ers around him for their hatred. But it also seems to me that Pete is assert­ing his right to be dif­fer­ent — exact­ly what McCarthy­ists feared and pros­e­cut­ed, and, per­haps, exact­ly what our own cul­ture seems to fear: the per­son who does not buy into the cur­rent vision of the Amer­i­can dream: to acquire. This is not a mes­sage nov­el; it first does what E. M. Forster claims the writer must do: make the read­er turn the page. But at the same time, you are mak­ing some pow­er­ful sug­ges­tions that warn against a too easy accep­tance of the culture's claims upon us.
Avi:
Being loy­al to a false ide­al can be very destruc­tive. Being loy­al to high ide­al can be very dan­ger­ous. Pete's shift from being a Brook­lyn Dodger fan to a New York Giants fan is some­thing that came right out of my life — and, yes, in 1951 when the Giants won the Nation­al Pen­nant just as I recount it in the book. It was my first step in becom­ing inde­pen­dent from my fam­i­ly. But when you become inde­pen­dent of your fam­i­ly — or your cul­ture — you pay a price. More often than not you are reject­ed, told that you have aban­doned them, who­ev­er or what­ev­er them might be. But being dif­fer­ent, being inde­pen­dent, is lib­er­at­ing. In Catch You Lat­er, Trai­tor, the word trai­tor becomes a code word for "being dif­fer­ent." In the sto­ry being dif­fer­ent enrich­es Pete's life. The sto­ry begins by his no longer being a kid. It ends by his becom­ing a kid again — but far deep­er in expe­ri­ence. Hey, that's why I ded­i­cat­ed the book to you. You've lived your life that way. Right?
Bookol­o­gist:
Thank you both for this inter­view. It opens many paths to explore and ideas to con­sid­er, but we expect­ed no less from the two of you.