I won­der how often a pic­ture book biog­ra­ph­er has been friends with her sub­ject for sev­er­al decades and then worked close­ly with that per­son to get her man­u­script just right. I'm curi­ous about the process of work­ing with a liv­ing per­son and hav­ing direct access.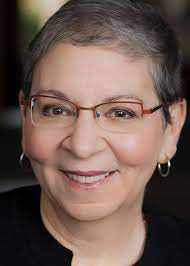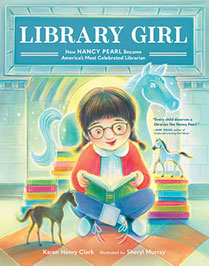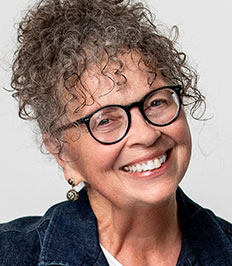 The book is Library Girl: How Nan­cy Pearl Became America's Most Cel­e­brat­ed Librar­i­an, writ­ten by Karen Hen­ry Clark, illus­trat­ed by Sheryl Mur­ray, and pub­lished by lit­tle bigfoot.
The sub­ject of this biog­ra­phy, Nan­cy Pearl, has writ­ten books about books (Book Lust and Book Crush), as well as The Writer's Library: The Authors You Love on the Books That Changed Their Lives (writ­ten with Jeff Schwa­ger) and George and Lizzie: A Nov­el. Nan­cy was a librar­i­an in Detroit, Tul­sa, and Seat­tle. She found­ed "If All Seat­tle Read the Same Book," a pio­neer­ing com­mu­ni­ty book dis­cus­sion pro­gram, and gave book reviews and inter­viewed authors on KUOW and KWGS radio along with CNN and NPR. You may have attend­ed one of her enlight­en­ing talks about books. Or per­haps you're admir­ing your Nan­cy Pearl Librar­i­an action fig­ure, remind­ing your­self that librar­i­ans are superheroes.
Karen Hen­ry Clark, the author of Library Girl, worked with Nan­cy Pearl at a book­store in Tul­sa, Okla­homa, where they became friends. Karen is the author of Sweet Moon Baby: an Adop­tion Tale (Knopf). Library Girl is her sec­ond book. We're thank­ful she wrote it for us.
Karen, where were you in time and space when you thought about writ­ing a pic­ture book biog­ra­phy of your friend and nation­al super-librar­i­an, Nan­cy Pearl?
In 2011 I attend­ed one of her packed-audi­to­ri­um speak­ing events in Min­neapo­lis (I lived in St. Paul then.) and wit­nessed her incred­i­ble abil­i­ty to charm, inform, and inspire an audi­ence, whether they were read­ers or not. When the pro­gram end­ed, in no uncer­tain term, fans lined the aisles for self­ies with her or for her auto­graph on her suc­cess­ful Book Lust. Because I knew about Nancy's com­pli­cat­ed child­hood, I was thrilled to see she'd over­come those unhap­py years. Here's a sto­ry with uni­ver­sal appeal, I realized.
Karen, how did you approach Nan­cy about your idea?
I vis­it­ed Nan­cy in Seat­tle in 2012. One after­noon in her liv­ing room, I pre­sent­ed my idea and asked her if I could try. By then I'd pub­lished my first pic­ture book, Sweet Moon Baby, about adopt­ing our daugh­ter Mag­gie from Chi­na. Nan­cy loved the book and had always believed, since our ear­ly days of work­ing in a Tul­sa book­store, that I was a writer. Of course, I had always believed the same about her. She was ini­tial­ly reluc­tant to recall those hard child­hood times, but she agreed to let me try.
Nan­cy, what did you think when Karen sug­gest­ed you as a sub­ject of a pic­ture book?
I thought that it would be great, because not only do I think that Karen's a won­der­ful writer, but that in telling my sto­ry, it would also be the sto­ry of every oth­er kid who loved books and read­ing and found accep­tance and hap­pi­ness at his/her/their pub­lic and school library.
Karen, I've read in oth­er inter­views that you took part in a work­shop led by Jane Yolen, nation­al super-author, that helped to move you for­ward with this project. Specif­i­cal­ly, what changed for you dur­ing that workshop?
By 2015, I'd giv­en up on the man­u­script, hav­ing turned it every which way. But as a moth­er, I real­ized if I gave up on a dream, I'd be teach­ing Mag­gie the wrong les­son. It was a des­per­ate click on anoth­er author's blog that land­ed me on the page about Jane's Pic­ture Book Boot Camp. I applied, think­ing I didn't stand a chance of being accept­ed. I was. She over­heard me tell our guest speak­er, a librar­i­an, that I was try­ing to write about Nan­cy Pearl. Jane inter­rupt­ed to say, "That will sell." I was shocked. Jane hadn't read a word of my "mess." The next day her pre­sen­ta­tion was about NOT giv­ing up. I low­ered my head. She said, "Do you hear me?" I looked up, ter­ri­fied. Jane lev­eled me with those pen­e­trat­ing, all-know­ing eyes and said, "I'm talk­ing to you." No one wants to dis­ap­point Jane Yolen. I promised to try again.
Nan­cy, you have authored a nov­el, books rec­om­mend­ing books for adults and chil­dren, and you have inter­viewed dozens (hun­dreds?) of authors. How did it feel to work close­ly with an author of a book about you?
Karen and I have known each oth­er since we both lived in Tul­sa, Okla­homa in the 1980s, and over the years we've shared a good bit of our own his­to­ries, but it was inter­est­ing­ly dif­fer­ent when Karen would call me with a list of spe­cif­ic ques­tions about my child­hood- it was a lit­tle shock­ing both how much I remem­bered and how much I had forgotten.
Nan­cy, did you read Karen's man­u­script sev­er­al times? How did you offer encouragement?
I think I read an ear­ly draft of the book and offered some sug­ges­tions, but then I think I didn't read it until Karen felt it was fin­ished and was ready to offer it to agents/publishers.
Karen, were there parts of Nancy's child­hood that she asked you not to include in your book? Did that present a chal­lenge for the storytelling?
Because she asked me not to men­tion her fam­i­ly, I focused on her expe­ri­ence of not being under­stood by class­mates for her devo­tion to books. I inter­viewed her count­less times, search­ing for the nec­es­sary dots to build a plot. Any of us would strug­gle to recall the details of being eight years old, and I admit it felt hope­less at times. For­tu­nate­ly, my new draft allowed cri­tique part­ners to ask valu­able ques­tions that let me nar­row my ques­tions for Nan­cy. Bit by bit, her mem­o­ries returned — the three devot­ed librar­i­ans, the fan­tas­tic bike Charg­er, the enchant­i­ng Fran­cis Park­man Branch Library, and the assign­ment that forced her to find courage.
Nan­cy, how did you accli­mate your­self to the idea of your child­hood being pre­sent­ed to read­ers everywhere?
In my pub­lic pre­sen­ta­tions I've been pret­ty open about how my (I always think of the Park­man Branch Library in Detroit as "my") library and the two children's librar­i­ans there were so won­der­ful­ly kind and sup­port­ive of this basi­cal­ly mis­er­ably unhap­py kid that I was, and how they gave me the world through the books they want­ed me to read, so it wasn't too much of a change to have it down in the pages of the book. I don't think I've ever shared with any­one out­side my fam­i­ly before the sto­ry of our neigh­bor­hood milk­man giv­ing me a ride to the library with all my mod­el hors­es, and that was fun to see it got includ­ed in the book. Most­ly, though, and prob­a­bly weird­ly, I think of the hero­ine of Library Girl as she, and not me.
Karen, did you con­fer with the illus­tra­tor, Sheryl Mur­ray, before you received the gal­leys? (A gal­ley is the mock-up of the print­ed book, with illus­tra­tions and words laid out on the page for the final book, but offer­ing a chance for cor­rec­tions to be made.)
No. My edi­tor sent me to Sheryl's web­site. I saw her poten­tial for cap­tur­ing irre­sistible facial expres­sions and whim­si­cal set­tings. The art edi­tor then sent Sheryl the man­u­script, and she was deter­mined to do it because she'd been a library girl as a child.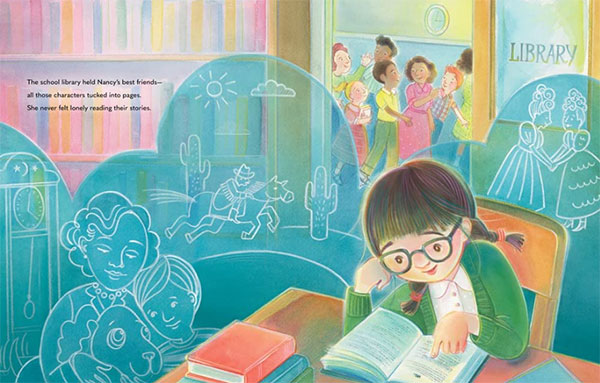 Karen, once the gal­leys arrived, did you offer Nan­cy an oppor­tu­ni­ty to weigh in about them?
Absolute­ly. I could hard­ly wait. Those gal­leys aston­ished me. Sheryl's vision for the sto­ry sur­passed any­thing I'd imag­ined. Those incred­i­ble blue hors­es are nev­er men­tioned in the text, but Sheryl cap­tured them. And she brought an entire build­ing to life. I knew Nan­cy would love them. Because it was her sto­ry, we all want­ed her to be com­fort­able with the sen­tences and illus­tra­tions. So every page was passed back and forth.
Nan­cy, how did it feel to see your child­hood in the illus­tra­tions of a pic­ture book?
I absolute­ly love the illus­tra­tions — Sheryl Mur­ray real­ly under­stood the book and the pow­er of imag­i­na­tion — the scene with Nan­cy under the table in the library just brought back so many mem­o­ries to me, not to men­tion how she cap­tured how the library looked to me when I was a child.
Karen and Nan­cy, what is your best hope for Library Girl?
Karen: I hope chil­dren will feel encour­aged to over­come a hard chal­lenge by search­ing for the thing that makes them feel brave — just like Nan­cy did. That's how con­fi­dence devel­ops. Fred Rogers, of Mr. Rogers' Neigh­bor­hood, assured us that helpers were always present, and it doesn't mat­ter if they're real or imag­i­nary. Believe in them.
Nan­cy: Every time I tell my sto­ry peo­ple come up to me after­wards to say that their child­hood and the role libraries played in their lives was the same as mine — I hope (and believe) that the com­bi­na­tion of Karen's words and Sheryl's pho­tos will help kids feel about the library and books and read­ing the way that I did.
Thank you both for allow­ing us to look inside the cre­ation of this par­tic­u­lar pic­ture book that shares the expe­ri­ence of kids who find light and hope and a way for­ward with­in the libraries of our world. You've giv­en a gift to those of us who are those kids.