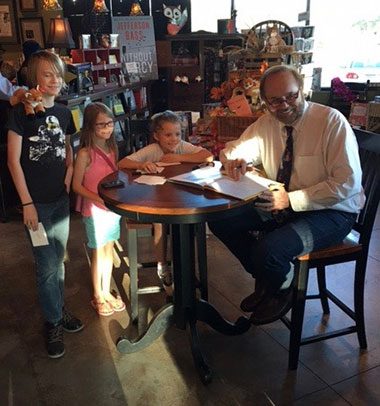 Our thanks to author and poet Charles Ghigna (GEEN-yuh) for tak­ing time out from his writ­ing, school vis­its, and con­fer­ence tours to answer these ques­tions which have been knock-knock-knockin' on my brain since I first began read­ing his many books of poet­ry and, now, a non­fic­tion book about fas­ci­nat­ing animals!
Do you remember when you first read a poem and it caught your attention?
"Mending Wall" by Robert Frost, Freshman English class.
At what point in your life did you realize you wanted to write poetry? For a living?
I wrote little rhyming poems and stories in elementary school and started keeping a daily writing journal in high school. Some of my entries were written as poems. I continued writing and keeping journals through my college years. When I began teaching high school English, I had less time to write and my journal entries began appearing as short, poetic pieces. That was my delicious late night writing time— after grading my students' papers. 😉 Later, I submitted a few of those early poems and some of them were published in Harper's and other magazines. A few years later, after my son was born, I began writing poems for children. It was then I began dreaming of "writing for a living."
What kind of poems did you like when you were young?
As a child I liked poems by Robert Louis Stevenson, Wordsworth, Longfellow, Kipling, and others.
How do you stay tuned in to the kinds of poems very young children like?
I'm on the road this month visiting schools while promoting my new Animal Planet book. It's easy to stay tuned in to the kinds of poems the very young like by seeing so many "children's faces looking up holding wonder like a cup."
I admire your book Score! 50 Poems to Motivate and Inspire. With the emphasis on growth mindset in classrooms, it occurred to me that each of these poems could be used as a blackboard or whiteboard encouragement, a discussion starter. The illustrations are excellent examples of graphic design—they add even more depth to each poem. As teachers work with students to build graphic design skills, this is a mentor text on several levels. (In spite of the cover, this is not a sports-centric book.)
Vicki, thank you so much for asking about my Score! book. That book is near and dear to my heart. It was a true labor of love. I always wanted to write a book of short quotable poems for young people to use when they needed a little extra nudge to keep them going toward their dreams. I wanted to create a book of poems to inspire and motivate. I was thrilled to have Abrams publish that book and even more thrilled to watch it become a popular resource for teachers, coaches, and parents. I'm happy to report the book has been adopted by school systems to use in their character education programs with principals reading a poem a day from it during their morning announcements.
Your newest book, Animal Planet Strange, Unusual, Gross & Cool Animals, appeals to any kid who's lived around animals or yearns to welcome animals in their lives. Do you have animals around you?
Yes, but all my animal friends are free range. I have a hawk who lives in a nearby tree and circles over my treehouse each day to say hello, a multitude of squirrels and chipmunks I watch from my window, and two jeweled hummingbirds who come each day to drink from the feeder. I would add the menagerie of monarchs that have been dancing outside my window this summer, but they have since flown farther south for the winter. My hummingbirds will no doubt soon join them on their way south.
This book is a departure from your poetry—how did you come to work on this project?
Yes, this book was a "depar­ture" for me. I wrote a piece for the Bermu­da Onion about how the project came to be. The first para­graph explains how the project got started.
"I had just fin­ished spend­ing near­ly a year writ­ing a six-book ani­mal series for tod­dlers when the phone rang. It was a Time Inc edi­tor in New York ask­ing if I might be inter­est­ed in writ­ing a 128-page book for Ani­mal Plan­et about strange, unusu­al, gross, and cool ani­mals for kids ages 8 – 12. Sure. And it's due in nine months. Wait. What? Let me think about it. I've writ­ten more than 100 books, but I've nev­er writ­ten a big, non­fic­tion, research-based book. I do write a lot about ani­mals though. Most­ly in rhyme. Most­ly for tod­dlers. Sure. What the heck. I can do that. Wait. Did you say nine months?" (read the full essay by Charles here)
Have you always lived in Alabama?
I've lived in Alabama for more than 40 years now. I was at Florida State University serving as poetry editor of English Journal when I received a two-year grant from the National Council on the Arts & Humanities to begin the first Poet-in-the-Schools program for the state of Alabama. I fell in love with this beautiful state—and with my wife. People say to me, "You're a writer. You could live anywhere in the world." I always smile and say, "Yes, I know. That's why I live in Alabama."
Who have your poetic mentors been?
Too many mentors to name, but my very first poetic mentor was my mother. She was the most creative, inspiring "kid" I ever knew. She made each day an adventure. She had magic in her eyes and she challenged me to dream big—and to follow those dreams. I also had a high school English teacher who on Fridays told us to close our books, look out the window, and make up stories and poems.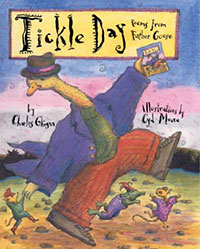 How did you get the name Father Goose?
Many years ago when I first started visiting schools, students and teachers began calling me "Father Goose." The name stuck. It was a lot easier to say than Mr. Ghigna—and a lot easier to spell. The Walt Disney Company suggested I use that moniker for one of my first books with them, Tickle Day: Poems from Father Goose. They created the first image of Father Goose. Since then my other publishers and illustrators have continued the tradition, often including a goose or two in my books. I'm called Father Goose now more often than my real name!