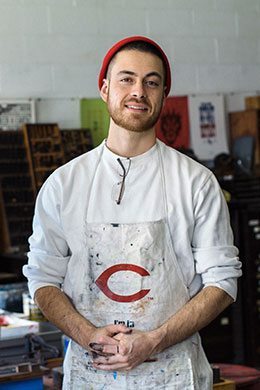 We are pleased to share with you our inter­view with Fran­cis Valle­jo, the illus­tra­tor of Jazz Day: the Mak­ing of a Famous Pho­to­graph, our Book­storm™ this month. This book is so rich with visu­al images that stir read­ers' imag­i­na­tions. You'll feel like you're stand­ing on the street with the oth­er onlookers!
The title page says that you used acrylics and pastels to create this art. Are those familiar media to you? Did you use any other media or digital manipulation?
I developed this technique for Jazz Day. Before this book I had extensively used acrylics, but had not used pastels very much. As I was working on the early sketches and thinking about how I would paint the final images, I discovered the illustrated books of John Collier. He used acrylic and pastel (although sometimes gouache instead of acrylic). Also, my friend and incredible artist Jane Radstrom has been creating beautiful pastel works for a while. Her work kept experimentation with pastel fresh in my mind. So combining a wet medium (acrylic) and dry drawing medium (pastel) seemed like the best of both worlds. I could create large washes and make big decisions, and then detailed mark making using drawing.
I also gen­er­al­ly like to devel­op a new fin­ish­ing process for every project I work on, so the next book will assured­ly have a rad­i­cal­ly dif­fer­ent look. I think it keeps me fresh. Final­ly, yes, I used a lit­tle dig­i­tal manip­u­la­tion in post to add a few details I may have missed in the phys­i­cal stage.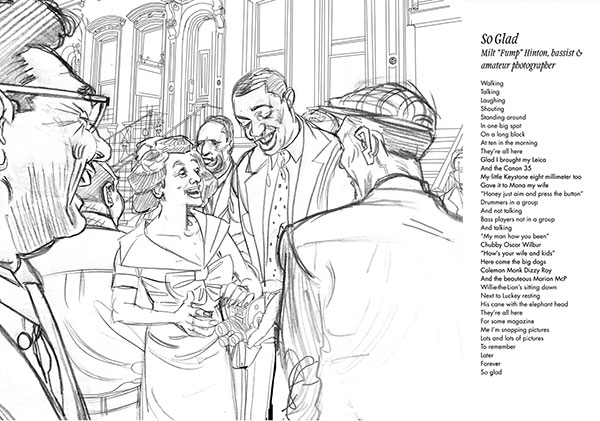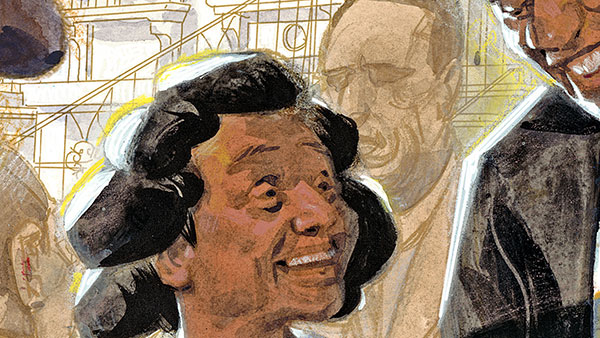 Before you begin creating art, do you make sketches? Do you keep those sketches to refer to throughout your illustration process?
My process before creating the final image is borderline obsessive—scratch that—it IS radically obsessive! My process is based on that of Norman Rockwell. I spent 3 years working on the art for this book. 2.5 was spent on the sketching and research and studies and photography to prepare for the final painting. My publisher filmed this video of me going over my process:
Grays and blacks are predominant in this book. There are some alluring uses of bright color, such as the yellow taxi, the gold cornet, and the hot pink on the cover. Can you share with us some of the decision-making you did while you thought through your illustrations? Or is trying a bit of this and a bit of that?
An important part of designing the pages was to look at them as a whole, in one big group, on one sheet (or screen). Since books are sequential projects, the images have to work in sequence and not just by themselves. The colors, values, and mood, has to flow with the emotions of the story. I referenced color keys from movies, particularly Pixar movies, in how I designed the overall color keys for individual paintings, and made a strong effort to group together pictures that took place in front of townhomes and separately images of the musicians at their venues.
Your "perspective" changes throughout the book. You look at scenes from different angles, sometimes from above, sometimes from street level, sometimes from far away, sometimes close up. When do these perspectives enter into your planning process?
Right at the very beginning I knew that that idea was going to be challenging. Most of the pictures were going to be set in front of the same set of stairs. I had to create 15 illustrations all set in the same place and not make it repetitive! So using unique and varied perspectives was one of my very first priorities. Believe me, I was very excited when I was able to take a break from the street scene and move into the jazz clubs for a few pictures.
Do you choose the fonts that will be used in the book? Why did you choose a sans serif font?
I didn't choose the font outright, but I was involved in the discussion. We thought sans serif was appropriately modern and avant garde – just as jazz is.
Did you know from the beginning that there would be a fold-out of the original photo? Did you make the decision to include the word "click" as a direction to open the fold-out?
That was an editorial decision that was planned out before I was even involved with the project. It is everyone's favorite part and I do think it was a smart design and pacing decision!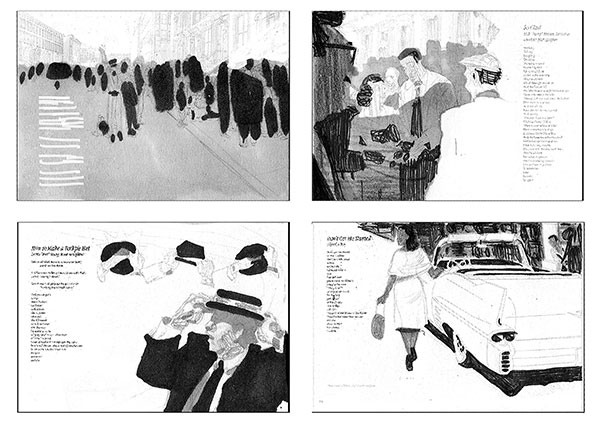 When you plan an illustration, do you consciously leave room for the poem that will go with it?
Absolutely. The text is just another shape on the page, so it is integral to plan for it from the very beginning. It is among my favorite things to do actually. I am a nerd like that. I love the puzzle of figuring out how I can design a scene to organically allow text to fit so that it seems like the negative shape the text is placed in is actually a shape that fits into the picture. Many of the most forward-thinking illustrators from the 1960's would really explore this idea (Al Parker is king at this) and they were a big influence.
Did you always know the order in which the poems would be included in the book? Did that change how you thought about these illustrations?
I did. The order was given to me at the beginning and is incredibly important to consider. As I mentioned prior, the images have to work sequentially. There were numerous individual images that I was very fond of that I had to scrap as they did not fit the overall flow.
Was there an illustration that challenged you the most?
Yes! There is an image of a girl looking out of a window (appropriately titled "At the Window") that took maybe 60 hours to sketch out then maybe 10 more to paint. In order to capture the poem I had to capture a profile shot of the girl from the side, as well as the top of the people's heads. To do this I had to use a fisheye warped perspective. Figuring that out involved a lot of head scratching…and erasing!
Which of the illustrations in the book gives you the most pleasure when you look at it now?
The one I just mentioned. I battled that picture to get it right. I don't always win those fights, but this one turned out well and the painting of the girl might be one of my very best!