Kur­tis Scalet­ta is an expe­ri­enced writer of mid­dle grade and chap­ter books. His Topps League series of base­ball sto­ries and his nov­els Mudville and The Win­ter of the Robots are par­tic­u­lar favorites of this inter­view­er. Now his first pic­ture book is out and we're curi­ous about his expe­ri­ence of writ­ing in this format.
This is your first pic­ture book. What were your guide­lines for revis­ing your ini­tial text into its spare but entic­ing pic­ture book form?
Kur­tis: This is the first pic­ture book I've pub­lished, but I've writ­ten too many to count. I think the same is true of almost any­one who's pub­lished a pic­ture book.
My advice on revi­sion is to write the first draft with­out wor­ry­ing about length. Then go in and tight­en it up. It might take sev­er­al read throughs to get it where it needs to be. At the same time you need to make sure there's a full nar­ra­tive there, and that there are at least 12 dis­tinct scenes.
I usu­al­ly use a table late in the process. I put text in one col­umn and describe what visu­als there might be in anoth­er col­umn. Ide­al­ly there will be exact­ly 12 rows – even though the pic­ture book is 32 pages, with the title page and end papers and so forth you end up with 12 spreads (or 24 pages). That also helps with pac­ing. If you notice lots of text in one cell (on one page) you prob­a­bly want to revise.
It's a dinosaur book, of which there are quite a few. And yet, dinosaurs are equal oppor­tu­ni­ty sub­jects of fas­ci­na­tion for so many kids. Were you con­scious of those oth­er dinosaur pic­ture books? Did your con­cept for the sto­ry change over time?
Kur­tis: I think of it as a bird book! But of course I'm hap­py to tap that uni­ver­sal inter­est in dinosaurs. I didn't seek out oth­er books about birds or dinosaurs. My own son had a few dinosaur books but was more into drag­ons. A lot of books about dinosaurs treat them in the same myth­i­cal way, they don't show how we got here from there.
The sto­ry didn't change that much from draft to final edi­tion. There was all that tight­en­ing I talked about, but the premise and basic plot were the same.
I visu­al­ized a cru­cial spread in the book from the begin­ning, and it's still there. The book always hinged on that moment in the sto­ry. In fact I think we also dis­cussed how to do that scene more than any­thing else in the book. Nik Hen­der­son made some cre­ative deci­sions about how to exe­cute it, too. I think he nailed it, by the way.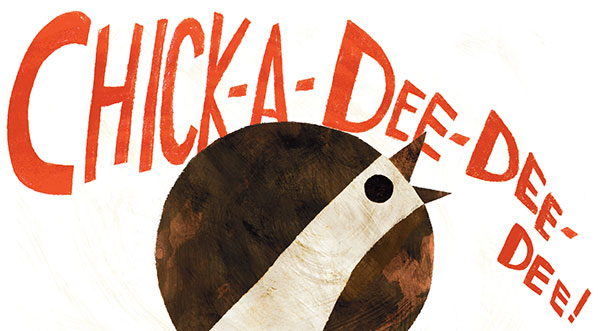 This is a ter­rif­ic book for open­ing dis­cus­sions about evo­lu­tion and cli­mate change and yet, those words are not a part of the text. How did you man­age to include those concepts?
Kur­tis: I've been inter­est­ed in evo­lu­tion­ary biol­o­gy for a long time. One book that sparked this inter­est is Sapi­ens by Yuval Noah Harari. It real­ly explores the link between biol­o­gy and human nature. I've been rec­om­mend­ing it to every­one; I think it's the book of the cen­tu­ry for me. I came to birds by try­ing to write about humans.
I've also thought about pre­vi­ous cli­mate dis­as­ters. There are a few in human his­to­ry, like in 1815 when two vol­canos caused "The Year With­out a Sum­mer." The end of the Ice Age was slow­er but more trans­for­ma­tive. The few thou­sand humans scat­tered around the globe at the time must have felt like it was the end of the world. That mete­or that land­ed in what is now Mex­i­co is prob­a­bly the biggest envi­ron­men­tal dis­as­ter in the his­to­ry of the earth.
Maybe I want­ed to look toward our own cli­mate cri­sis a lit­tle more hope­ful­ly, believ­ing that life will adapt.
There's an atti­tude and con­fi­dence in know­ing where you come from. Know­ing fam­i­ly his­to­ry can be cru­cial, espe­cial­ly when it inspires lit­tle Dee to stand up for what's right. Was this one of your orig­i­nal sto­ry intentions?
Kur­tis: I had that idea of writ­ing a sto­ry that takes a long view, evo­lu­tion as fam­i­ly his­to­ry, before I knew it was about a bird and a dinosaur. We also have ances­tors from a mil­lion years ago or even a hun­dred mil­lion years ago, and we lit­er­al­ly have them in our "feath­ers and bones," as Dee's moth­er would say. The stroke of inspi­ra­tion was mak­ing it about a bird instead of a per­son; it sim­pli­fied things. And there's a stark­er dif­fer­ence between a giant ther­a­pod stomp­ing around and a lit­tle bird twit­ter­ing away on a tree branch. That con­trast real­ly made it strik­ing and fun.
The end­pa­pers are so right for this book, evok­ing dinosaurs with close-up tex­tures. On the pages of the sto­ry, illus­tra­tor Nik Hen­der­son focus­es on com­par­isons of size. Con­fi­dence beams from the pages. What are your favorite aspects of his illustrations?
Kur­tis: I love the end papers too, I want­ed a scene like that that cap­tures the trans­for­ma­tion of dinosaurs to birds. My favorite illus­tra­tion is the one I men­tioned ear­li­er, that cru­cial scene where Dee evokes her inner dinosaur. That scene was in my head from the begin­ning. I'm real­ly hap­py with the way it turned out; I'm going to have a print made and hang it up!
I couldn't put it bet­ter than you just did about the style — con­fi­dence beam­ing up from the page. Dee's con­fi­dence is there and so is Nik's. I've seen oth­er of his work that's a lot more detailed, but this book did need those few broad strokes and bright colors.
Thanks for tak­ing time out from launch­ing your first pic­ture book, Kur­tis, to grant Bookol­o­gy an inter­view. We hope you and Nik get all the roar­ing-good feed­back this book deserves. Read­ers, be sure to check out the end­pa­pers before and after read­ing this book out loud!