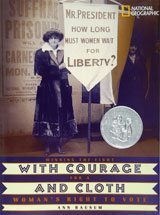 With Courage and Cloth: Win­ning the Fight for a Woman's Right to Vote
Ann Bausum
Nation­al Geo­graph­ic, 2004
inter­view by Vic­ki Palmquist
You state that you weren't taught women's history in school. (Neither was I. I remember reading and re-reading the few biographies in the library about Molly Pitcher, Clara Barton, and Florence Nightingale.) When you went looking for information for With Courage and Cloth, how did you start?
I started by visiting the places where the history happened. I went to Seneca Falls. I returned to the Sewall-Belmont House so that I could study it with adult eyes (having met suffrage leader Alice Paul there when I was a child). I tracked down the location of the National Woman's Party at the time of the pickets and retraced the steps suffragists made on their daily protest marches to the nearby White House. I climbed on the base of the statue to Lafayette, as women had done in 1918, and discovered what it felt like to be perched just above the grounds of Lafayette Park on this slanted foundation. All of these things gave me the spatial grounding I needed to better understand the accounts of history that I began to devour and study. It always helps to put yourself in the places and spaces of the people you're trying to bring to life.
With Courage and Cloth was the third book you had published. Since then, you've had nine more books published. How has your process changed? If you wrote With Courage and Cloth today, would you approach it differently?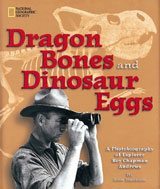 Many of the techniques I started using for With Courage and Cloth remain at the foundation of my research and writing process. I still travel to the places I'm writing about whenever possible. I did my first research in the Library of Congress for this book, and I continue to return there whenever topics fit the collections. I continue to do extensive photo research on topics, something I'd begun with my first book, Dragon Bones and Dinosaur Eggs. I began organizing my research on note cards with my third book, which I still do, even though it is a painful (literally) and time-consuming process. So in many ways I enhanced and honed my writing process through With Courage and Cloth. If I took up this topic with fresh eyes, I suspect I'd find myself on a familiar research road map.
There's so much to write about on this topic, many approaches to take. How do you develop criteria for narrowing down your content?
I write about what interests me and what I think is important. I write about what hasn't been written about before. I write with context so that someone young can step into the past and not feel disoriented. Although I write nonfiction, I think of myself as a storyteller—a storyteller where all the content is true. So when I write, I'm constructing a narrative that not only has to make sense and be accurate; it has to be engaging. I can't let tangents distract us from the trajectory of our story. Even favorite facts and side-stories have to be left out, if they don't contribute to the forward momentum. (Leaving things out is painful, but it's part of the job.) I suspect that my process is akin to the process of editing a film, where favorite scenes end up on the cutting room floor because they don't contribute to the overall story. Or it's comparable to building a house where you have to keep the timbers in balance.
In the end, I'm writ­ing for myself and the girl I was at 10 or 12 or maybe 14. And I'm writ­ing for the young peo­ple I meet dur­ing author vis­its to schools. I keep the read­er in mind and try to con­struct a sto­ry that sat­is­fies me at my core and will, I hope, inspire a new gen­er­a­tion of read­ers to love his­to­ry and feel empow­ered to take action in their own lives.
From the early chapters of your book, you include women's suffrage and the efforts to end slavery as often overlapping. In your choices on focusing the narrative, why did you decide to include the anti-slavery movement?
I found that I couldn't isolate one of these efforts from the other. The two causes were linked in history, and so they had to be linked in my chronicle. Although the linkage might seem incidental before the Civil War, it became critical afterwards because it helped to divide the woman's suffrage movement. There were people, such as Lucy Stone, who took comfort in the granting of voting rights to former male slaves, but there were others, such as Susan B. Anthony and Elizabeth Cady Stanton, who resented the omission of women from the 14th and 15th Amendments. In order to understand why we ended up with two woman suffrage organizations after the Civil War, we have to understand how the pre-war alliance of activists was shaken by this post-war outcome for voting rights.
Your description of the 1913 suffragist march in Washington, D.C., held at the time of the Presidential Inauguration, culminates with spectators, nearly 500,000 of them, primarily men, interrupting the parade in forceful and disrespectful ways, not stopped by police. You write that newspaper reports of the parade "transformed overnight" the suffragist movement into a "national topic of discussion." Years after first reading your description of this parade, I remember it vividly and think of it often when hearing about low voter turnout. What works well for you in building that type of tension in your narrative?
It takes the right moments in history. If an occasion held drama at the time, one can rekindle it in the retelling. The secret is in the research. The more I know and the more I've seen, the better I'll be able to bring the events to life. This is where I think my interest in photo research really helps. I studied every image of that parade that I could find (and it was well-documented). I visited the route of the march. I read multiple accounts of it—from newspapers, from memoirs, from historians. It's detective work, in a way, as if I'm reconstructing a crime scene. After I've studied the history from all these angles, I can breathe life into a fresh portrayal of what transpired. The facts are at my fingertips, literally, with note cards, and that frees my brain to share them through the lens of storytelling, drama and all, as supported by the historical record.
If all the women in this country went to the voting booth, it would change history. Yet, as you wrote, "That said, voter participation—the practice of actually voting—has rarely been lower. Presidential elections, which are always the most popular, rarely draw more than about half of eligible voters to the polls. Many citizens never even register to vote." What can your readers do to encourage women to vote?
Readers can share their knowledge with others about how hard women fought to achieve this right, and they can lead by example. Even readers who are too young to vote can participate in peer elections, volunteer with organizations such as the League of Women Voters, and advocate for further change. A few states have begun to offer or are discussing policies that automatically enroll people as voters when they obtain state forms of identification, such as driver licenses. These policies make voting a one-step process. Anytime we reduce the complexity of voting, we encourage voter participation. Concerns over voter fraud are greatly exaggerated and tend to mask efforts to discourage broad voter participation. Fight for the right to vote!
Your most recent book, Stonewall, is again about human beings fighting for their rights, in this case LGBT citizens. What ignited your interest in human rights?
I grew up during the 1960s and 1970s, an era driven by fights for human rights and social justice, and I'm sure that framework helped to determine my mindset, helped to set my moral compass so that stories of injustice resonate for me. I have always believed in the power of people to effect change, whether it's through science, or leadership, or social action. I grew up in the South during the time of integration, the daughter of forward-thinking parents, and so the quest for equality wasn't just an abstract concept to me. I couldn't appreciate the dimensions of it fully at the time, but I am confident that the struggle that played out in everyday ways around me helped to inculcate me in the concept of equality. It was part of the air I breathed, and it set me on a course where I've always felt empathy for stories of injustice, and outrage over stories of injustice. I fight with my fingers. I hope my words can remind readers that the quest for equality is never-ending. Complacency is not acceptable. Each generation must carry on the fight.