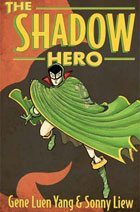 The Shad­ow Hero
writ­ten by Gene Luen Yang
illus­trat­ed by Son­ny Liew
First Sec­ond, 2014
What qualifies a comics character as a superhero?
You've asked a question that lies at the very heart of geekdom. I don't know if there's a solid answer. Most superheroes have superhuman abilities, but not all. Most superheroes wear colorful costumes, but not all. Most superheroes have goofy aliases, but not all.
Maybe a char­ac­ter just has to make her­self into a sym­bol of some­thing big­ger, some­thing more.
The Shadow Hero is an origin story—you and artist Sonny Liew created a back story for a character and series that had a brief, four-issue life back in the 1940s. You knew your end point: The Green Turtle would end up helping the Allies' war effort during WWII, and because you wanted to make the superhero Asian, you had a start point. With those two points pinned on a board, what was the next step in writing the story?
Lots and lots of thinking. I debated how old the protagonist should be, where he should come from, who should be in his supporting cast. Having predetermined beginning and end points actually made things easier. Often, I'm frozen by indecision. Those "pinned" points narrowed my options, at least a little bit.
I knew I want­ed the char­ac­ter to be of Chi­nese descent but raised in the West, like me. I researched the his­to­ry of the Chi­na­towns in San Fran­cis­co and New York, and found some good sto­ry fodder.
The protagonist, Hank, is content to work at his father's side in the family store when he's thrust into extraordinary events. He's not born with his superpower and he never dreamed of being a superhero. Why did you choose to work with this dramatic path?
Often, immigrants' kids are born into dreams. We're born into a set of expectations. I wanted that to be a primary tension of the book: Hank's mom wants one thing for him, Hank himself wants another.
Super­heroes are deeply Amer­i­can. They were invent­ed in Amer­i­ca, they're most pop­u­lar in Amer­i­ca, and at their best super­heroes express Amer­i­ca at its best. Hank's mom sees "super­hero­ing" as a way of becom­ing Amer­i­can, a way to final­ly be accept­ed by her family's new coun­try. Hank could care less, at least in the begin­ning. He just wants to be comfortable.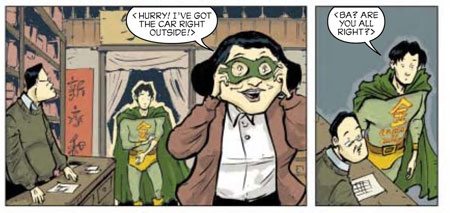 You've stated in interviews that The Shadow Hero is about the immigrant experience—about being the child of immigrants, especially. Could you discuss this for our readers, many of whom teach and otherwise work with children of immigrants?
Almost every major superhero was created by children of Jewish immigrants: Superman, Batman, Spider-Man, the Hulk, Captain America, Iron Man, the X-Men. Consciously or not, they embedded their life experience into their creations.
Immi­grants' kids often grow up with one name at home and anoth­er at school, one set of expec­ta­tions at home and anoth­er at school. We nego­ti­ate between two iden­ti­ties. That's a con­ven­tion in the super­hero genre. Super­man isn't just Super­man, he's also Clark Kent. Bat­man is also Bruce Wayne. Spi­der-man is also Peter Parker.
I some­times won­der if that's why I loved super­heroes so much as a kid. I saw myself in them.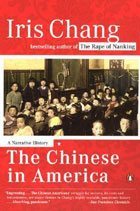 Please say a bit more about the research involved in writing about pre-WWII Chinatown and other settings or elements.
I read about early Chinese communities in San Francisco, New York, and Hawaii. Iris Chang's The Chinese in America was particularly helpful.
Have you ever made your own superhero costume?
I haven't, but my friends have on my behalf. For my bachelor party, they dressed me up as a character they called Weiner Man –cape, underwear on the outside, an absurd and slightly inappropriate chest insignia.
My friends are mean.
You are also a veteran high school teacher. Your graduate-school work focused on the value of comics as an educational tool, and you've listed on your blog some comics that are a perfect fit for a S.T.E.M. curriculum. On another site, Comics in Education, you list professional resources to help teachers learn to integrate comics into the classroom. If you were to tell an unconvinced teacher the singlemost reason to include graphic novels within the curriculum, and not just as independent reading, what would that be?
Simply put, certain types of information are better communicated through pictures. I love words. I read words for fun and I read words for work. Words are incredibly, incredibly important to me and I never want them to go away. But words can't do everything. Can you imagine putting together a Lego set by following words-only instructions? So many concepts can be better explained with pictures: osmosis, the binary number system, factoring.
I don't see comics as a replace­ment for prose — I see comics as anoth­er tool in the tool­box. Teach­ing is such a dif­fi­cult pro­fes­sion. Shouldn't teach­ers have access to as many dif­fer­ent tools as possible?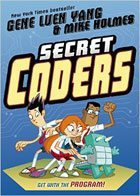 Your forthcoming Secret Coders, Book 1 (illustrated by Mike Holmes) will be published this fall by First Second Books. Could you briefly tell us about this book and the series it launches?
I'm very, very excited about Secret Coders. This is my first explicitly educational graphic novel series. It's also my youngest – it's middle grade.
Secret Coders is a bit like Har­ry Pot­ter – our young pro­tag­o­nists find a secret school. How­ev­er, instead of teach­ing mag­ic, the secret school teach­es cod­ing. Mike and I hope that, as our char­ac­ters learn to code, our read­ers will too.
A final question about The Shadow Hero: If you hopped into the way-back machine and landed in seventh grade and had to give a very short report on The Shadow Hero to your classmates, what one thing about the book would you want to share with them?
It's got punching in it! And mahjong!