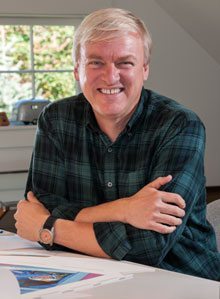 Leroy Ninker first appeared in Mercy Watson Fights Crime as the criminal. Did you consciously change his appearance for Leroy Ninker Saddles Up to make him a more sympathetic character?
I'm not sure that I consciously changed his appearance. I tried to make him look like the same character. In the original series he was wearing a robber's mask which gave him a slightly sinister look. Since he's now a "reformed thief" I removed the mask which made him a warmer and more likeable character which is more fitting for the story.
Your palette for the Deckawoo Drive books has a retro feeling. What do you think decided you on working with the colors you use in those books and now Leroy Ninker Saddles Up?
The original Mercy Watson Series definitely did have a retro feel. The colors I used were similar to those that appeared in the picture books I grew up with – colors that were popular in the '50's and '60's. The new series has BW interior art but I ended up painting the pictures in the same method using gouache.
When Leroy runs through the neighborhood to rescue Maybelline, you use a fluid line to indicate his rapid motion. For young readers who'd love to draw their own stories, how did you learn to convey action in this way?
Motion lines are a classic cartoon way of showing movement. I probably picked this up from my early interest in comic strips and animation.
How is illustrating a chapter book different from illustrating a picture book?
In a picture book there are fewer words, so the illustrations have to tell more of the story. Also, picture book illustrations are usually larger, often a full spread. In a chapter book, the illustrations support the text rather than tell the story.
What words of advice would you share to encourage young illustrators who'd like to follow in your footsteps?
You can do it. But you have to keep drawing. Good drawing skills are the basis for any career as an illustrator, animator, cartoonist, painter, etc.