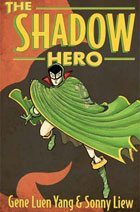 The Shad­ow Hero
writ­ten by Gene Luen Yang
illus­trat­ed by Son­ny Liew
First Sec­ond, 2014
Growing up in Malaysia and Singapore, what were the popular comic books?
Well in terms of what you'd see at the newsstands , there was Old Master Q or Lao Fu Zhi from Hong Kong. In schools, there'd always be someone reading Tin Tin, Asterix or Archie. Myself, I also read a lot of Beano, Richie Rich and, a bit later on, Mad magazine. That last one probably turned me into a lifelong dissident.
How old were you when you started drawing or painting? What were your frequent subjects?
I think drawing comes very naturally to kids, it's just an instinct to pick an pen or crayon and scribble away. But I suppose I continued drawing at an age when a lot of people stop—the early to mid-teens? By that stage I was very caught up with role-playing games like Dungeon and Dragons and Dragon Warriors, so a lot of it was fantasy art featuring barbarians and elves.
What decisions took you on your life path from Cambridge [University] to the Rhode Island School of Design?
I started doing a comic strip for a local Singaporean newspaper whilst I was still in Cambridge, and that whole process—thinking up ideas, finessing a punch line, drawing the final art—it just felt like something I could be totally engaged with. So I was pretty sure I wanted to do something arts-related after graduating, though it took me a while longer to figure out that I ought to go to art school, to learn everything from painting to sculpting, color theory and composition.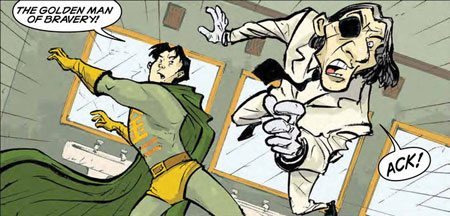 At what point did you decide that you'd like to be a comics artist?
Looking back at it now…I guess discovering works by creators like Chester Brown and Charles Burns—they opened up my mind to a different kind of comics then what I'd been used to—complex, personal stories that took the medium to whole new places. I suppose I had a sense then that engaging with the medium could be a lifetime's endeavour.
How does it work in the comics world…how did you get signed on to The Shadow Hero as the illustrator?
Heh, I actually think that's the wrong term, "illustrator." Comics is a combination of text and images, there's no real way to divide the two in the way the stories are told. It's more a case of storytelling as a whole, with the writing and artwork being handled by different people in some cases. It's a minor detail maybe, but perhaps does have some significance in the way books are classified or conceived in some places, especially those more used to prose novels, where illustrations are seen as secondary, an add-on rather than an integral part of the story.
In any case…Gene and I had worked togeth­er on a short sto­ry for the Secret Iden­ti­ties anthol­o­gy a few years a back, and his sto­ry is that I was the first per­son he thought of when he had The Shad­ow Hero script ready. I'd like to believe that's true! On my end, it was a no-brain­er to get the chance to work with Gene again on the project.
The color palette you chose for The Shadow Hero goes from a fairly neutral gray and brown palette to vividly intense reds, greens, and golds. How did you choose those colors?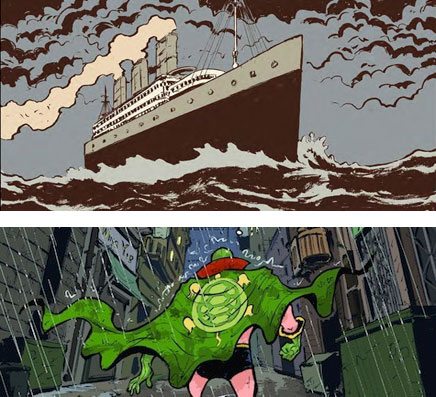 It's usually a matter of trial and error, tweaking the palette until it looks right. It's always a function of storytelling, and in the this case, we needed different palettes to mark out the past from present, as well as a look that evoked the feel of the original Green Turtle comics.
Did you confer with Gene Luen Yang while you were drawing the story? If so, did parts of the story change based on your discussions?
Only minor things like layouts, rather than any deeper structural or thematic concerns. Gene's scripts are wonderfully clear-headed, and the changes I suggested were mostly to add a level of visual dynamism where possible. Or maybe just to justify my presence on the project.
Did you refer to Chu Hing's Green Turtle comics when you were doing your sketches?
For sure! I don't own any physical copies of the comic, but fortunately these days you have access to digital versions.
Who was your favorite character to draw?
Uncle Wun Too. There was a wonderful eccentricity about him, and I got to draw him in a costume that paid homage to Old Master Q.
We're looking forward to The Art of Charlie Chan Hock Chye (Pantheon, early 2016). What can you tell us about your work on that book?
The book contains three main strands, I think—the life of a long-forgotten comics artist, the story of Singapore, and the story of comics. The main challenge was to try to bring them together in a narrative that would be both formally interesting and compelling. It's the most challenging thing I've ever done, and it's been called multi-textured and layered… but I'm going to go with the blurb Gene wrote for the book: "A joy to read…masterfully weaves the history of Singapore with the history of comics into something you've never experienced before."