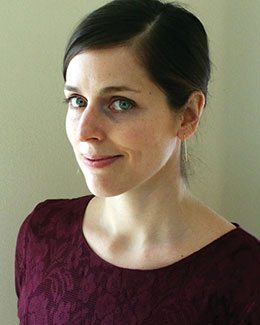 In this inter­view with Jen­nifer A. Bell, illus­tra­tor of many endear­ing books, we've asked about the process of illus­trat­ing Lit­tle Cat's Luck, our Book­storm™ this month, writ­ten for sec­ond, third, and fourth graders as a read-aloud or indi­vid­ual read­ing books.Jennifer was also the illus­tra­tor for Mar­i­on Dane Bauer's ear­li­er nov­el-in-verse, Lit­tle Dog, Lost.
What media and tools did you use to create the soft illustrations in Little Cat's Luck?
These illustrations were rendered in pencil and finished in Adobe Photoshop.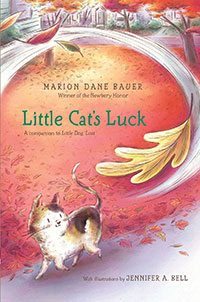 Do you use real animals for models? Are they animals you know?

I do have a cat. I find Google image searches to be a bit more helpful when I need to find details of different animal breeds or specific poses.
How are the decisions you make about drawing in black-and-white different than those you make about drawing in color?
I love working in black-and-white. I get to narrow my focus onto lighting, value contrast, and textures. It's much faster than working in color. Color adds another layer of decision-making and can make things more complicated.

The covers for Little Cat's Luck and Little Dog, Lost are so vibrantly colored. Do you get to choose the color palette for the covers or are you asked to use those colors?
Initially, I had submitted many cover sketches for Little Dog, Lost. Most of them were moody nighttime scenes with the exception of a daytime park sketch. Simon and Schuster thought that image worked the best and we went from there. That cover went through many revisions. The dog changed, the composition was adjusted, and the colors got brighter and brighter. When we started working on Little Cat's Luck the cover needed to look different than the dog book but still coordinate.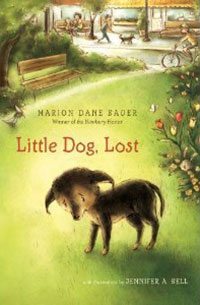 How did you interact with the art director for these books?
There was a lot of back and forth on the covers but I had more freedom working on the interior illustrations. I had a set number of illustrations to come up with and they set me loose with the manuscript. The art director then used my sketches to lay out the book. Once they could see how it all came together we made some adjustments and I was able to work on the final artwork.
When does the book designer get into the process?
The art directors for these books were also the designers.
What does the book designer do beyond what you've already done?
So much! They design the cover and book jacket. They choose the fonts. They paginate the text and illustrations and prepare the book to be printed.
___________________________________________
Jen­nifer, thank you for tak­ing the time to share these insights into your work with our read­ers. One of the rea­sons we fell in love with both Patch­es and Gus, and with Bud­dy in Lit­tle Dog, Lost, is because you have such a deft way with characterization.
For use with your stu­dents, Mar­i­on's web­site includes a book trail­er, a social-emo­tion­al learn­ing guide, and a teach­ing guide that you'll find use­ful as you incor­po­rate this book into your planning.