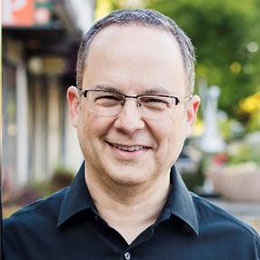 I've just read the first two books in The Start­up Squad series and I found them to be charm­ing … and I mean that in both sens­es of the word: being appeal­ing and cast­ing a spell. I need to read the third book to find out what hap­pens! The four main char­ac­ters are appeal­ing, they're involved in page-turn­ing events, the writ­ing is com­pelling, and, sur­pris­ing­ly, these books are primers on how to start a busi­ness (and what not to do).
I'm so tak­en with these books that I want­ed to inter­view one of the authors, Bri­an Weisfeld.
Brian, as a person who has owned my own business for more than 30 years, I was captivated by the subtle but effective way Resa, Didi, Harriet, and Amelia learn to run a lemonade stand to win a competition. Did you and your co-author, Nicole C. Kear, have conversations about not being heavy-handed with the business lessons?
ABSOLUTELY! The hardest part about creating The Startup Squad was making sure that our kid readers couldn't sense that we were trying to teach them something. They would have tossed the book immediately! I say that we tried to bake the broccoli into the brownies. Nicole did such an amazing job of that in her Fix-It Friends series. She understands the importance of a soft touch—that's why I was so drawn to her for The Startup Squad and she nailed it. Also, by structuring the books the way we did, we were able to keep the story focused on the relationships and to put the specific business tips drawn from the narrative into a non-fiction section at the back of the book.
There's a good amount of tension in the first book because the four girls are assigned to be a team by their teacher and they don't get along. How did you and Nicole work on character development?
We have a very unique process. I'm an author, not a writer. I spent three humbling years learning how to write for kids and creating my original manuscript before I signed with Macmillan (I did a TEDx if anyone is interested in my many misadventures along the way). Once I signed with Macmillan, we brought in the fabulous Nicole C. Kear as co-author to take the lead in writing the books. The editorial team at Macmillan and I spend months creating a fairly detailed outline of the plot and business lessons of each book and very detailed character bios of each character. Then Nicole takes the outline and character bios, adds her own touches, and starts writing. Nicole, the editors, and I go back and forth editing the draft and developing the characters until we all sign off on the finished product.
There are a lot of funny moments throughout the books. Are you a naturally funny guy? Did you find writing humor to be a challenge?
My wife says I'm not as funny as she is but that's an ongoing debate in our household. One of the things that appealed to me about working with Nicole is her sense of humor. Clearly you know from the way you asked your question that writing humor is a challenge. But I wanted humor to be an important part of how we engaged our readers. Nicole's ability to write humor is an important reason why she's been such a great partner for these books.
In Face the Music, the girls are now a team, although they still have quibbles, and they're tackling the design and sales of merchandise for a popular rock band. How did this storyline occur to you?
The editorial team at Macmillan and I start planning each book by determining (i) the main character, (ii) the business tips to weave into the narrative, and (iii) the businesses the characters would run. We wanted Harriet to star in book #2 because she's such a fun character so we couldn't wait to give her the spotlight. We try to have the characters run businesses that our readers could actually run themselves and t-shirts felt like a great idea. And because Harriet's three brothers are in a band (called The Radical Skinks, complete with blue-tongued fans!), having the girls sell t-shirts for the band seemed like a natural and fun choice.
Writing three books takes time and hard work. Why is it so important to you to encourage young girls to be entrepreneurs? Why did you feel books would reach them?
It all starts with my background. I spent my career building businesses. But after seeing my daughter struggle to sell girl scout cookies, and wishing that there were more empowering influences for girls, I decided to create a novel series to inspire girls to start their first business and to empower them with an entrepreneurial mindset. I believe that girls with an entrepreneurial mindset (who see opportunities instead of problems, are comfortable with risk and failure, etc.) will be more successful in life regardless of the path they choose. 7-14-year-old girls are avid readers so I thought that a funny, empowering story about friendship and entrepreneurship would be a great way to inspire girls to begin to think like an entrepreneur. I should add that I wanted to create fiction books instead of non-fiction books because I wanted girls who had never thought about starting a business to be inspired by the story and get bitten by the entrepreneurial bug.
Can we expect more books in the series?
Yes! We've already outlined where the story and girls go from here in books four, five, six, seven, and eight! No specific plans yet on timing but we hope to be able to share an update later this year.
Thanks for spend­ing this time with our Bookol­o­gy read­ers, Bri­an. We wish you (and your Start­up Squad team) con­tin­ued success!
Spend some time explor­ing the resources on The Start­up Squad's web­site for "girl­pre­neurs."