Thir­teen years. The project I began in 2003 has had that many birth­days. It occu­pies two large crates in my office. It has dom­i­nat­ed my life, involv­ing trav­el, research, read­ing. It has spawned four ver­sions, each drag­ging mul­ti­ple drafts. Rejec­tions span ten years.
Nobody, it seems, wants this book. "Kids won't be inter­est­ed." The sub­ject, Mar­garet Wise Brown, would find this fun­ny. I am not amused, espe­cial­ly since it was Mar­garet her­self who demand­ed (she's not the ask­ing type) that I tell her story.
The jour­ney began in 1992 when I read Leonard Mar­cus' biog­ra­phy, Mar­garet Wise Brown: Awak­ened by the Moon. I re-read that book every night for eight years. Clear­ly some­thing was awak­en­ing in me: a fas­ci­na­tion with Margaret's sto­ry and the desire to write for the very young. In 2003, I gave in to Margaret's insis­tence and start­ed researching.
Tan­gled up in Margaret's sto­ry is my own, both writ­ers for chil­dren, though our back­grounds are vast­ly dif­fer­ent. No mat­ter what genre I work in — pic­ture books, mid­dle grade, non­fic­tion — I always draw upon my own life. But because my youngest years were trau­mat­ic, I nev­er could reach my three-year-old self. Writ­ing for the very young elud­ed me. Mar­garet made it look so easy. She wrote Good­night Moon in bed one morn­ing and lit­er­al­ly phoned it in to her editor.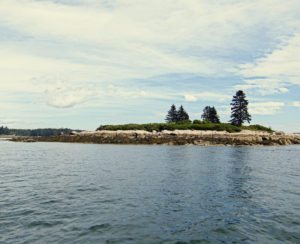 Ear­li­er this year, I was asked to speak and give a work­shop on Vinal­haven Island, Maine, where Mar­garet had owned a sum­mer house, in August. I accept­ed, but decid­ed my Mar­garet book would stay in the crates. I would not res­ur­rect a failed project.
Days before my flight, Mar­garet beck­oned once more. A whole week on Vinal­haven! A rare chance to see Only House! How could I pass up that oppor­tu­ni­ty? I dug out the crates and pored over my notes and drafts, let­ting Mar­garet fill my soul again.
On the fer­ry to the Island, I prayed for a new way into my sto­ry. Would I be able to bor­row some of Margaret's mag­ic from her spe­cial place?
I vis­it­ed Only House. I sat on Margaret's dock. I gazed at the lit­tle pine-topped island she made famous in The Lit­tle Island and wait­ed for light­ning to strike.
At Only House, Mar­garet lived a "cat life," just being. I only had a week, not enough time to "be." But I fell in love with Vinal­haven, just as she had. Wak­ing to the country's first sun­ris­es. Ospreys glid­ing over the rental house I stayed in. But­ter­flies work­ing tan­sy and this­tle. Lob­ster boats dot­ting the bay. Once, the call of a late-night loon.
Dur­ing Margaret's first sum­mer there, she wrote to a friend, "Life goes on in Tran­si­tion. This sum­mer it is bet­ter than it has been in a long time, and still [things hang] in the balance."
One night, I watched a full moon climb over the cove. I turned off the bed­room lamp and noticed glow-in-the-dark stars on the ceil­ing. My effort to tell Margaret's sto­ry one more time was fal­ter­ing. She had been inspired by the real moon. I only had past­ed-on stars that shined from bor­rowed light as my guide.
The next day, I stood at Margaret's grave site up the hill from Only House. She had died sud­den­ly at the age of 42 and her fiancé had scat­tered her ash­es at the place she loved best. The gran­ite mark­er is inscribed with a quote from The Lit­tle Island.
Life is always in tran­si­tion. Any moment bal­ance can be tipped. Mar­garet may have found mag­ic here, but she still did the work in the short time allot­ted to her.
And so will I.