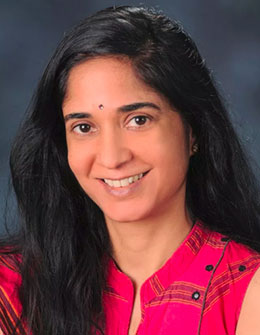 "The woman who read Climb­ing the Stairs aloud did a great job," my friend said. She was telling me, with delight, how her chil­dren and their friends — two girls and two boys — lis­tened with rapt atten­tion to the audio book ver­sion of my debut nov­el, refus­ing to get out of the car when the trip end­ed but the sto­ry had­n't yet.
Delight­ed though I was to hear both how much the young peo­ple enjoyed the audio­book, I feel a twinge of dis­ap­point­ment. After all, I love read­ing books aloud — and I tend to think I do a pret­ty good job of it — and I was nev­er offered the chance to read my own nov­el for the audio­book version.
An entire decade's flown by since Climb­ing the Stairs was released. It's still in print, which is a won­der­ful achieve­ment. It's also no longer my only nov­el. Dur­ing this decade, Island's End and A Time to Dance were also pub­lished. And, as I had a baby and spent vast and won­der­ful amounts of time read­ing to her and watch­ing her read, I did­n't have a spare moment to con­sid­er doing the audio for either of those novels.
Then, just a few months ago, Pen­guin con­tact­ed me to say the audio book ver­sion of The Bridge Home would be released simul­ta­ne­ous­ly with the print ver­sion, in Feb­ru­ary 2019. I was thrilled to hear this — and when I men­tioned this to my fam­i­ly at the din­ner table, my daugh­ter prompt­ly asked if I would be read­ing it aloud.

"No," I said. "They'll get a pro­fes­sion­al actress to read it aloud."
"But you read so well!" Hear­ing the dis­ap­point­ment in her tone revived that sense of dis­ap­point­ment I'd felt all those years ago.
And, I want­ed, just as much as ever, to read my own work aloud. I'd had ten years of read­ing books aloud every night. Sure­ly I was bet­ter at it, not worse?
"What's the worst they could say," my spouse said. "No?"
He was right about that. But I want­ed the best for my audio­book. I did­n't want to make a com­plete hash of read­ing it aloud.
Pub­lish­ers have many excel­lent rea­sons for employ­ing pro­fes­sion­al actors to read books aloud (rather than authors). Some authors do their work a dis­ser­vice when they read it aloud. And even those who read aloud well aren't pro­fes­sion­al actors. We don't learn how to "do dif­fer­ent voic­es" and we work with edi­tors, not direc­tors. Read­ing hun­dreds of pages at one stretch is not the same as read­ing aloud to an engaged and eager audi­ence for ten whole min­utes. The art of the spo­ken word is not the same as the art of the writ­ten word. Being a good writer does­n't imply one has any act­ing capa­bil­i­ty, let alone talent.
I thought it over, and then decid­ed I'd regret it if I did­n't give it a chance. So, I asked Pen­guin for per­mis­sion to audi­tion for the audio­book (and yes, authors do have to audi­tion to read their own books aloud which is in their own best inter­est). The audio book pub­lish­er was kind enough to give me per­mis­sion to send a sev­en-minute (or so) audio clip. I was instruct­ed to read a sec­tion that con­tained dialogue.
My daugh­ter was delight­ed. She insist­ed on sit­ting right next to me as I record­ed my audition.
That's when I had my first inkling of how hard the process would be.
When I read aloud, I often make mis­takes — but I gloss over those mis­takes. I change the sen­tence I'm read­ing if nec­es­sary, so it's gram­mat­i­cal­ly cor­rect. I'm not good at read­ing pre­cise­ly what's on the page — although this is, of course, what one needs to do when read­ing a mid­dle grade book aloud.
After try­ing three times and dis­cov­er­ing the third time isn't any more "the charm" than the first two, I was ready to give up. My daugh­ter, how­ev­er, was­n't ready to give up on me.
And giv­en that I hope she'll be per­sis­tent and that I want to lead by exam­ple, I forced myself to read a fourth and final­ly a fifth time. That fifth time I almost made it all the way through three pages with­out a sin­gle error. Or maybe two and a half.
So I sent off my audi­tion tape and waited.
In a day or two, I had a warm reply from the pub­lish­er. She described my audi­tion as "love­ly" and said she was hap­py to have me read, or to have a pro­fes­sion­al read. She sent me links to two mar­velous read­ers whom she had in mind. After lis­ten­ing to oth­er audio books those two actress­es had read, I was more con­fused than ever.
I sent a long let­ter to the pub­lish­er, express­ing my dilem­ma. I loved audio­books and I had spo­ken seri­ous­ly to the Perkins Insti­tute about vol­un­teer­ing to read books aloud for them. I always dreamed of read­ing my own nov­el, some day — at least one of my nov­els. But then, I want­ed the best pos­si­ble read­er to read it aloud — and I could­n't tell if that per­son was me.
"Let's talk," the pub­lish­er said.
I called and left a long and wor­ried mes­sage on her answer­ing machine.
When she called back, she was enthu­si­as­tic. "I lis­tened to your mes­sage a cou­ple of times," she said.
Real­ly? I'm not even sure my spouse lis­tened to any mes­sage I left him a cou­ple of times. Nor, for that mat­ter, although I love his voice, have I ever lis­tened to his mes­sages repeatedly.
She said she'd also watched the links of my inter­views on nation­al and inter­na­tion­al TV and radio.
I was thrilled. At least some­one was actu­al­ly lis­ten­ing to those links which had tak­en my Lud­dite self years to load onto my website.
Based on all this, she said, she was will­ing to give me a chance. "It's your fourth nov­el. You've earned it." She assured me she want­ed the best for the book too, and I could tell she real­ly did, just as much if not more, than I did.
A mix­ture of tri­umph and trep­i­da­tion filled me, as I entered the record­ing stu­dio, about a week lat­er. It was­n't real­ly any dif­fer­ent from a booth at a radio sta­tion, as far as I could tell. And it was far less for­bid­ding than a TV set. Yet my hands were trem­bling as I got into "the sad­dle" and put on my headphones.
For the next two days — two whole days — I read and re-read and read. A direc­tor super­vised my work and he was brilliant.
His words of wis­dom: "If you get tired, if your mind starts wan­der­ing, take a short break and then come right back and attack it with all your ener­gy and con­cen­tra­tion. Don't give me a half-assed per­for­mance. Read like you mean every word. An author — in this case you — spent years work­ing on it. And I always tell my actors, I don't care how they feel, they owe it to the author to give it every­thing they've got. You owe it to yourself."
Or, I thought, I owed it to my char­ac­ters. I loved the four char­ac­ters in The Bridge Home. They are real to me, now, and I want the best for them. I want them to be loved. I want their sto­ry to be loved.
At some point dur­ing the writ­ing process, I read an entire nov­el aloud — but when I do that, I'm lis­ten­ing and pay­ing atten­tion in a dif­fer­ent way. I use those read­ings to help me refine and edit my drafts.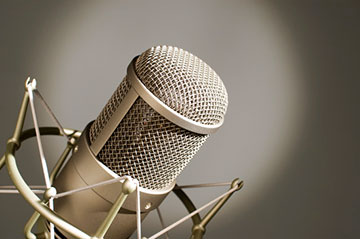 Read­ing aloud for the audio­book was very dif­fer­ent. It was far more stren­u­ous. I had to "get into char­ac­ter" — every char­ac­ter in the book, real­ly. It's what I do any­way, when I write, but in this case, I had to speak in char­ac­ter instead of just lis­ten­ing to my char­ac­ters speak and writ­ing down the words they said in my head.
"Don't wor­ry about get­ting the words right," my direc­tor said. "Every­one makes mis­takes, and every­one has to come back to make cor­rec­tions lat­er." Those cor­rec­tions are what the indus­try calls pick-ups.
What I need­ed to do was read in such a way that the lis­ten­er hears just enough emo­tion to stay engaged. Too much turns lis­ten­ers off, and too lit­tle leaves them bored. That's not unlike writ­ing — as a writer, I've always main­tained that it's not just what I say and how I say it, it's also what I leave out.
My direc­tor's gold­en words of wis­dom helped me under­stand this fine bal­ance as I read aloud "You don't need to act the writer's words. You just need to feel the words as you read."
When I began to see a movie in my head, the way I do when I'm close to com­plet­ing a nov­el, I real­ized that I was in busi­ness. And after a few tri­als, I was in the zone — a sort of wak­ing dream in which I sensed the char­ac­ters haunt­ing my mind and tak­ing over my heart. And I stayed in that zone as my voice was record­ed, allow­ing the char­ac­ters to pos­sess my soul, so I was with them dur­ing every step of the jour­ney, from the first page to the last.
When I final­ly took off the head­phones and slid off the high stool on which I'd perched as I read and walked out of the record­ing booth, the own­er of the record­ing stu­dio declared, "You're the real thing. I almost cried."
"Thanks," I said.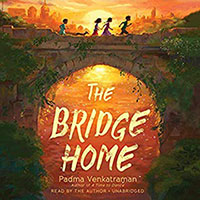 Then he added, gruffly, "The only rea­son it's almost instead of actu­al­ly cry­ing is because I'm an old white man and we weren't allowed to do that."
That evening, I get home exhaust­ed and exhil­a­rat­ed, in equal measure.
Will I read all my future books, my spouse and daugh­ter want­ed to know when I returned. I was­n't sure.
I'm still not sure.
But what I am sure of is that I'm glad I did it for The Bridge Home.