I'm not cer­tain, but I sus­pect sto­ries have played sig­nif­i­cant roles in the lives of most librar­i­ans. We are sto­ry peo­ple, after all — their sacred keep­ers, and we delight in help­ing oth­ers dis­cov­er their wonders.
I think it's safe to say that the past few years have been dif­fi­cult ones for many of us. We've had to adapt to new ways of liv­ing and work­ing. Not slow­ly with ade­quate time to process, but on a dime, rush­ing into the unknown, hop­ing for the best, but uncer­tain all the same. It has been chal­leng­ing. And yet, while these tri­als con­tin­ue to come, there is also great hope. Sto­ries renew hope.
As one is apt to do in mid­dle age, I've been rumi­nat­ing a lot late­ly. Think­ing about our times, the sto­ries that have giv­en me the great­est hope, and the librar­i­ans who brought them into my life.
When I was grow­ing up, every sum­mer, my fam­i­ly and I would make the long dri­ve from Atlanta to Chica­go to vis­it my grand­par­ents. And when we vis­it­ed, I always stayed in my Dad's old bed­room from when he was a kid. I loved my grand­par­ents' house. It was built in 1915, and I loved my dad's old room espe­cial­ly. The wall­pa­per was cream-col­ored with gold star­bursts, and I knew just where to step to make the old floor­boards creak. But the thing I loved most about that room was the large piece of blue cloth that hung on the wall above the bed like a bul­letin board.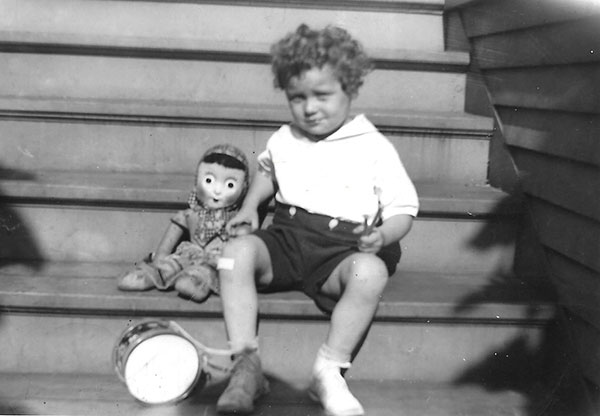 It was cov­ered in things that were impor­tant to my dad from when he was grow­ing up. Things he saved over his child­hood and young adult­hood. Comics he had clipped out of the news­pa­per and pinned up there. Pho­tos of him with friends in the old neigh­bor­hood. Tick­et stubs from var­i­ous shows. And in the upper right-hand cor­ner, an old green but­ton with a long pin on its back so you could wear it on a jack­et. In plain black let­ters were the words, "Gan­dalf Lives."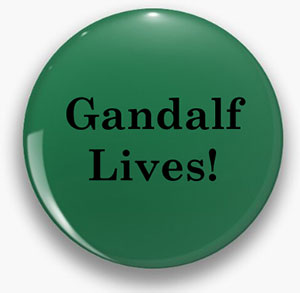 To be hon­est, when I was lit­tle, I used to glance right over that but­ton. That word 'Gan­dalf' was strange and meant noth­ing to me. So, I didn't pay much atten­tion to it. Until one day in ele­men­tary school.
Wednes­day was my favorite day of the week in fourth grade because that was library day. Some days we learned about the Dewey Dec­i­mal Sys­tem. Some days we learned research skills. Some days we were giv­en time to work on school projects. But my favorite library days were those when we got to lis­ten to the sto­ries. The days when Mrs. Swen­son, our school librar­i­an, read to us.
We would sit cross-legged on the floor while she shared a chap­ter from Bridge to Ter­abithia or The Lion, the Witch, and the Wardrobe. In a sacred, still hush, we lis­tened. Not mov­ing. Bare­ly breath­ing. Wait­ing to hear what hap­pened next.
At the end of every library day, she always saved some time so we could get lost in the stacks and find the books we want­ed to check out that week. That was impor­tant to me. As a shy kid, books and sto­ries were good friends to me. When I strug­gled with feel­ings of not fit­ting in, I found refuge in sto­ry. I still do. Books gave me the oppor­tu­ni­ty to walk in the shoes of those whose expe­ri­ences were sim­i­lar — and dif­fer­ent — from my own. They still do. My world got big­ger. And my heart got big­ger, too.
On library days, while we were lost in those stacks, Mrs. Swen­son wound her way through, mak­ing rec­om­men­da­tions. One Wednes­day, she made her way over to me. She reached up and pulled a book from the shelf.
"Have you read this one?" she asked. I shook my head. "Well, I think you'll love it," she said, and pressed it into my hands.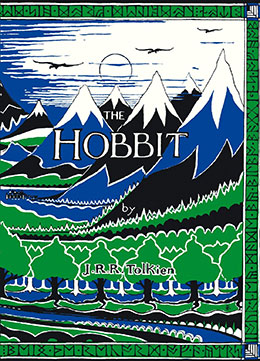 It looked like the best kind of book, too. The kind that's been around the block a few times. Its spine was cracked. The cor­ners of its cov­er were frayed. And when I flipped through its pages, it had those uniden­ti­fi­able stains that librar­i­ans know so well — maybe that's Chee­to dust … maybe that one's peanut but­ter … maybe I don't want to know what that stain is … But all good signs that this was a well-loved book.
So, I checked it out and took it home. That night after din­ner, I sat on the sofa, pulled the book out of my back­pack, and start­ed to read. It had me from the first line. In a hole in the ground there lived a hob­bit.
What was a hob­bit? I had nev­er seen that word before, and I want­ed to find out. But four para­graphs lat­er, I came across a word I had seen before.
The para­graph began, "By some curi­ous chance one morn­ing long ago in the qui­et of the world, when there was less noise and more green, and Bil­bo Bag­gins was stand­ing at his door after break­fast — Gan­dalf came by. Gan­dalf! Tales and adven­tures sprout­ed up all over the place wher­ev­er he went, in the most extra­or­di­nary fashion."
Now I was real­ly hooked. I remem­bered my dad's green but­ton, pinned in a place of hon­or in his old room, "Gan­dalf Lives."
I final­ly knew who Gan­dalf was. But unbe­knownst to me at the time, I wouldn't ful­ly under­stand the mean­ing of that but­ton until I was a lit­tle old­er. It was Mrs. Ker­ry, my high school librar­i­an, who pro­vid­ed that key.
One lunch peri­od my sopho­more year, I snuck out of the loud cafe­te­ria and sought sanc­tu­ary in the library where Mrs. Ker­ry found me roam­ing the fic­tion stacks. Unlike oth­er teach­ers, she didn't ask me why I wasn't in the cafe­te­ria where I was sup­posed to be. Instead, in her low, omni­scient voice, she said, "You. Have. Read. The Hob­bit."
It wasn't a ques­tion, she just knew. Then she reached up, grabbed a book from the shelf, and thrust it toward me. "Then you need to read this," she said. I wasn't about to defy Mrs. Kerry.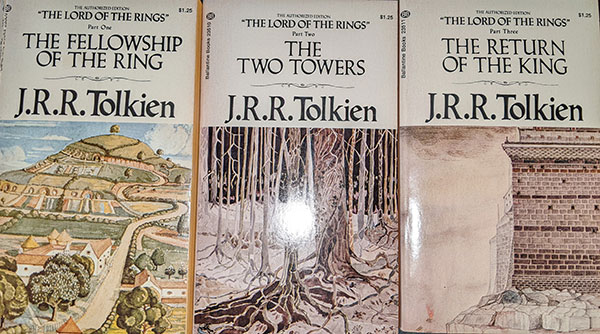 So, I checked it out and devoured the three parts that com­prise The Lord of the Rings. Filled with dark­ness and despair, they were. Cau­tion­ary tales about what hap­pens when fear cor­rupts and the desire for pow­er over­takes all else. But they were also tales of great hope. There is great hope in fel­low­ship. A like-mind­ed group of peo­ple with the same mis­sion, cel­e­brat­ing vic­to­ries togeth­er, and in dark days, car­ry­ing each oth­er through strug­gles. And my old friend, Gan­dalf, was there once again.
Fast for­ward­ing fif­teen years lat­er, I became a librar­i­an. I believe Mrs. Swen­son and Mrs. Ker­ry had a lot to do with that deci­sion. Look­ing back on it, they were Gan­dalfs in my life. Tales and adven­tures fol­lowed them wher­ev­er they went. Through the sto­ries they shared, they made my world big­ger, and my heart big­ger, too.
I began work­ing for a pub­lic library in North Geor­gia, and a mirac­u­lous thing hap­pened. I became part of a fel­low­ship. One that not only includ­ed the librar­i­ans I worked with in North Geor­gia, but across the state and coun­try. I was now part of a like-mind­ed group of peo­ple with the shared goal of enrich­ing the lives of young peo­ple, often through sto­ry. Hop­ing to expand worlds and hearts.
Fast for­ward­ing again to the win­ter of 2021. The pan­dem­ic was rag­ing, and leg­is­la­tion ban­ning books and silenc­ing those who work with them was sweep­ing across the coun­try. Bit­ter cold had robbed the trees of green and replaced it with skele­tal branch­es, and the world seemed dark indeed.
It also felt like the right time. I reached for the The Lord of the Rings on my book­shelf and began the jour­ney again. Gan­dalf was still there, impart­ing wis­dom and lead­ing Fro­do out of the Shire. It was as great an adven­ture as I remembered.
And yet, some­thing was dif­fer­ent. Some­thing had changed with this read­ing. When it came to the part, near the end of the Fel­low­ship of the Ring, where Gan­dalf bat­tles a Bal­rog — this behe­moth mon­ster that seems cer­tain to undo the progress the fel­low­ship has made — that pas­sage meant more to me than in my younger days.
By the time you reach mid­dle age, you have encoun­tered a Bal­rog or two. These mon­sters that arise in life and seem unde­feat­able. As Gan­dalf stands before the Bal­rog on the Bridge of Khaza-dum, fire pours from the beast and its whip cracks and hiss­es. But Gan­dalf stands firm.
"You can­not pass," he warns. "Go back to the shad­ow. You can­not pass!"
As I read, I wept, just like I did in high school, as Gan­dalf the Grey fought the Bal­rog and fell to what was sure­ly his own demise while doing so. But then I took an enor­mous, deep breath. The kind that restores the soul. Because I remem­bered — Gan­dalf lives.
Gan­dalf the Grey becomes Gan­dalf the White, reborn after the strug­gle. Stronger, wis­er, bet­ter able to con­tin­ue the quest. Bal­rogs exist in many forms, but thank­ful­ly, so do Gan­dalfs. They make the world big­ger and hearts big­ger, too. They renew hope. Sto­ries, books, librar­i­ans renew hope.
So these days when­ev­er those feel­ings of dread and despair — those Bal­rogs — come creep­ing in, I try my best to remem­ber — there is also great hope.
Because Gan­dalf lives.