When I do school vis­its, the stu­dents treat me like a super­hero. The time with them is exhil­a­rat­ing, and it would take a much more hard­ened heart than mine to resist the curios­i­ty and imag­i­na­tion these young peo­ple exhib­it. But my class­room days also leave me bone-deep exhaust­ed. One after­noon, mid­way through a week­long res­i­den­cy, I lay down in my front yard when I arrived back home, too tired to tack­le the Mount Ever­est that had replaced my front steps.
That's one of the rea­sons I stand in awe of class­room teach­ers. The degree of patience and endurance that they require to show up day after day for an entire school year astounds me. I also have a secret the­o­ry that edu­ca­tion majors are trained in super-human blad­der con­trol. For my part, I need to stay ful­ly hydrat­ed to sur­vive school vis­it days — which means I devel­op an ear­ly aware­ness of the restroom lay­out for any school I vis­it. That's how I got to be par­tic­u­lar­ly friend­ly with one young writer who I'll call Jake. In his par­tic­u­lar school, there was a handy fac­ul­ty restroom just off of the nurse's office. Between class­es I'd duck in, and more often than not find Jake sit­ting on the nurse's bed.
"Hey, Mrs. Writer Lady," he'd invari­ably greet me, and we'd exchange pleas­antries and chat about the activ­i­ties I had planned for his class­room that day.
After sev­er­al more restroom vis­its, I became wor­ried about Jake. The lit­tle guy seemed to spend a good part of his school day in the nurse's office, and I imag­ined an array of chron­ic dis­eases that might be the cul­prit. I final­ly caught a rare moment where the nurse was present but Jake was not, and under­stand­ing that she couldn't reveal con­fi­den­tial med­ical infor­ma­tion, I told her of my con­cern for Jake's health. She laughed, wav­ing a hand.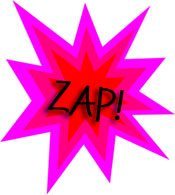 "Jake's not sick," she said. "They just stash the sent-to-the-prin­ci­pal stu­dents in here when the prin­ci­pal is away." In oth­er words, Jake was That Kid: the one who spends a good part of his edu­ca­tion­al expe­ri­ence get­ting into trou­ble, dis­rupt­ing oth­er stu­dents, and being sent to the principal's office. Yet this side of his nature was com­plete­ly for­eign to me — when I worked with his class, he was enthu­si­as­tic and engaged, cheer­ful­ly cre­at­ing a high­ly imag­i­na­tive piece about a polar bear who McGuyver-ed bub­blegum to solve his story's conflict.
Jake was my first hands-on evi­dence of some­thing I've observed time and again dur­ing my class­room vis­its: sto­ries can have the pow­er to reach That Kid in a way that few oth­er things can. I've now had many teach­ers seek me out after class to tell me about That Kid in their class­room: how, to the teacher's great sur­prise, That Kid was able to focus, to behave, to show enthu­si­asm, for my sto­ry-writ­ing activ­i­ty in a way That Kid sel­dom can for oth­er class­room activ­i­ties. Sto­ries cer­tain­ly aren't the mag­ic fix for every strug­gling kid, but I now believe strong­ly that they can some­times work won­ders for That Kid.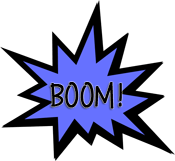 Most super­heroes need a super­pow­er: mine is sto­ries. I work real­ly hard to make my school vis­its fun (hence the need for all that hydra­tion!). But the truth is, I'm not an enter­tain­er by nature — I'm a writer who spends most of my work days alone with imag­i­nary char­ac­ters and a cat. So the cred­it for the abil­i­ty to reach some of those hard­est-to-reach kids should right­ful­ly go to the pow­er of sto­ry rather than to me. That means that any class­room that allows time for plea­sure read­ing and cre­ative writ­ing can tap into that pow­er, too.
You just need to stock up on good books, sharp pen­cils, and not-emp­ty-for-long note­books, and Kapow! Zap! Boom! It will be super­hero time in your class­room (or liv­ing room) before you know it.