Serendip­i­ty is one of my favorite words. I love its dance­like sound and the way it trips off the tongue. Accord­ing to my dic­tio­nary, serendip­i­ty means "the fac­ul­ty of mak­ing for­tu­nate dis­cov­er­ies by accident."
I find the ety­mol­o­gy of words fas­ci­nat­ing. Even as a child, I liked to study the maps that show the rela­tion­ship and ori­gins of Indo-Euro­pean lan­guages. (Here's an ani­mat­ed ver­sion.) So where does the word serendip­i­ty come from?
My Amer­i­can Her­itage dic­tio­nary traces the word's ori­gins to the Eng­lish writer Horace Wal­pole, who sup­pos­ed­ly coined the word in a 1754 let­ter to a friend. Wal­pole described a Per­sian fairy tale he had read, con­cern­ing three princes from Serendip. The broth­ers — high­ly accom­plished, smart, and artis­tic — were ban­ished from their king­dom by their father, the king. Wan­der­ing in a for­eign land, they encoun­tered a mer­chant who had lost his camel. The broth­ers used pow­ers of deduc­tion — which we now asso­ciate with detec­tive fic­tion — to find the camel. Wal­pole said, "They were always mak­ing dis­cov­er­ies, by acci­dent and sagac­i­ty, of things they were not in quest of."
Things they were not in quest of. This phrase made me think of oth­er famous dis­cov­er­ies that hap­pen by acci­dent — such as the peni­cillin mold that grew when Alexan­der Flem­ing left a Petri dish on his win­dowsill by mis­take, or the burrs that attached them­selves to George de Mestral's clothes on a moun­tain hike, giv­ing him the idea for Vel­cro. Serendip­i­ty also makes me think about moments in our writ­ing lives when inci­dents, events, and ideas merge to trig­ger a Eure­ka! moment.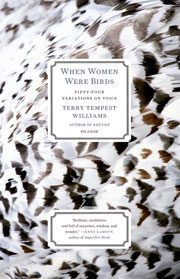 Three years ago, at a Ham­line Uni­ver­si­ty sum­mer res­i­den­cy, I opened a new note­book late one night, and scrawled these words: "The Last Gar­den." The title had come to me after I read the first two entries in Ter­ry Tem­pest Williams' bril­liant book, When Women Were Birds, a gift from Phyl­lis Root. Williams wrote the mem­oir after her moth­er died and she uncov­ered a shock­ing truth about her life. I had recent­ly lost both par­ents, so Williams's top­ic pulled me in. I was also drawn to the book by its for­mat: a series of short vignettes, fork­ing off a sin­gle idea like branch­es on a tree. Vignettes seemed like a man­age­able, less daunt­ing way to deal with per­son­al sub­ject mat­ter. But wait — since when was I plan­ning to write about gardens?
That same morn­ing, as we dis­cussed our work­shops, Phyl­lis told me that she planned to ask her stu­dents that great ques­tion: "What would you write if you knew you could not fail?" It made me think of Mary Oliv­er, who demands, in her poem "The Sum­mer Day": "Tell me, what is it you plan to do/with your one wild and pre­cious life?"
For years I had tried to write a mem­oir about my rela­tion­ship with my grand­moth­er, and the Ver­mont house where I spent my child­hood sum­mers, but I couldn't find a uni­fy­ing thread. When I wrote those words — "The Last Gar­den" — I real­ized that gar­dens — and gar­den­ers — could pro­vide that uni­ty. My hus­band and I had just pur­chased a sweet house, down the road a mile from my grandmother's old place. The prop­er­ty came with over­grown lilacs and tan­gled, over­grown gar­dens that con­cealed peonies, fox­gloves, and an aspara­gus bed. Though I have gar­dened all my life, I real­ized this would be the last gar­den I would cre­ate from scratch.
Since that moment at Ham­line, the focus of my writ­ing has changed dra­mat­i­cal­ly. In addi­tion to the mem­oir, I've been writ­ing essays and arti­cles about nature and the envi­ron­ment. I'm work­ing on two non-fic­tion projects, focused on envi­ron­men­tal sub­jects, with my dear friends Phyl­lis Root and Jack­ie Brig­gs Mar­tin. All thanks to serendipity.
Per­haps the best thing about serendip­i­ty is that we can't explain how it hap­pens. Who could pre­dict that the loss of my par­ents, the gift of a wise book writ­ten in an appeal­ing form, and the right ques­tion at the right time — would coin­cide with ideas I was "not in quest of"?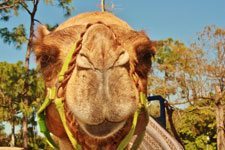 Mean­while, as I wres­tle with the memoir's final vignettes, I can't help think­ing of that miss­ing camel that — as the Serendip broth­ers pre­dict­ed — was lame, blind in one eye, and lum­bered under the weight of a leak­ing sack of hon­ey, a bag of but­ter, and a preg­nant woman.
Uh oh. Doesn't that sound like a pic­ture book, wait­ing to happen?