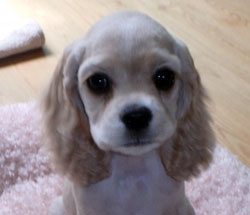 by Mar­i­on Dane Bauer
Who doesn't love a pup­py? Well, admit­ted­ly there are some folks who don't, espe­cial­ly con­sid­er­ing how dif­fi­cult both ends of such crea­tures are to keep under con­trol. So let's rephrase the ques­tion: Who doesn't love a pup­py in a children's sto­ry? Or even a frog or a toad, for that matter?
Some­thing hap­pens to a sto­ry when it is pop­u­lat­ed by ani­mals, some­thing easy to feel but dif­fi­cult to define. Per­haps it's what a sales rep for one of my pub­lish­ers once referred to as "the aw fac­tor," not awe but aw-w-w‑w! He pre­dict­ed my upcom­ing pic­ture book would be suc­cess­ful because it had "the aw factor."
Ani­mal char­ac­ters are so com­plete­ly them­selves, so utter­ly with­out lay­ers or com­pli­ca­tions. The big, bad wolf will always be big and bad. Lassie will always faith­ful and true, mak­ing her way home. And we respond to each with our whole hearts, hat­ing or loving.
I once had a stu­dent, a mature woman, who refused to read any sto­ry that threat­ened injury or death to an ani­mal, no mat­ter how well writ­ten, no mat­ter how well earned the story's trau­mat­ic action might be. But that same read­er was not in the least offend­ed by On My Hon­or, my nov­el in which a child dies. I sus­pect she is not alone in her response.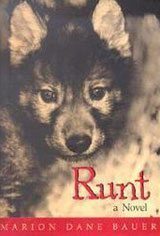 To take her side, at least for a moment, I'll admit it is entire­ly too easy to elic­it tears through an animal's death, espe­cial­ly when the ani­mal is some­what periph­er­al to the sto­ry. I used such a plot device myself in a long-ago nov­el, Rain of Fire. Per­haps, were I to rewrite that sto­ry, I would still decide to kill the fic­tion­al cat, though I'm aware these days of my own increas­ing cau­tion about such dramatic/traumatic plot turns. In part that may be because I have learned to employ more sub­tle devices. Maybe the shift has come, too, from grow­ing old­er and want­i­ng the world around me to be a bit … well, gen­tler, I guess.
In Runt, my nov­el in which the char­ac­ters are mem­bers of a wolf pack, ani­mals die, too, and the deaths are affect­ing. The dif­fer­ence, how­ev­er, is that I entered the sto­ry know­ing some death must occur if I intend­ed to rep­re­sent accu­rate­ly the real­i­ty of the wolves' lives. And as with any oth­er strong action, to be effec­tive — to be dra­ma rather than melo­dra­ma — the plot moment must rise out of the neces­si­ty of the char­ac­ters, not be imposed from on high.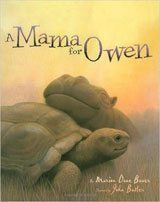 But what about the pic­ture-book lamb that goes out into the world and gets lost from his moth­er, the sto­ry I demand­ed be read to me again and again and again when I was a preschool­er? Or the baby hip­po who is sep­a­rat­ed from his pod dur­ing a tsuna­mi and ends up bond­ing with a giant male tor­toise, his real-life sto­ry pre­sent­ed in my pic­ture book, A Mama for Owen? Or what about anoth­er of my pic­ture books, If You Were Born a Kit­ten, in which I lead up to a pre­sen­ta­tion of a child's birth through first depict­ing the births of var­i­ous ani­mals? How does the ani­mal nature of the char­ac­ters impact us as readers?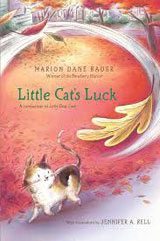 Ani­mals, the liv­ing ones as well as those that rise off the page, seem to call forth a puri­ty of response from us. They cap­ture our whole hearts: Jane Goodall's chimps, the dog who lies at my feet as I write this, the lit­tle cat moth­er in my upcom­ing verse nov­el, Lit­tle Cat's Luck. They all touch into the most ten­der, the most human part of ourselves.
And because they are so ful­ly them­selves, we become more ful­ly who we are capa­ble of being, car­ing, gen­er­ous, grateful.
Blessed to share our plan­et — and our sto­ries — with oth­er species.