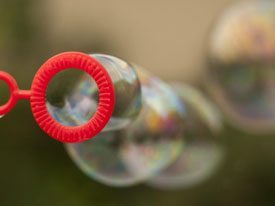 Recent­ly, I spent sev­er­al weeks strug­gling with a work in progress. Day after day, the words just wouldn't flow.
Over the years, I've learned that there's no way to force a stub­born man­u­script. I just have to focus on some­thing else until my mind some­how sorts things out. Some­times I begin work on a dif­fer­ent book, but in this case, I decid­ed to tack­le a long-neglect­ed task — orga­niz­ing my dig­i­tal photos.
As I sort­ed images, I stum­bled upon this fun pho­to of my nieces when they were 6 and 8 years old. What are they doing? They're dis­cussing the rain­bow pat­terns in the soap bub­bles they just blew — a pur­suit I approve of whole heartedly.
See­ing this pho­to remind­ed me of anoth­er expe­ri­ence I had with my nieces the same sum­mer. We were out in the back­yard doing som­er­saults and cart­wheels (Well, they were doing the gym­nas­tics. I was the delight­ed audi­ence.) when my younger niece sud­den­ly stopped mid-tum­ble — butt in the air, head between her legs.
"Wow," she said. "I nev­er looked at the sky like this before. It's beau­ti­ful. Try it, Aunt Mis."
Sure, I want­ed to uphold my sta­tus as her favorite aunt, but I was also curi­ous. So I walked out onto the grass and mim­ic­ked her posi­tion. And do you know what? She was right. The sky real­ly was extra­or­di­nar­i­ly beautiful.
My oth­er niece joined us, and all three of us stayed in that posi­tion, just gaz­ing at the stun­ning blue sky for quite a while — until the blood rushed to our heads.
Think­ing about that day remind­ed me that look­ing at some­thing from anoth­er point of view — turn­ing it upside down or inside out — can help us appre­ci­ate it in a whole new way. Inspired by that mem­o­ry, I decid­ed to read por­tions of my trou­ble­some man­u­script while lying on my back with my head dan­gling upside down off the edge of the bed.
Sounds crazy, right?
But guess what. A few hours lat­er I was sud­den­ly struck by an idea, an insight. Some­thing had shift­ed in my mind, and I was able to see my writ­ing in a whole new way. Eureka!
For the last few days, I've been revis­ing like mad. I'm still not sure if this new approach will work, but I'm feel­ing optimistic.