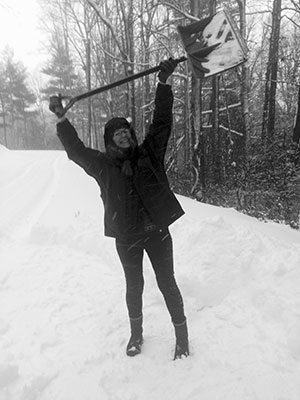 I just sur­vived the Great Bliz­zard of 2016 from a cab­in atop a moun­tain in west­ern North Car­oli­na. When the snow and wind stopped we emerged into a soft, untouched world. Tall snow-heavy pines. Lay­ers of Blue Ridge moun­tains now white. Silent.
We shov­eled.
Two days lat­er I could final­ly dri­ve down the moun­tain to a friend's home and there, on the twist­ing creek­side road, two red car­di­nals sud­den­ly crossed in front of my car. Pierc­ing red. An event last­ing no longer than two seconds.
I should men­tion that I am cur­rent­ly artis­ti­cal­ly lost. Me, who once gave lec­tures on what to do when lost. I am more than lost. Psy­chi­cal­ly molt­ing, I am the lob­ster who has out­grown a shell and shiv­ers naked behind the coral arch, wait­ing for some­thing dread­ful to hap­pen, or, in more hope­ful moments, the cater­pil­lar turned to mush with absolute­ly no brain to even invent a con­cep­tion of the future. Every assured being amazes me — tree, bird, human — how can any­thing have such strength, bones, shell, wings, purpose?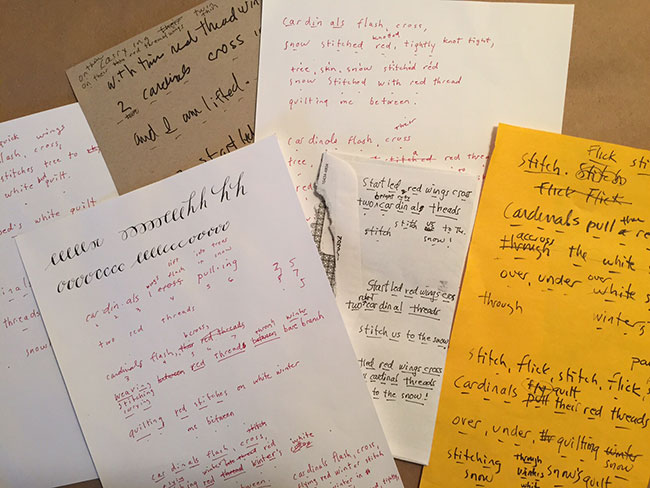 Those two sec­onds of red birds flash­ing mag­ic in front of my car's first post-bliz­zard trip pierce this mush. But, I argue, what will it pos­si­bly mat­ter if I try to put words to this tiny, tiny, star­tling moment?
Car­di­nals' wings cross,
quick red threads stitch tree to tree
on snowbed's white quilt.
Lat­er, THIS quote cross­es my Face­book (oh, inad­e­qua­cy!) feed:
"The world is full of mag­ic things
patient­ly wait­ing for our sens­es to grow sharp­er."
—W.B. Yeats
In the dark the mush tremors slightly.
So I try again:
Star­tled red wings cross—
two sud­den car­di­nal threads
stitch­ing winter's quilt.
Yes. Yeats speaks to ME on Face­book, of all god­for­sak­en places.
Artist wakes artist.
I sud­den­ly real­ize:
This is what we do to form the long buck­et brigade to save each other.
Red flash­es, flick, flick,
Two car­di­nal threads cross-stitch
The slow falling snow.
This is the advice I heard deep inside the molt­ing mush: for­get every­thing, every long­ing for mean­ing or con­tri­bu­tion, for rich­es, for applause. Sim­ply do this:
Grow your sens­es sharper.
Yeats told me. On Facebook.