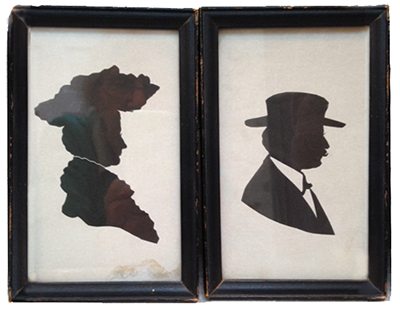 "That's your Great-Grand­fa­ther Who Lost His Arm in the Bat­tle of the Wilder­ness." That was his name. In a big gold gilt-framed pho­to: a dis­tin­guished-look­ing, white-haired, mus­tached gen­tle­man high above the upright piano in my grandmother's music room. This Civ­il War vet­er­an was her father-in-law, and he and his wife in her match­ing frame watched over the music room for as long as I can remem­ber. His wife looks severe: per­haps it was her high lace col­lar, the hard life of a 19th Cen­tu­ry woman, and the long wait for the pho­to­graph­ic plate's exposure.
My hor­ti­cul­tur­ist great-grand­fa­ther with the long name had con­vinced his son, my por­trait pho­tog­ra­ph­er grand­pa, to move the entire fam­i­ly 2000 miles west from Jamestown, New York to the foothills of Mt. Hood in Ore­gon in 1911, there to begin grow­ing apples and pears on land whose price matched its fer­tile but irri­ga­tion-chal­lenged soil. My grandma's opin­ion: "But only if we can live close to the school and close to the church." The Civ­il War hero, his wife, and my grand­par­ents and their three young chil­dren trav­eled by train, with box­cars full of fur­ni­ture, to a com­mu­ni­ty of rut­ted roads and tena­cious, weath­er-tough­ened farm­ers and log­gers. My grand­par­ents' big house got built beside the church.
Irri­ga­tion was the most piti­less of the orchard's many obsta­cles. The farm didn't last long. The Great Depres­sion hap­pened. My grand­pa re-edu­cat­ed him­self as an elec­tri­cian, and drove a Mod­el T Ford to his jobs well into the 1950s.
Now, sum­mer­time 2016, I'm sit­ting on a chair from that music room, as I have done for decades. Not the piano stool. ("Vir­ginia, do NOT spin on the piano stool. You KNOW that.") This is a straight-back maple chair, prob­a­bly from the turn of the 20th cen­tu­ry, with curvy lines, turned legs, and a heart carved out of its back. Who made it and where? Why didn't I ask when I was a kid and Grand­ma or Grand­pa could have told me?
It has silent­ly held up its end of my dai­ly work­ing bar­gain with­out complaint.
My grand­par­ents' for­tunes fell, the great-grand­par­ents died, the three chil­dren grew up. Grand­ma opened a board­ing house for school­teach­ers, and the board­ing music teach­ers gave lessons on her piano. Ram­bunc­tious school­yard kids walked tame­ly through my grand­par­ents' door, car­ry­ing their red John Thomp­son music and their yel­low and green Schirmer's.
My moth­er had mar­ried her true love, a lapsed Penn­syl­va­nia lawyer turned Ore­gon farmer who had built a large log house three miles from town. My broth­er and I made a fam­i­ly of four, hap­py and complete.
Grandma's and Grandpa's din­ing room, with a great big table (for all of us rel­a­tives and all those board­ing teach­ers), opened into the music room, and some­one (any­one) could play "Hap­py Birth­day" on the piano for who­ev­er was cel­e­brat­ing: age 6, 46, or 76.
We chil­dren dec­o­rat­ed the music room Christ­mas tree with raggedy and chipped orna­ments from his­to­ry (why didn't I ask for their sto­ries?), and my vis­it­ing cousin and I gid­di­ly over­re­act­ed each year, as our gifts pro­gressed from iden­ti­cal dolls to iden­ti­cal bot­tles of Evening in Paris perfume.
I think that dur­ing the 60-plus years this util­i­tar­i­an chair spent in the music room it was nev­er wit­ness to inso­lence or profanity.
I knew my grand­par­ents were promi­nent in the church, in posi­tions of pow­er. A few times each year Grand­ma pre­pared the cubes of Com­mu­nion bread, and as I grew I was allowed to help her pour her home­made grape juice into teen­sy glass­es in the holy, shiny tray-rack thing. Grandpa's role was even more essen­tial: He start­ed the church fur­nace ear­ly on Sun­day morn­ings, and on choir prac­tice evenings, and made sure every­thing was work­ing right in every room of the build­ing. He made church possible.
Years lat­er, my big broth­er whis­pered to me that Grand­pa was the church jan­i­tor, and that he and Grand­ma were prob­a­bly doing those jobs to ful­fill their annu­al tithe. We were in church, and our moth­er, as usu­al, was on the organ bench, bring­ing Bach and Schu­bert and all those beau­ti­ful loved ones to the rur­al fam­i­lies in the pews.
I don't think I ever heard my grand­par­ents dis­cuss reli­gion. It was just there, an unequiv­o­cal force, like a moun­tain or an ocean or God.
The fam­i­ly side­stepped dis­pu­ta­tious­ness, didn't stoop to quar­rel­ing. When peo­ple got peev­ed about wartime rationing or went mute about Hiroshi­ma they did it with­out mak­ing a fuss. I nev­er knew which mar­riages were unen­durable yet iron-tight, I nev­er knew which grownups had "er — uh — a problem…" Things and peo­ple didn't break apart. Except that peo­ple died. When they did, our grief was wild and silent.
"Your father was a won­der­ful man, Virginia."
"I know."
"You look like your father, Vir­ginia, you have his eyes."
"Do I?"
Grand­ma washed on Mon­days (tubs, blu­ing, the cranked wringer, hun­dreds of clothes­pins, yards of clothes­line), ironed on Tues­days (all those board­ers' sheets went through a mar­velous machine called a man­gle), sewed and mend­ed on Wednes­days, teach­ing me to use a Singer machine for per­fect seams by using only my foot on the pedal.
Elvis Pres­ley began to sing. Our fam­i­ly went on as if he had had the good man­ners not to. But he had stirred some­thing in my vis­it­ing cousin and me, and it lay stealthy and uncom­pre­hend­ed inside us.
We spread out, we learned to vote. Now, years too late, ques­tions per­sist, cast­ing every­thing in the shad­owy half-light of incompletion.
Had the Civ­il War sergeant (Penn­syl­va­nia 105th Infantry Reg­i­ment) kept a war diary? How did Grand­pa real­ly feel about leav­ing stu­dio pho­tog­ra­phy and try­ing to be an orchardist? What might Grand­ma have said about spend­ing her entire life tak­ing care of peo­ple? Why did the church break into fac­tions? Why did our fam­i­lies trust to school to teach us what Hitler had actu­al­ly done? How many sud­den grownup silences did my vis­it­ing cousin and I snick­er through, instead of probing?
And that's a thing I'd like to change, if I could. We know chil­dren can't deci­pher the secret mes­sages that adults send in plain sight by means of eye­brows and cod­ed ges­tures. But I wish the young were quick­er to devel­op anten­nae for the waves of his­to­ry, its tragedies, its hilar­i­ties, its noble struggles.
I'm duly ashamed that I don't even know where this beloved chair came from.