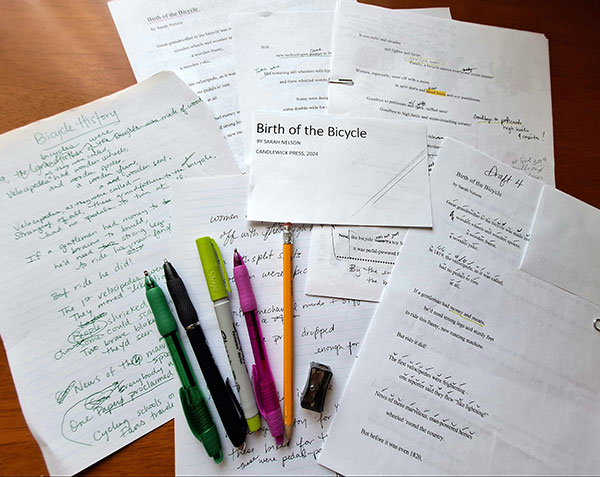 If you've ever dipped a toe into the children's book pub­lish­ing world, you've prob­a­bly heard cau­tion­ary tales about writ­ing in rhyme. In short, most insid­ers say, "Please don't rhyme." They warn us that we may think our rhyming is some­thing spe­cial but, like­ly, it's not. "Edi­tors don't want to read your tired rhymes," these experts say. "Write some­thing else."
For many years, I active­ly tried to sup­press my rhyming impuls­es. But some­times rhymes just bub­ble up from some­place irre­press­ible inside me. An inner toe-tap­ping beat comes drum­ming. A lilt­ing melody sings forth. And as of today, against all log­ic, I have more rhyming books in print and pro­duc­tion than any­thing else — despite that the major­i­ty of my port­fo­lio does not rhyme. If any­thing, I'm a lit­tle wor­ried about get­ting type­cast. What is going on here anyway?
I've been think­ing a lot about this ques­tion and about rhyming cau­tion­ary tales for the last sev­er­al years, and I have some the­o­ries. First and most impor­tant­ly, there is this. Although many of us learned to write in rhyme in ele­men­tary school, great rhyming is decep­tive­ly dif­fi­cult to do. It's incred­i­bly easy, on the oth­er hand, to get rhyming all wrong. (I know because I do this some­times, too.) When done poor­ly — with­out rhythm, employ­ing words that are pre­dictable or forced — rhymes can make us cringe with awk­ward­ness. Bad rhymes hurt edi­tors' ears and exas­per­ate their lit­er­ary sen­si­bil­i­ties. Under­stand­ably, these belea­guered gate­keep­ers of the pub­lish­ing indus­try wish that we would please stop the torture.
Or so I imagine…
That said, many par­ents, teach­ers, and chil­dren con­tin­ue to love and seek out rhyming books, and edi­tors and pub­lish­ers know this, too. Good rhymes can be mag­i­cal. They're fun to hear; they tick­le our ears. They make us laugh with sil­ly sounds or bounce to chirpy melodies. They can lull us like rock­ing waves or sway and com­fort us like mamas' arms. Good rhymes also stay with us long after they are read or heard.
There is a sto­ry in my fam­i­ly about two-year-old me, plop­ping onto a stool at Grand­ma and Grandpa's house (Miss Muf­fet-like?) to give this spon­ta­neous recitation:
"Lit­tle Miss Muf­fet sat on a tuffet eat­ing her curds and whey.
Along came a spi­der and sat down beside her
…and bumped her on the head."
I'm not sure what hap­pened with that last line. (Had I recent­ly bumped my head? Per­haps I was just going for a big fin­ish.) Yet despite not know­ing what a tuffet was or curds and whey, my lit­tle tod­dler mind got the words (most­ly) right — no doubt because of the pleas­ing rhymes.
Good rhymes, like good songs, are catchy and mem­o­rable. I mean, who among us hasn't sung I Want to Know What Love Is up and down the frozen food aisle with the gro­cery sound­track? (Oh, say it isn't only me.) These radio hits of yes­ter­year are embla­zoned on our neur­al path­ways, in part, because of their infec­tious rhymes. Even when we wish we could for­get them, we cannot.
Rhymes can def­i­nite­ly be annoy­ing. Too many can be cloy­ing. Yet year after year, rhyming books still sell because when done well, rhyming can be sweet, sur­pris­ing, hap­py, hilar­i­ous, bright, beau­ti­ful, musi­cal, sooth­ing, deli­cious to say, lus­cious to hear … and kids want to lis­ten again and again and mem­o­rize the lines and say them with us.
There­fore, if we wish to rhyme, we authors sim­ply have to work devot­ed­ly at rhyming very, very well. For me, every draft is a new puz­zle and a chal­lenge. Some­times, I write fifty not-very-good rhymes for every excep­tion­al rhyme. The sto­ry must always be the anchor and take prece­dence even over the clever­est lines. I aban­don some projects entire­ly and fine­tune oth­ers for years. Some­times, a lit­tle rhyme works far bet­ter than a lot; oth­er times the rhymes keep tum­bling. I don't know why.
While work­ing in rhyme, I say my lines out loud a thou­sand times — I say them while I cook and clean and dri­ve to work, while I'm drift­ing off to sleep, while I'm stand­ing in the show­er. I recite them to my hus­band, to the clos­et, to the flow­ers. Out­side, alone, to the beat of my feet, I also leave them on the street. (If I'm lucky, when I'm walk­ing, lines get com­fort­able like talk­ing.) Then I read them and record them, rethink, reword, revise them … again, again, again, again … until the lines and the rhymes (I hope) are as smooth as melt­ed butter.
Still, and as my wise, long-suf­fer­ing agent often reminds me, many edi­tors won't even look at rhyme. So if you don't love rhyming or it doesn't come nat­u­ral­ly to you, please refer to para­graph one and write some­thing else. Hon­est­ly, it's almost cer­tain­ly the much more sen­si­ble thing to do.
But if you are a lit­tle like me, and your imprac­ti­cal, lyri­cal heart per­sists to thump and thrum? Well, I say … rhyme on.