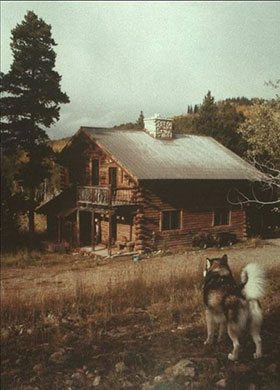 It is not often that I get a call such as I just did. The call came Lar­ry McCoy, who holds a doc­tor­ate in the­ol­o­gy, and teach­es phi­los­o­phy at the Steam­boat, Col­orado Com­mu­ni­ty Col­lege. He also builds log hous­es and has a dog named "Helen." That's the way folks are here in Routt Coun­ty. He is one of our near neigh­bors, liv­ing about a mile and a half away.
Now my wife and I live on a high ridge (9500 feet up) right on the edge of Rout Nation­al For­est. We own forty-five acres, which may seem like a lot if you do not live in Col­orado. In fact, while the deed says we own this land, we do noth­ing with it, save live on it (in a log house) and wan­der about on snow­shoes, or look at the wild­flow­ers. Sea­son depending.
Now the fact that we live on the edge of the nation­al for­est might explain what hap­pened and why Lar­ry called me.
"Avi," said Lar­ry, "I just thought you'd want to know that there have been three sight­ings — includ­ing by me — of a wolf on your land. I saw him, or her, down by your pond."
In the fif­teen or so years that we have lived here, no such sight­ings in all of Col­orado has been report­ed. And this wolf was a few yards from our home.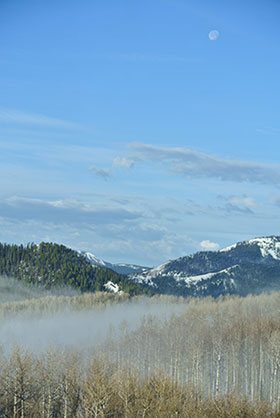 Some­thing to be fright­ened about? No. There is NO record­ed account of a wolf ever attack­ing peo­ple. Cat­tle is a whole dif­fer­ent question.
Where did he/she come from? There are wolves to the far north of us, in Wyoming, at Yel­low­stone Nation­al Park. There is plen­ty of for­est between us and that spot. Maybe he came from thataway.
But why?
Is he/she part of a pack? Wolves are intense­ly social crea­tures, with fas­ci­nat­ing fam­i­ly existences.
A lone wolf?
An old wolf? A young­ster seek­ing new territory?
Not like­ly we'll ever know. Or maybe nev­er even see the creature.
But as my wife said, "Oh, Avi! Our own wolf! I've always want­ed that!"
She real­ly said that, which was news to me.