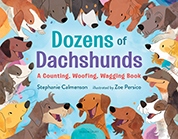 Dozens of Dachsunds
Stephanie Cal­men­son
illus­trat­ed by Zoe Per­si­co
Blooms­bury, 2021
A parade of dachsunds! There are sev­en­ty-eight dachsunds in all, dressed in cos­tumes as oth­er ani­mals, insects, birds, and dinosaurs! They wag­gle by in groups of two, three, four … all to aid young read­ers in count­ing. Maybe best of all is the song includ­ed so you can sing along! Preschool through Grade 2.
The Hal­lo-Wiener
Dav Pilkey
Scholas­tic, 1999
Oscar, the dachs­hund, wants to wear a scary cos­tume for Hal­loween but his moth­er has oth­er ideas. She sews him a hot-dog bun with mus­tard and he must wear it so he doesn't hurt her feel­ings. It's hard to nav­i­gate and his friends get to the treats before he does, but when the pack is threat­ened by some mon­ster cats, it's Oscar to the res­cue! Preschool through Grade 2.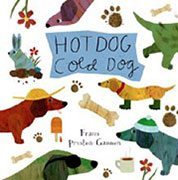 Hot Dog, Cold Dog (board book)
Frann Pre­ston-Gan­non
POW! 2014
Dachsunds go every­where, in every style of fash­ion, in every weath­er, engag­ing in every activ­i­ty. Fun­ny, col­or­ful, and endear­ing to engage baby. A large-for­mat board book for a good read-aloud. Young babies.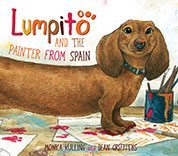 Lumpi­to and the Painter from Spain
Mon­i­ca Kulling, illus­trat­ed by Dean Grif­fiths
Paja­ma Press, 2013
Do you know the true sto­ry of Pablo Picas­so's enchant­ment with a dachs­hund named Lump, who was the pet of pho­tog­ra­ph­er David Dun­can? When pho­tog­ra­ph­er and dog vis­it­ed Picas­so, it was the begin­ning of a beau­ti­ful rela­tion­ship. When Dun­can real­izes how much the artist and the dog care for each oth­er, he leaves Lump in his new home. A charm­ing sto­ry about friend­ship and art. Kinder­garten through Grade 5.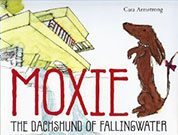 Mox­ie, the Dachs­hund of Fallingwater
Cara Arm­strong
Bright Sky Press, 2010
An intro­duc­to­ry look at the archi­tec­ture of Frank Lloyd Wright, and what is now a pub­lic muse­um at Falling­wa­ter in south­west Pennsylvania's Lau­rel High­lands, from the view­point of Mox­ie, one of the dachs­hund gang that gam­boled about the house when the Kauf­mann fam­i­ly lived there. Writ­ten by the cura­tor of edu­ca­tion at Falling­wa­ter. Kinder­garten through Grade 3.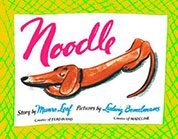 Noo­dle
by Munro Leaf, illus­trat­ed by Lud­wig Bemel­mans
Arthur A. Levine Books, 2006 (orig­i­nal­ly pub­lished in 1937)
Noo­dle, the dachs­hund, feels he's too long and his legs are too short to suc­cess­ful­ly dig for bones. Grant­ed one wish by the dog fairy, he asks all the ani­mals in the zoo what shape he should wish to be. They teach him a good deal about being proud and con­tent with the body we have. Preschool.
Pret­zel
by Mar­gret Ray, illus­trat­ed by H.A. Rey
Houghton Mif­flin Har­court, 1997
Gre­ta, a petite dachs­hund, doesn't care for long-in-body dachs­hunds, which is exact­ly what Pret­zel wins a blue rib­bon for being. This is a tale of pup­py love. A clas­sic from the team who cre­at­ed Curi­ous George. PreK through Grade 2.
10 Lit­tle Hot Dogs
John Him­mel­man
Two Lions, 2014
A pro­gres­sive count­ing book, one then two and final­ly ten dachs­hunds join their friends in a com­fy chair, set­tle down for a nap, then wake up and leave the chair. They're full of antics and play. A good read-aloud for a small group or one child. Preschool to K.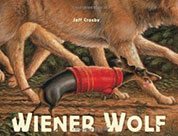 Wiener Wolf
Jeff Cros­by
Dis­ney-Hype­r­i­on, 2011
A good choice for ear­ly read­ers, the min­i­mal text and emo­tion­al art­work will be sat­is­fy­ing to read. Wiener dog sees a nature doc­u­men­tary and real­izes he's bored with his pam­pered life, so he runs off to join a pack of wolves! Wein­er Wolf soon real­izes the dif­fer­ence between wild and domes­ti­cat­ed, return­ing home to Granny and his new pack in the dog park. PreK through Grade 2.