Our Chap­ter & Verse Book Clubs read three books about death, writ­ten for chil­dren, in April of 2017. We've updat­ed this list with new­er books in Octo­ber, 2022. Sev­er­al of our librar­i­an mem­bers stat­ed that they receive many requests from patrons for books that help chil­dren under­stand death. Our mem­bers around the coun­try put their heads togeth­er to make rec­om­men­da­tions of books they felt are excel­lent sto­ries and dis­cus­sion starters for fam­i­lies. They are pre­sent­ed in alpha­bet­i­cal order by title. There are books sug­gest­ed for many age ranges from pic­ture books to books for teens. And, as with most good chil­dren's books, these are good read­ing for adults as well.
(Thanks to all of the peo­ple who have con­tributed to this list: Patri­cia Bauer, Nan­cy Bo Flood, Mar­garet Hall, Paula Hud­dy, Susan Olean­na, Ramona from Slice of Life, Carmela McCain Sim­mons, and Tri­cia Springstubb.)
You may find that some of these books are out of print. If you feel the sub­ject mat­ter fits your sit­u­a­tion, please con­tact your local pub­lic library — the book may be avail­able through inter­li­brary loan.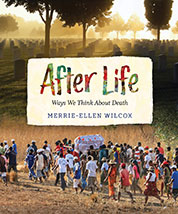 After Life: Ways We Think about Death
writ­ten by Mer­rie-Ellen Wilcox
Orca Pub­lish­ing, 2018
For ages 8 to 12 (and old­er), a look at the sci­ence and cul­ture of death, dying, and grief. Each chap­ter includes a brief telling of a death leg­end, myth or his­to­ry from a dif­fer­ent cul­ture or tra­di­tion, from Adam and Eve to Wolf and Coy­ote, and ends with a sec­tion on a com­mon theme in our think­ing about death, such as rivers and birds in the after­life, the col­ors that dif­fer­ent cul­tures use to sym­bol­ize death, and, of course, ghosts. The final chap­ter is about grief, which is both a uni­ver­sal human expe­ri­ence and unique to each per­son. The text offers sug­ges­tions for ways to think about our grief, when to ask for help and how to talk to friends who are grieving.
All Around Us
writ­ten by Xele­na Gon­za­lez, illus by Adri­ana M. Gar­cia
Cin­co Pun­tas Press, 2017
For ages 3 to 7, a young girl and her grand­fa­ther look at the cir­cles in nature and the cycles in life. They dis­cuss the earth, plant­i­ng and har­vest­ing, and life, from birth to death. It's a book filled with images that will stay with you for a long time.
All Three Stooges
writ­ten by Eri­ca S. Perl
Knopf, 2018
The close friend­ship of two best friends, Noah and Dash, is heav­i­ly test­ed when Dash's father com­mits sui­cide. Dash with­draws from Noah and Noah isn't sure how to breach the wall. The two have always shared a love of com­e­dy and Noah tries his best because he needs his friend book. Noa, a girl in Dash and Noah's Hebrew class, adds to the tex­ture of the sto­ry, as does an inter­wo­ven his­to­ry of famous Jew­ish come­di­ans. This book is full of humor, heart, and under­stand­ing … share this as a fam­i­ly read-aloud.
Bad­ger's Part­ing Gifts
writ­ten and illus­trat­ed by Susan Var­ley
Harper­Collins, 1992
When Bad­ger dies, his friends are very sad. Each of them finds a gift that Bad­ger gave them and shares the sto­ry of the gift with the oth­ers, which helps them all to under­stand what made Bad­ger so spe­cial to them.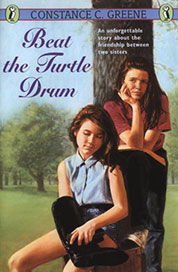 Beat the Tur­tle Drum
writ­ten by Con­stance Greene
Viking Pen­guin, 1976
Two sis­ters, one gre­gar­i­ous and one more intro­spec­tive, are best friends, explor­ing life togeth­er. One of them is horse-crazy and the oth­er tries to under­stand what it is about a horse that makes her sis­ter so entranced. Then one day, there's an acci­dent, and life changes dra­mat­i­cal­ly for this family.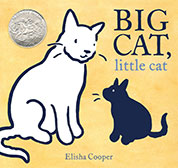 Big Cat, Lit­tle Cat
writ­ten and illus by Elisha Coop­er
Roar­ing Brook Press, 2017
A big cat befriends a lit­tle cat. This sto­ry fol­lows the two cats through their days, months, and years until one day, the old­er cat has to go. And he doesn't come back. A poignant sto­ry about the act of mov­ing on.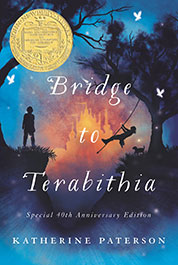 Bridge to Ter­abithia
writ­ten by Kather­ine Pater­son
Harper­Collins, 1977
Jess Aarons has been prac­tic­ing all sum­mer so he can be the fastest run­ner in the fifth grade. And he almost is, until the new girl in school, Leslie Burke, out­paces him. The two become fast friends and spend most days in the woods behind Leslie's house, where they invent an enchant­ed land called Ter­abithia. One morn­ing, Leslie goes to Ter­abithia with­out Jess and a tragedy occurs. It will take the love of his fam­i­ly and the strength that Leslie has giv­en him for Jess to be able to deal with his grief.
Care and Feed­ing of a Pet Black Hole
writ­ten by Michelle Cuevas
Dial Books, 2017
When Stel­la Rodriguez vis­its NASA to con­tribute to the Gold­en Record, a black hole fol­lows her home. Mean­ing to become a pet, it swal­lows up every­thing it touch­es (as a black hole would). That's con­ve­nient for get­ting rid of gifts she does­n't love … and for things that remind her painful­ly of her father who has recent­ly died. When the black hole eats her, her broth­er, and her dog, she comes to a real­iza­tion about grief. At turns fun­ny and touch­ing, this is a good empa­thy-build­ing book for ages 8 to 12.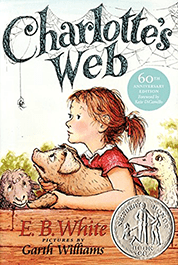 Char­lot­te's Web
writ­ten by E.B. White, illus by Garth Williams
Harp­er & Broth­ers, 1952
Char­lot­te's Web is the sto­ry of a lit­tle girl named Fern who loved a lit­tle pig named Wilbur — and of Wilbur's dear friend Char­lotte A. Cavat­i­ca, a beau­ti­ful large grey spi­der who lived with Wilbur in the barn. With the help of Tem­ple­ton, the rat who nev­er did any­thing for any­body unless there was some­thing in it for him, and by a won­der­ful­ly clever plan of her own, Char­lotte saved the life of Wilbur, who by this time had grown up to be some pig. This is a sto­ry of a great friend­ship, and loss, and deal­ing with grief.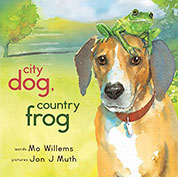 City Dog, Coun­try Frog
writ­ten by Mo Willems, illus by Jon J Muth
Hype­r­i­on Books, 2010
When a dog from the city is allowed to run free in the coun­try, he comes across a frog sit­ting on a rock who is wait­ing for a friend. Togeth­er they play games and have adven­tures, becom­ing good friends. As the sea­sons pass, and the city dog returns to the coun­try, he always looks up his friend so they can play togeth­er. Then, on a trip to the coun­try, frog is no longer then. The city dog must deal with the loss. A very spe­cial, warm-heart­ed book that will open up dis­cus­sions with your young children.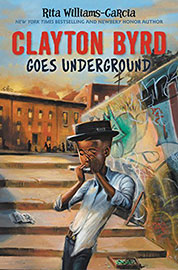 Clay­ton Bird Goes Under­ground
writ­ten by Rita Williams-Gar­cia, illus by Frank Mor­ri­son
Amis­tad, 2017
Clay­ton res­onates with his grand­fa­ther's music, the blues. Although Clay­ton is young, Cool Papa Byrd lets him play his blues harp (har­mon­i­ca) when he and the Blues­men per­form. Clay­ton emu­lates his grand­fa­ther, loves him com­plete­ly, wants des­per­ate­ly to under­stand the blues. But Clay­ton's moth­er har­bors resent­ments about her dad and his always being on the road when she was grow­ing up. When Cool Papa Bird dies unex­pect­ed­ly, Clay­ton knows he must play the blues … and his moth­er for­bids him. Clay­ton runs away from home, try­ing to find the Blues­men so he can join them on tour. Things don't go quite as planned and sud­den­ly life, and the blues, take on new meanings.
Cry, Heart, But Nev­er Break
writ­ten by Glenn Ringvedt, illus by Char­lotte Par­di
Enchant­ed Lion Books, 2016
This is one of the books we read for Chap­ter & Verse. Peo­ple felt it tells the sto­ry of death quite sen­si­tive­ly. Aware their grand­moth­er is grave­ly ill, four sib­lings make a pact to keep death from tak­ing her away. But Death does arrive all the same, as it must. He comes gen­tly, nat­u­ral­ly. And he comes with enough time to share a sto­ry with the chil­dren that helps them to real­ize the val­ue of loss to life and the impor­tance of being able to say goodbye.
Do Fish Sleep?
writ­ten by Jens Raschke and Jens Rass­mus
Illus­trat­ed by Belin­da Coop­er
Enchant­ed Lion Books, 2019
Some peo­ple die when they're very old, and some when they're young. Only one thing's for cer­tain: none of us escape it. A fact and absur­di­ty not lost on this win­ning ten-year-old. Sick since even before Jette can remem­ber, her broth­er Emil now has died. The feel­ings that los­ing him evoke in her are huge and con­fus­ing. Most sim­ply, it feels as though a dark rain cloud has descend­ed over her fam­i­ly. And then there's the ridicu­lous fact that nobody seems to know what hap­pens after you die, and yet adults often talk as if they do. This is an hon­est, dark­ly fun­ny look into loss, mem­o­ry, and the search for answers.
Death is Stu­pid
writ­ten and illus­trat­ed by Anas­ta­sia Hig­gin­both­am
Fem­i­nist Press at CUNY, 2016
In a starred review, Pub­lish­ers Week­ly wrote, "It's [an] exact mix of true-to-life humor and unflinch­ing hon­esty that makes Higginbotham's book work so well, and many of the plain­spo­ken sen­ti­ments she includes, as well as sev­er­al includ­ed ideas for how to remem­ber and hon­or those who have depart­ed, may be eye-open­ing for read­ers fac­ing grief them­selves." If your child, ages 4 and up, will ben­e­fit from direct respons­es, share this book with them.
Dog Heav­en
writ­ten and illus­trat­ed by Cyn­thia Rylant
Blue Sky Press, 1995
Specif­i­cal­ly writ­ten for very young chil­dren who are griev­ing the loss of a dog, Rylant por­trays heav­en as a place where dogs are free to roam and play and God is a kind­ly man dis­pens­ing dog bis­cuits. The details are plen­ti­ful, cre­at­ing a lov­ing pic­ture of a rest­ful place. There is a com­pan­ion vol­ume, Cat Heav­en.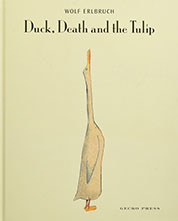 Duck, Death and the Tulip
writ­ten and illus­trat­ed by Wold Erl­bruch
Gecko Press, 2016
When Death appears behind Duck one sum­mer day, Duck is alarmed. Has Death come to claim Duck? But they spend the sum­mer togeth­er, grow­ing com­fort­able with each oth­er, offer­ing advice and ges­tures of friend­ship. When it is time for Duck to die, Death shows great respect, send­ing Duck afloat down a riv­er with a red tulip on its breast. The art and the sto­ry work beau­ti­ful­ly togeth­er in this book for ages 10 and up.
Fall of Fred­dy the Leaf: a Sto­ry of Life for All Ages
writ­ten by Leo Buscaglia
Stack, Inc., 1982
This sto­ry tells about death through the metaphor of leaves on trees. Fred­die and his com­pan­ion leaves change with the pass­ing sea­sons, final­ly falling to the ground with win­ter's snow, an alle­go­ry that illus­trates the del­i­cate bal­ance between life and death.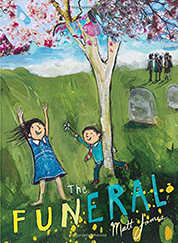 The Funer­al
writ­ten and illus­trat­ed by Matt James
Ground­wood Books, 2018
Going to her great-uncle's funer­al, Nor­ma is look­ing for­ward to a day off of school and a chance to play with her favorite cousin. She is "prac­tic­ing her sad face in the mir­ror of her par­ents' room. Though she was, in fact, pret­ty hap­py." The seri­ous nature of the day takes hold as Nor­ma observes and con­tem­plates oth­er peo­ple's feel­ings and ques­tions: "Is Uncle Frank still a per­son?" This is a good book for chil­dren attend­ing their first funer­al or memo­r­i­al ser­vice. The art­work is nuanced and evocative.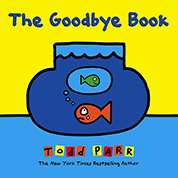 The Good­bye Book
writ­ten and illus­trat­ed by Todd Parr
Lit­tle, Brown, 2016
Told from the per­spec­tive of a lone­ly fish, this book deals with the big ques­tions and emo­tions of los­ing some­one close to you, whether it's a human or a pet. The Good­bye Book is reas­sur­ing that pain will ease with time and mem­o­ries and the sup­port of oth­ers around you.
The Heart and the Bot­tle
writ­ten and illus by Oliv­er Jef­fers
Philomel Books, 2010
There is a won­der and mag­ic to child­hood. We don't real­ize it at the time, of course … yet the adults in our lives do. They encour­age us to see things in the stars, to find joy in col­ors and laugh­ter as we play.
But what hap­pens when that spe­cial some­one who encour­ages such won­der and mag­ic is no longer around? We can hide, we can place our heart in a bot­tle and grow up … or we can find anoth­er spe­cial some­one who under­stands the mag­ic. And we can encour­age them to see things in the stars, find joy among col­ors and laugh­ter as they play. This is a book that address­es loss, painful emo­tions, and find­ing one's way back.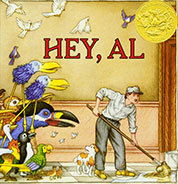 Hey, Al
writ­ten by Arthur Yorkins, illus by Richard Egiel­s­ki
Gold­en Books, 1986
Al, a jan­i­tor, and his faith­ful dog, Eddie, live in a sin­gle room on the West Side. They eat togeth­er, they work togeth­er, they do every­thing togeth­er. So what's the prob­lem? Life is hard. When a mys­te­ri­ous bird offers to lead them to par­adise, they agree. They're soon liv­ing a life of lux­u­ry. But things aren't as green as they seem.
Ida, Always
writ­ten Car­ol Levis, illus by Charles San­toso
Atheneum, 2016
In this pic­ture book, two polar bears are best friends and they know they will always be. But then Ida gets sick and it's clear that she is dying, and Gus real­izes he will be alone. They talk and cud­dle and share their love for each oth­er. Gus real­izes that Ida will be with him always, even after she has died. It's a gor­geous book with an equal­ly beau­ti­ful sto­ry to tell.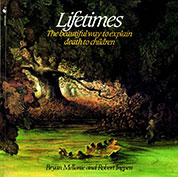 Life­times:
The Beau­ti­ful Way to Explain Death to Chil­dren
writ­ten by Bryan Mel­lonie, illus by Robert Ing­pen
Ban­tam, 1983
For ages 5 to 8, this book was rec­om­mend­ed by sev­er­al child psy­chol­o­gists because it looks at the life cycles of plants, ani­mals, and humans in an under­stat­ed but com­fort­ing way, accom­pa­nied by sooth­ing illustrations.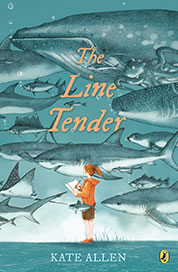 The Line Ten­der
writ­ten by Kate Allen
Dut­ton, 2019
Wher­ev­er the sharks led, Lucy Ever­hart's marine-biol­o­gist moth­er was sure to fol­low. In fact, she was on a boat far off the coast of Mass­a­chu­setts, col­lect­ing shark data when she died sud­den­ly. Lucy was sev­en. Since then Lucy and her father have kept their heads above water — thanks in large part to a few close friends and neigh­bors. But June of her twelfth sum­mer brings more than the end of school and a heat wave to sleepy Rock­port. On one steamy day, the tide brings a great white — and then anoth­er tragedy, cut­ting short a friend­ship every­one insists was "mean­ing­ful" but no one can tell Lucy what it all meant. To sur­vive the fresh wave of grief, Lucy must grab the line that con­nects her depressed father, a stub­born fish­er­man, and a curi­ous old wid­ow­er to her moth­er's unfin­ished research on the Great White's return to Cape Cod. If Lucy can find a way to help this unlike­ly quar­tet fol­low the sharks her moth­er loved, she'll final­ly be able to look beyond what she's lost and toward what's left to be discovered.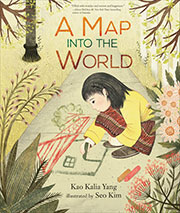 Map into the World
writ­ten by Kao Kalia Yang, illus by Seo Kim
Car­ol­rho­da Books, 2019
As the sea­sons change, so too does a young Hmong girl's world. She moves into a new home with her fam­i­ly and encoun­ters both birth and death. As this curi­ous girl explores life inside her house and beyond, she col­lects bits of the nat­ur­al world. But who are her trea­sures for?
The Mem­o­ry Box: a Book about Grief
writ­ten by Joan­na Row­land, illus by Thea Bak­er
Beam­ing Books, 2017
"I'm scared I'll for­get you…" From the per­spec­tive of a young child, Joan­na Row­land art­ful­ly describes what it is like to remem­ber and grieve a loved one who has died. The child in the sto­ry cre­ates a mem­o­ry box to keep memen­tos and writ­ten mem­o­ries of the loved one, to help in the griev­ing process. Heart­felt and com­fort­ing, The Mem­o­ry Box will help chil­dren and adults talk about this very dif­fi­cult top­ic together.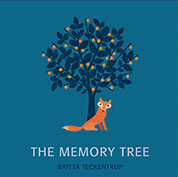 Mem­o­ry Tree
writ­ten and illus­trat­ed by Brit­ta Teck­en­trup
Orchard Books, 2014
Fox lies down in his beloved for­est and takes his last breath. As ani­mal friends gath­er around him, they share their favorite sto­ries about the ways Fox was impor­tant in their lives. As they speak, a tree grows behind them, a mem­o­ry tree, that will pro­vide for and pro­tect them, just as their friend Fox did. A pic­ture book for ages 5 and up.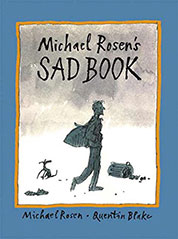 Michael Rosen's Sad Book
writ­ten by Michael Rosen, illus­trat­ed by Quentin Blake
Can­dlewick Press, 2005
"Some­times sad is very big. It's every­where. All over me." Sad things hap­pen to every­one, and some­times peo­ple feel sad for no rea­son at all. What makes Michael Rosen sad is think­ing about his son, Eddie, who died sud­den­ly at the age of eigh­teen. In this book the author writes about his sad­ness, how it affects him, and some of the things he does to cope with it — like telling him­self that every­one has sad stuff (not just him) and try­ing every day to do some­thing he can be proud to have done.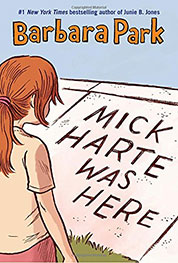 Mick Harte Was Here
writ­ten by Bar­bara Park
Ran­dom House, 1995
"I don't want to make you cry. I just want to tell you about Mick. But I thought you should know right up front that he's not here any­more. I just thought that would be fair." Phoebe's broth­er, Mick, was one of the fun­ni­est, coolest kids you'd ever meet — the kid who made you laugh until your stom­ach hurt, even if you were mad at him. He was the kid you'd want to be friends with. So how can he be gone? And how will Phoebe's fam­i­ly sur­vive with­out him?
Miss­ing May
writ­ten by Cyn­thia Rylant
Orchard Books, Scholas­tic, 1992
When May dies sud­den­ly while gar­den­ing, Sum­mer assumes she'll nev­er see her beloved aunt again. But then Sum­mer's Uncle Ob claims that May is on her way back – she has sent a sign from the spir­it world.

Sum­mer isn't sure she believes in the spir­it world, but her quirky class­mate Cle­tus Under­wood – who befriends Ob dur­ing his time of mourn­ing — does. So at Cle­tus' sug­ges­tion, Ob and Sum­mer (with Cle­tus in tow) set off in search of Miri­am B. Young, Small Medi­um at Large, whom they hope will explain May's depar­ture and con­firm her pos­si­ble return.
Miss­ing Mom­my: a Book about Bereave­ment
writ­ten by Rebec­ca Cobb
Hen­ry Holt, 2013
Writ­ten from a young boy's point of view, with words and draw­ings appro­pri­ate for some­one his age, this is a straight­for­ward sto­ry that explores the many emo­tions a bereaved child may expe­ri­ence, from anger and guilt to sad­ness and bewil­der­ment. Ulti­mate­ly, Miss­ing Mom­my focus­es on the positive―the recog­ni­tion that the child is not alone but still part of a fam­i­ly that loves and sup­ports him.
Miss­ing Nima­ma
writ­ten by Melanie Flo­rence, illus by François This­dale
Clock­wise Press, 2015
A young Cree girl talks with her grand­moth­er about her miss­ing moth­er. That young moth­er, one of many miss­ing indige­nous women, watch­es over her daugh­ter in spir­it, observ­ing her first day of school, her first dance, her wed­ding, and the birth of her own child. Told in alter­nat­ing voic­es with beau­ti­ful­ly affect­ing illus­tra­tions, this is a book that not only helps us under­stand an unex­plained loss, but also high­lights the trag­ic dis­ap­pear­ance of indige­nous women in North Amer­i­ca. Back mat­ter pro­vides an age-appro­pri­ate expla­na­tion and a glos­sary of Cree terms.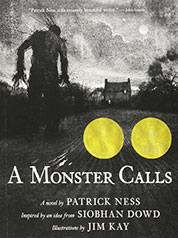 A Mon­ster Calls
writ­ten by Patrick Ness
Inspired by an idea from Siob­han Dowd
Can­dlewick Press, 2011
At sev­en min­utes past mid­night, thir­teen-year-old Conor wakes to find a mon­ster out­side his bed­room win­dow. But it isn't the mon­ster Conor's been expect­ing, the one from the night­mare he's had near­ly every night since his moth­er start­ed her treat­ments. The mon­ster in his back­yard is dif­fer­ent. It's ancient. And wild. And it wants some­thing from Conor. It wants the truth. From the final idea of award-win­ning author Siob­han Dowd — whose pre­ma­ture death from can­cer pre­vent­ed her from writ­ing it her­self — Patrick Ness has spun a haunt­ing and dark­ly fun­ny nov­el of mis­chief, loss, and mon­sters both real and imagined.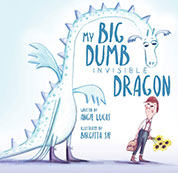 My Big Dumb Invis­i­ble Drag­on
writ­ten by Ang­ie Lucas, illus by Bir­git­ta Sif
Sounds True, 2019
Ahen a young boy los­es his moth­er, an invis­i­ble drag­on swoops in and perch­es on top of his head. A most unwel­come guest, the drag­on fol­lows him to school, sleeps on his chest at night (mak­ing it hard for him to breathe), and even crash­es his birth­day par­ty. As the boy comes to terms with his mother's death, how­ev­er, his rela­tion­ship with the drag­on changes in sur­pris­ing ways. The book shows that heal­ing takes time and that it's OK to expe­ri­ence a wide range of emo­tions as you process a real­ly big loss.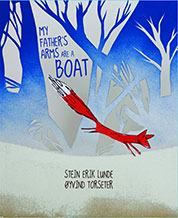 My Father's Arms Are a Boat
writ­ten by Stein Erik Lunde, illus by Oyvind Torseter
trans­lat­ed by Kari Dick­son
Enchant­ed Lion Books, 2013
It's qui­eter than it's ever been. Unable to sleep, a young boy climbs into his father's arms. Feel­ing the warmth and close­ness of his father, he begins to ask ques­tions about the birds, the fox­es, and whether his mom will ever wake up. They go out­side under the star­ry sky. Loss and love are as present as the white spruces, while the father's clear answers and assur­ances calm his wor­ried son.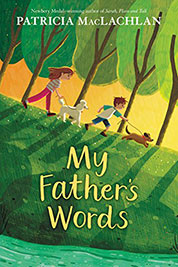 My Father's Words
writ­ten by Patri­cia MacLach­lan
Kather­ine Tegen Books / Harper­Collins, 2018
In the midst of a lov­ing fam­i­ly, Finn and Fiona are secure in their par­ents' love and car­ing. When their father meets with an acci­dent, they must learn how to cope with­out him. A friend sug­gests they work at an ani­mal res­cue shel­ter, which may be their way out of the sor­row. A car­ing, gen­tle book.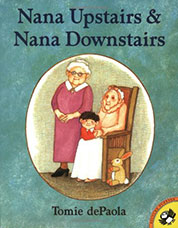 Nana Upstairs & Nana Down­stairs
writ­ten and illus­trat­ed by Tomie de Pao­la
G.P. Put­nam's Sons, 1997
Tom­my is four years old, and he loves vis­it­ing the home of his grand­moth­er, Nana Down­stairs, and his great-grand­moth­er, Nana Upstairs. But one day Tom­my's moth­er tells him Nana Upstairs won't be there any­more, and Tom­my must strug­gle with say­ing good­bye to some­one he loves. This is a qui­et sto­ry about a lov­ing family.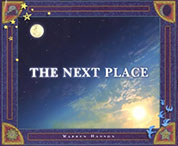 The Next Place
writ­ten and illus­trat­ed by War­ren Han­son
Wald­man House Press, 2002
Sev­er­al librar­i­ans rec­om­mend­ed this book as one that brings com­fort after loss. With words and paint­ings, it depicts a jour­ney of light and hope to a place where earth­ly hurts are left behind.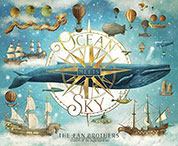 Ocean Meets Sky
writ­ten and illus­trat­ed by Ter­ry Fan and Eric Fan
Simon & Schus­ter, 2018
In a tour-de-force of illus­tra­tion and sto­ry­telling, the Fan Broth­ers share the sto­ry of Finn, who planned an ocean voy­age with his beloved grand­fa­ther. After grand­fa­ther's death, Finn builds a boat to take that voy­age on what would have been his grand­fa­ther's 90th birth­day. With this ges­ture of hon­or and respect, sail­ing to the place where the ocean meets the sky, Finn finds com­fort, sail­ing through pages of won­der until his moth­er calls him home.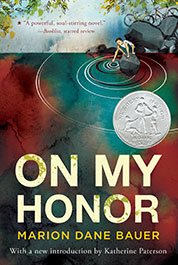 On My Hon­or
writ­ten by Mar­i­on Dane Bauer
Houghton Mif­flin, 1987
Joel's best friend Tony drowns while they are swim­ming in the for­bid­den, treach­er­ous Ver­mil­ion Riv­er. Joel is ter­ri­fied at hav­ing to tell of his dis­obe­di­ence and over­whelmed by his feel­ings of guilt. This mov­ing account tack­les a dif­fi­cult sub­ject with under­stand­ing. A fine book for open­ing dis­cus­sions about death and guilt.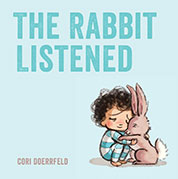 The Rab­bit Lis­tened
writ­ten and illus­trat­ed by Cori Doer­rfeld
Dial Books, 2018
When some­thing sad hap­pens, Tay­lor does­n't know where to turn. All the ani­mals are sure they have the answer. The chick­en wants to talk it out, but Tay­lor does­n't feel like chat­ting. The bear thinks Tay­lor should get angry, but that's not quite right either. One by one, the ani­mals try to tell Tay­lor how to act, and one by one they fail to offer com­fort. Then the rab­bit arrives. All the rab­bit does is lis­ten … which is just what Tay­lor needs.
Remem­ber­ing Ethan
writ­ten by Lesléa New­man
illus­trat­ed by Tra­cy Nishimu­ra Bish­op
Mag­i­na­tion Press, 2020
Ethan. Ethan. Ethan. Sarah miss­es her adored big broth­er with all her heart. She wants to cel­e­brate all the fun times she and her par­ents spent with him. But ever since Ethan died, Mom­my and Dad­dy won't men­tion him. Sarah can't even say his name with­out upset­ting them. Why don't they want to remem­ber Ethan? This is a ten­der trib­ute to a lost fam­i­ly mem­ber that can help fam­i­lies begin healing.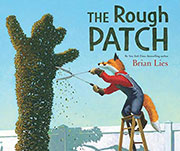 Rough Patch
writ­ten and illus­trat­ed by Bri­an Lies
Green­wil­low Books, 2018
Evan, a fox, and his dog share many adven­tures, includ­ing gar­den­ing and the coun­ty fair. When his dog dies, Evan is incon­solable. He neglects his gar­den and it becomes over­grown and weedy. In a cor­ner of the gar­den, a giant pump­kin begins grow­ing and soon it becomes clear it must be entered in the coun­ty fair. Evan returns to one of his favorite places, meet­ing up with friends, old and new.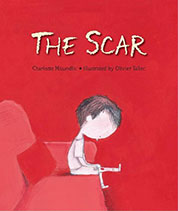 The Scar
writ­ten by Char­lotte Moundlic, illus by Olivi­er Tal­lec
Can­dlewick Press, 2011
When the boy in this sto­ry wakes to find that his moth­er has died, he is over­whelmed with sad­ness, anger, and fear that he will for­get her. He shuts all the win­dows to keep in his moth­er's famil­iar smell and scratch­es open the cut on his knee to remem­ber her com­fort­ing voice. He does­n't know how to speak to his dad any­more, and when Grand­ma vis­its and throws open the win­dows, it's more than the boy can take – until his grand­moth­er shows him anoth­er way to feel that his mom's love is near.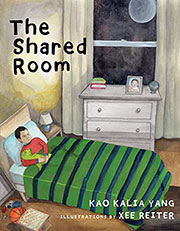 The Shared Room
writ­ten by Kao Kalia Yang, illus by Xee Reit­er
Uni­ver­si­ty of Min­neso­ta Press, 2020
When some­one you love dies, you know what doesn't die? Love. On the hot beach, among col­or­ful umbrel­las bloom­ing beneath a bright sun, no one saw a lit­tle girl walk into the water. Now, many months lat­er, her bed­room remains emp­ty, her draw­ers hold her clothes, her pil­lows and sheets still have her scent, and her moth­er and father, broth­ers and sis­ter car­ry her in their hearts, along with their grief, which takes up so much space. The Shared Room brings a mes­sage of com­fort and hope to read­ers young and old.
Some­thing Very Sor­ry
writ­ten by Arno Bohlmei­jer
Houghton Mif­flin Har­court, 1996
For ages 12 and up, this is the true sto­ry of a young girl's strug­gle to come to terms with a tragedy. This sober nar­ra­tion reveals the pri­vate voice of a girl as she copes with the after­math of a car acci­dent: her moth­er's death, the injuries of her father and sis­ter, and her own grief, anger, and fear of the future. It's a poignant sto­ry of a dif­fi­cult fam­i­ly situation.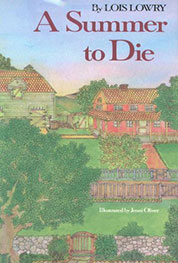 A Sum­mer to Die
writ­ten by Lois Lowry
Houghton Mif­flin Har­court, 1977
Meg isn't thrilled when she gets stuck shar­ing a bed­room with her old­er sis­ter Mol­ly. The two of them could­n't be more dif­fer­ent, and it's hard for Meg to hide her resent­ment of Mol­ly's beau­ty and easy pop­u­lar­i­ty. But Mol­ly's con­stant grouch­i­ness, chang­ing appear­ance, and oth­er com­plaints are not just part of being moody. The day Mol­ly is rushed to the hos­pi­tal, Meg has to accept that there is some­thing ter­ri­bly wrong with her sis­ter. That's the day Meg's world changes for­ev­er. Is it too late for Meg to show how she real­ly feels?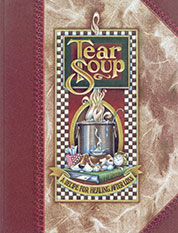 Tear Soup: a Recipe for Heal­ing After Loss
writ­ten by Pat Schweib­ert and Chuck DeK­lyen
illus by Tay­lor Bills
Grief Watch, 2005
An inspi­ra­tional book of wis­dom about liv­ing and grow­ing with grief. After expe­ri­enc­ing loss, tears are a part of life, some­times for months and some­times for years. This book is meant to bring com­fort for ages 12 through adult. High­ly rec­om­mend­ed by edu­ca­tors, librar­i­ans, and par­ents for griev­ing children.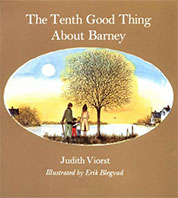 The Tenth Good Thing about Bar­ney
writ­ten by Judith Viorst, illus by Erik Bleg­vad
Atheneum, 1987
"My cat Bar­ney died this Fri­day. I was very sad. My moth­er said we could have a funer­al for him, and I should think of ten good things about Bar­ney so I could tell them…" But the small boy who loved Bar­ney can only think of nine. Lat­er, while talk­ing with his father, he dis­cov­ers the tenth — and begins to understand.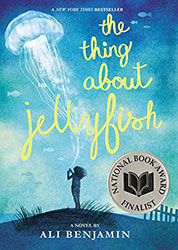 The Thing About Jel­ly­fish
writ­ten by Ali Ben­jamin
Lit­tle, Brown, 2015
Every­one says that it was an acci­dent, that some­times things "just hap­pen." But Suzy won't believe it. Ever. After her best friend dies in a drown­ing acci­dent, Suzy is con­vinced that the true cause of the tragedy was a rare jel­ly­fish sting. Retreat­ing into a silent world of imag­i­na­tion, she crafts a plan to prove her the­o­ry — even if it means trav­el­ing the globe, alone. Suzy's aching­ly heart­felt jour­ney explores life, death, the aston­ish­ing won­der of the uni­verse — and the poten­tial for love and hope right next door.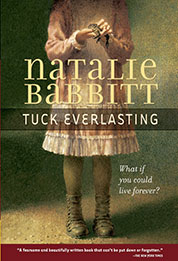 Tuck Ever­last­ing
writ­ten by Natal­ie Bab­bitt
Rine­hart and Win­ston, 1999
The Tuck fam­i­ly is con­front­ed with an ago­niz­ing sit­u­a­tion when they dis­cov­er that a ten-year-old girl and a mali­cious stranger now share their secret about a spring whose water pre­vents one from ever grow­ing old­er. A clas­sic sto­ry, this book is much dis­cussed in homes and class­rooms, from ages 10 and up through adult. It's a sto­ry so well told that you can't help con­sid­er­ing the big questions.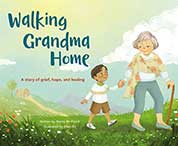 Walk­ing Grand­ma Home
writ­ten by Nan­cy Bo Flood, illus by Ellen Shi
Zon­derkidz, 2023
When Grand­ma tells Lee she will soon be "going home," Lee is con­fused. Isn't Grand­ma already home? But as Grandma's health gets worse and her death approach­es, Lee learns what it means to "walk Grand­ma home" to heav­en, while also reflect­ing on his good mem­o­ries and deal­ing with his grief along­side his extend­ed family.
What is Good­bye?
writ­ten by Nik­ki Grimes, illus by Raúl Colón
Dis­ney-Hype­r­i­on, 2004
This is the book I rec­om­mend most often for chil­dren ages 9 through adult. Jer­i­lyn and Jesse have lost their beloved old­er broth­er. Each of them deals with Jaron's death dif­fer­ent­ly. Jer­i­lyn tries to keep it in and hold it togeth­er; Jesse acts out. But after a year of anger, pain, and guilt, they come to under­stand that it's time to move on. It's time for a new fam­i­ly pic­ture — with one piece miss­ing, yet whole again. Through the alter­nat­ing voic­es of a broth­er and sis­ter, Nik­ki Grimes elo­quent­ly por­trays the griev­ing process in this gem of a book that is hon­est, pow­er­ful, and ulti­mate­ly hopeful.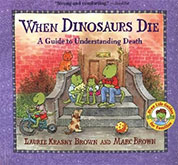 When Dinosaurs Die: a Guide to Under­stand­ing Death
writ­ten by Lau­rie Kras­ny Brown, illus by Marc Brown
Lit­tle Brown, 1998
No one can real­ly under­stand death, but to chil­dren, the pass­ing away of a loved one can be espe­cial­ly per­plex­ing and trou­ble­some. This is true whether the loss is a class­mate, friend, fam­i­ly mem­ber, or pet. In this book, wis­dom is shared by dinosaurs, pro­vid­ing answers to kids' most-often-asked ques­tions, explor­ing the feel­ings we may have regard­ing the death of a loved one, and the ways to remem­ber some­one after he or she has died.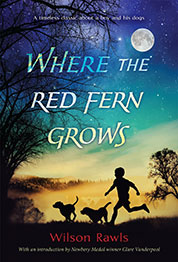 Where the Red Fern Grows
writ­ten by Wil­son Rawls
Dou­ble­day, 1961
Bil­ly Cole­man dreams of own­ing not one, but two, dogs. So when he's final­ly able to save up enough mon­ey for two pups to call his own — Old Dan and Lit­tle Ann — he's ecsta­t­ic. It doesn't mat­ter that times are tough; togeth­er they'll roam the hills of the Ozarks. Soon Bil­ly and his hounds become the finest hunt­ing team in the val­ley. Sto­ries of their great achieve­ments spread through­out the region, and the com­bi­na­tion of Old Dan's brawn, Lit­tle Ann's brains, and Billy's sheer will seems unbeat­able. But tragedy awaits these deter­mined hunters — now friends — and Bil­ly learns that hope can grow out of despair, and that the seeds of the future can come from the scars of the past.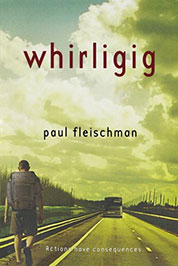 Whirligig
writ­ten by Paul Fleis­chman
Hen­ry Holt, 1998
When Brent Bish­op is out­raged at a high school par­ty, he dri­ves away hurt, furi­ous, and out of con­trol. He dri­ves reck­less­ly, deter­mined to kill him­self, but kills a girl instead, a high school senior with a bright future. Filled with guilt, Brent wants to make resti­tu­tion. The girl's moth­er asks him to cre­ate whirligigs and set them up in the four cor­ners of the Unit­ed States. We fol­low Brent on his jour­ney, meet­ing the peo­ple whose lives he affects and who change his life.